Mt. Diablo – the nitty gritty 2

Continuing with the detailed posts on the Mt. Diablo 50k. I am under no illusion that going into this much detail on the topic will be of interest to all my readers, but at least scroll down and look at the pretty pictures :).
Recovery
Here's the interesting thing about this race.
I'm not sore.
I wasn't sore the day after, 2 days after, or today (3 days after).
For comparison, it took SEVEN days for my calves to recover after the FOURmidable 35K at the end of February.  It was a week before I didn't have significant central fatigue and my heart rate stopped spiking in response to minor stress.
After this race, I have no muscle soreness, my tap test scores are normal, my am HR is lower than ever. I never got ravenously hungry or felt like taking a nap in the days after (sorta sad – I look forward to the good sleep especially). I've been going to bed at 9, but laying awake until 10:30 or 11p – and getting up without an alarm before 5am.  I'm trying to do right by my body – offering extra sleep, rest etc but it just doesn't seem like it needs it.
My lunch was cut short yesterday and I ended up having to jog to my car and back and it didn't feel like death warmed over. Although onlookers reported this. 
I can only describe it like this. 35K is pretty close to a short LD race. 50K is longer LD race. I feel like a horse who got through that short LD, and was tired, sore, and it took a couple weeks to fully recover. 1 1/2 months later I did a second LD. The second LD was longer – but it didn't seem to matter.
The million dollar question is if I hadn't been managing tendonitis issues throughout the race, and had gone a minute or more faster per mile, would I still feel so good? I don't know.  But I think it's worth another try, don't you?
Let's talk about what was noticeable after the race.
My IT band (left) was grumpy through yesterday, mostly when I needed to walk down stairs, turnover in bed, or start walking from a sitting position – but today it has completely resolved. That's pretty good. Gone in 2-3 days usually means that I just irritated it and it shouldn't come back unless I'm compensating for something.
The bottoms of my feet were sore for 2 days post race. I upgraded to the 5.5mm shoes the week before the race and this made a huge difference. This morning when my feet hit the floor as I got out of bed they felt totally normal. More on this subject when we talk about gear.
My gut took some time to return to normal. I felt totally fine, my gut didn't feel crampy or rumbly…but it took until this morning (morning of day 3) for things to get back to normal.  It was really weird and unusual for me. I *think* what is going on is that because of the prolonged exercise the blood flow to my GI tract was disrupted for long enough, that it took a day or 2 to return to normal function.  A contributing factor could have been the increase in sugar carbs I was consuming at the race, contributing to a osmotic diuresis effect. If anyone has any other hypothesis I'm open to suggestions.
Lessons learned: Try another 50K soon (without the the tendon issues!) and see if this was just a fluke.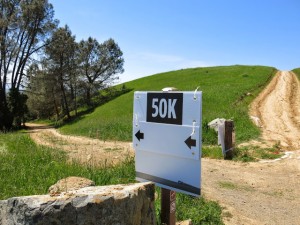 Hydration
Every time I could stand it, I drank.  I drank until I physically couldn't drink any more, and I waited until the next time I could drink. And I still only peed 1 1/2 times during the race. Grrrrrr……
I'm not sure it was a problem?  I had absolutely no signs of impending dehydration (except reduction in "output"). No headache, no cramping, no electrolyte issues (I was supplementing regularly). In fact, it was probably the best I've felt in terms of hydration at any event in a long time (and how much of that played into my excellent recovery?).
Lesson learned: Traveling the night before, staying in a hotel, feeling a little dehydrated the night before means I probably started the race a little dehydrated. All my hydration in the early miles was probably replacing fluid, and then as it got hotter I was probably only able to consume enough to replace my maintenance and ongoing losses.  The lack of output might have been more connected to this, then a failure to hydrate during the race. It was OK on Saturday because the temperatures were only in the 80's, but if it had been a hotter race or if I had gone faster and had increased losses of fluid, this probably would have nailed me good.
Pictures below: here's a series of pictures showing Funder and me finishing.  Note how we are running with exactly the same running cadence. Some day I will learn not to ruin my finisher pictures by messing with my watch. 
Gear
Lesson learned: carry a real camera. I meant to…but forgot. Especially when faced with vast open space landscape type shots, the camera on a phone doesn't cut it. I would have taken more pictures with a real camera too. Later in the race when it was taking 99% of my concentration to stay upright and not trip on rocks/branches/uneven trail, the thought of taking my camera out, pushing a button, unlocking it, pressing another button to take a picture – all while my dirty sweaty hands are in danger of dropping it and I'm holding it in a very un-erogonic position…..was a bit overwhelming.  A camera is eaiser to operate when you are mentally stupid and takes better pics.
Lesson applied: thicker shoes. At the last minute I found some Merrells that were zero drop, on a wider last, with a thicker sole (5.5mm). I won't go into the story of woe that comes from trying to find shoes that offer enough trail protection from my feet, while still being minimalist enough they don't kill my feet….what is important is that I found these shoes on Amazon for 60% off retail, and the managed to get here 3 days before the race. They were similar enough to my other merrells that I have done distance except for sole thickness in that I was wiling to take the risk of running in them on Saturday.  It totally paid off.  During the race I couldn't tell if my feet hurt less because they were less beat up, or if other parts of my body just hurt more, thus minimizing foot pain. LOL. Now, 3 days after the race I can conclusively say that my feet were less beat up.  I still prefer my thinner soled shoes for shorter every day runs, but I think I've finally found a shoe that will work on rocky trails. My biggest complaint? On single track I tend to travel close and I scuffed the inside of my ankle a couple of times with the shoes. There was the tinest gap between the bottom of my compression sleeve and the top of my sock and every time I hit the inside of my ankle it HURT. I either need a callus there or more coordination….
Lesson learned:consider insoles in my shoes. As I continue to increase in mileage I might consider putting itty bitty thin cheap foam insoles in these shoes. I did this in my Merrell Vapors and was very happy with the result….not enough thickness to make a difference in ground feel, but enough that I could wear a thinner sock.
Lesson applied: Wear a buff instead of a hat: A big factor in keeping myself cool is to minimize the sun on me, and not let myself get sunburnt. Based on some biofeedback on my last 2 backpacking trips, I switched out my ball-cap for my buff (that blue headband looking thing).  It was PERFECT. My head never overheated, it minimized sun on my face by protecting my forehead, reduced glare around my sunglasses because I had it pulled low, and it didn't interfere with my peripheral vision (the brim of a hat can annoy me when I'm climbing up steep hills). I didn't have to wipe sweat off my face (I sweat a lot). During the early parts of the race I was on some exposed hills with a very brisk cold wind, and it was wonderful to have my head and ears protected. I didn't realize how annoyed I got with a hat during the end of a long race until I wore the buff and removed the source of irritation :).
Lesson learned: I need better "bottoms". The skirt is cute and comfortable, and I love it. However, unless I am diligent about reapplying "butt butter" to my thighs, I WILL get a rub there, same as in running shorts. I think for runs of 20 miles or less the skirts and running shorts will continue to work just fine, and are my preference. But for these longer runs I need to find a spandex option.  I ordered a pair on clearance yesterday – we will see if they stay down, are the least bit flattering, and don't rub at the cuffs. Ugh.
Other gear stuff
That's all the time I have this morning. I have a couple more thoughts on Mt. Diablo that I will finish up in the next post and then we will move onto other topics (hoof care product review, Tig leaving, preparations for Merry!).