Continuing to Teach Old Dog New Tricks

We are in agreement.
One does not learn how to drive in harness from Youtube.
Or the internet. Or from forums. Or from random 4-H manuals posted out of New Hampshire.
However, suppose that one actually has driving experience. A lot of it actually for a California girl – driving doesn't seem as widely popular here as it does back east, which also sucks for finding good used vehicles and harness – but the devil is in the details, specifically how to go from this:
To this:
Here's a generic doubles hook up of what I'm used to.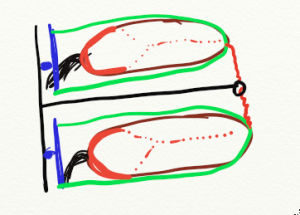 So we are on the same page when I describe stuff, here's a legend.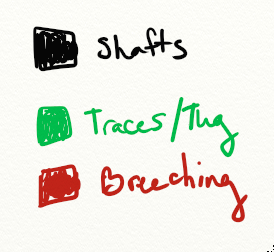 There's a central shaft. A chain connects the front of the shaft to the front of the horse's harness, usually by a simple clip on the harness that clips to the chain coming off the shaft. The clip somehow (details vary) links to the breeching around the horse's butt – sometimes underneath, sometimes around the side. When the horses STOPS, the shaft moves FORWARD which pulls the breeching forward, which the horses braces against, stopping the shaft's (and vehicle's) forward movement.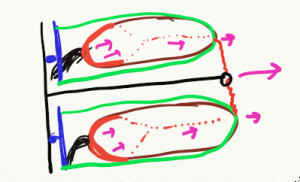 Now let's talk about a single horse.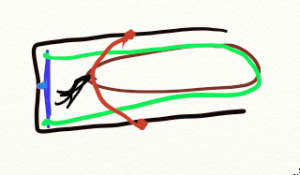 There's TWO shafts and there's nothing attached to the front of the horse at all!!!!  Instead the breeching attaches to the shafts on either side. Which sounds rather simple, except there's no chains or clips – just a long shaft and a long strap of leather coming off of the harness that somehow, magically, attach.
Which brings us to my "problem 1" that everyone seems to gloss over in the "I'm going to do a detailed explanation of how to harness up a single horse".
HOW THE HECK DOES THE BREECHING STRAPS ATTACH TO THE STRAPS?????
"Wrap it". Do a "simple figure 8 wrap". WTF does that MEAN??????????
So I've been guessing at it.
I know how it's suppose to function, and based on function I know how it's suppose to be adjusted – that sweet spot between too much play in the harness when the horse is switching between pulling (green) and stopping (red), and too little freedom so that the horse feels the breeching pulling even while fully engaged going forward in the tugs.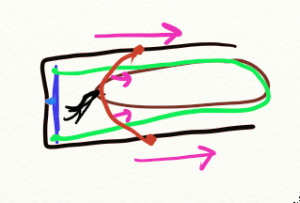 So, the video and still shots of us driving in January are proof of a little SWAG (scientific wild ass guessing).
SWAG should never be part of your driving repertoire. Which is why I was immensely relieved to FINALLY find a diagram that explained the (yes, very simple) wrap and where it's suppose to go on the cart.
YES! OK. On to the second problem.
My harness has shaft tie down straps. Simply, the are straps at the girth that wrap around the shafts so that the shafts can't bounce up (which could happen depending on terrain, speed etc even if the cart is sized and balanced well enough that it shouldn't).
Apparently it's so simple that once again everyone neglects to mention exactly how one goes about using these straps.
I still haven't seen a good picture – but finally found a description that was clear enough that I won't be totally embarrassed to post driving pictures here.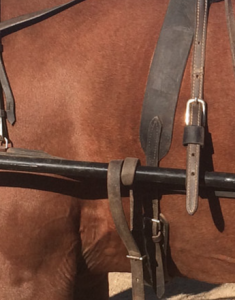 The last piece of missing information – how far back should Farley be in the shafts (end of shaft should be at the point of the shoulder) – was the easiest to find.
Having taken care of the major glaring issues, I took some pics of Farley with cart to show some driving friends to see if there were any major red flags to start driving on the trail and to start trot work.
My Dear Reader probably has just one question at this point. WHY didn't I just ask my friends in the first place?????
1. Because all of them are long distance and no one could actually help me in person.
2. I believe in putting forth some effort to answer my own questions and solve my own problems  before some *else* has to show me that the bit is on upside down, and the new fancy endurance saddle is *on backwards*.
The cart doesn't fit Farley perfectly (mostly a function of it being an easy entry cart. It's just really difficult to get them to fit a full horse properly) but it's good enough to keep going for now, and definitely good enough to start trotting.
Next steps…..
On Wednesday a friend and I are celebrating the Autumn equinox by going for a drive on the trail (Farley's first) and then having lunch.
I'm looking to upgrade my harness before the cart. It's a perfectly good, functional harness. However now that I know that this driving thing is *really* going to happen, I want something that isn't leather and is a little more deluxe in the horse comfort department.
Pinch me I'm dreaming, this little 100 mile Tevis horse ain't done learning tricks yet!