Farley's other new job

You know how I keep saying after I retire Farley from endurance I'm going to make her into my little cart pony?
I so wasn't kidding.
She's not retired yet, but there are lots of good reasons to get a head-start.
If truth be told….endurance aside I actually enjoy driving more than riding. Some, if not most of you, know I've driven for years…just not my own horses, and mostly with doubles, not singles.
So, with Farley showing some aptitude for driving over the years it was natural that eventually I would come across a set of cob-sized harness for a good price and not be able to resist the temptation (cough cough….reformed tack hoarders anonymous….cough cough)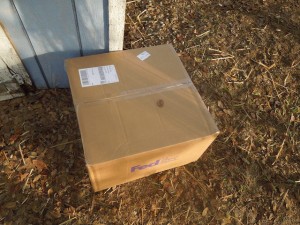 Yesterday the big box came and I made myself wait until this morning to open it, when I could put it on Farley. It's impossible for me to make heads or tails of a new-to-me-harness unless it's on the horse.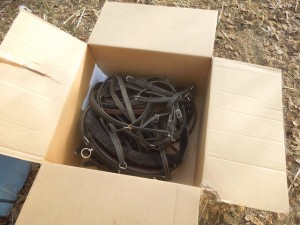 The sale picture was of the harness on an arab so I was really hoping it would be the right size.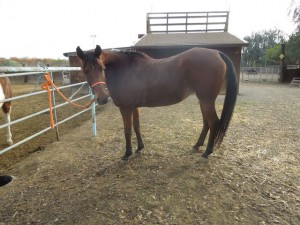 The willing unknowing victim.
The bridle had a D-ring snaffle which Farley hates, and I had this funny feeling I had a 4 3/4″ driving bit in my drawer-o-bits.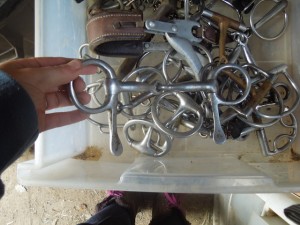 Yep! I had picked it up at a tack swap a LOT of years ago, not able to resist it. You know how you can pick up a bit and just know it's quality by the weight and balance in your hand? $5 and I didn't own one like it yet. (reformed tack hoarder reformed tack hoarder….cough cough). Farley would really prefer a double jointed bit, but I don't have one that will work right now so she'll just have to live with it.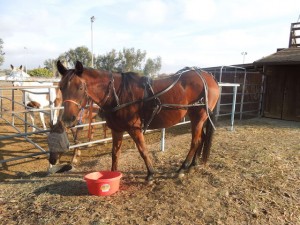 Farley got a handful of hay to improve our chances of success of driving in the new-to-us harness while the herd around us got breakfast.
See, sometimes I really do make smart decisions.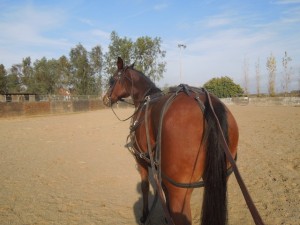 And we were off!  The harness has some wear on it, but it's in serviceable condition and is actually better quality than I expected.
You may have noticed she has a check rein on. I will probably end up taking it off eventually, but left it on just long enough she couldn't put her head down to the ground. There's enough stuff going on I really didn't need her to put her nose to the ground while walking and have her step on or over one of the lines. As a kid, thanks to Black Beauty, I thought check reins were horrible but really they are just another "tack aid" that can be used to teach a particular thing, and then be removed when no longer needed (and yes, they can be adjusted loose enough to let a horse put its head down for balance).
It's been a while since I did a "real" driving session with Farley but she settled in quickly and quite nicely, even driving past a gate so I could open it, then circling around and through it, and standing while I fastened it.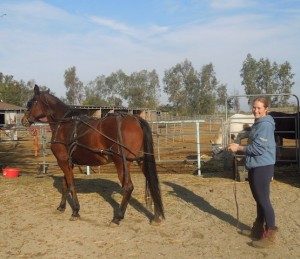 The next step will be to attach the tugs to a solid pallet (quick release….) and have her do some dragging around in the arena, and introduce her to the concept of shafts (she needs to step over and push instead of flex her body to turn).
I've always driven Standardbreds off the track, so even if they hadn't been in harness for a while, or were rather…..naughty…at least it wasn't *me* putting that *first* cart behind them and making sure they had all the right buttons. I think a check in with a pro would be a great idea, don't you? Even if we are to the point where's she's pulling a *cute little cart, I'll get an evaluation next year from a driving clinician pro who has been highly recommended  to me and is usually in my area late spring/summer. Why? Because the worst horse accidents I've seen are driving accidents. (Please don't tell my husband, who is under the impression that this is somehow a safer alternative to me actually riding).
*regarding that "cute little cart"….I think the meadowbrook that was offered to me when I was planning on driving Minx is going to be way too big for Farley, if it's even still available. If someone gets a lead on a reasonably priced meadowbrook style small horse sized cart in the central/northern CA or NV area, let me know! Otherwise….dragging pallets R Us.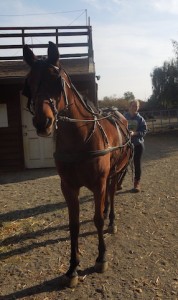 Everyone has their own philosophy, but while I make sure any green horse I'm going to ride has ground driving basics, I'm not a fan of actually progressing to hitching something up to a green horse who's planned career is my riding horse and is yet unproven.  I think there's plenty of time to get to the "real" driving if the horse is going to be primarily my saddle horse and so much can go wrong so quickly once objects are attached behind a horse. I really like a horse to prove themselves over years that they have what it takes to handle the unexpected and become REALLY predictable in how they react to stuff.  IMO Farley is about perfect to start transitioning. At this point she's really solid and is a "been-there-done-that" kind of horse.  If something does happen, she does not kick, bolt, or rear.  Her "go-to" is to freeze or spook in place. If the sh*t goes down she is more likely to wait for me to save her than to panic. She is also NOT BALKY (my pet peeve with driving horses).
I have a perfect safety record driving, mostly because I'm a control freak when it comes to driving and which horses end up in front of me, so I'm hoping the adventure of turning Farley into a pleasant little cart pony generates absolutely no fun stories for the blog.  🙂
——————————————————————————————–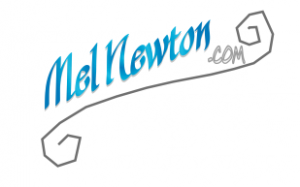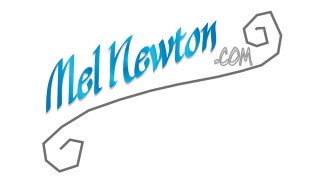 PS. An update for you  MerryLeg's groupies (my voice-to-text phone feature likes to autocorrect her name to "Hairy Legs" so it's really a feat of self-control NOT to use the more entertaining rendition of her name, since it's so appropriate).  ML went on a long trail walk today with me and Tess. It's the first time I've invited Tess along and ML likes Tess and having a dog on the trail! I wasn't planning on trimming her feet (stop while you are ahead….) but when I checked her feet for rocks after turning her out, I noticed a bunch of sole was coming out at the toe of her right front, which is SO EXCITING since I've been waiting for that moment since I got her….so I pushed my luck and grabbed my trimming tools. I've been trimming her quite tall heels down a little bit each session since I got her but was nervous about taking out toe sole before it wanted to come out so left it. She also wasn't great about me trimming her feet so by necessity I had to keep trimming sessions short and simple and often wasn't able to do an "ideal trim" each time. However, apparently sticking to the trimming basics of heels down and toe back, and spending the time handling her feet over the last couple months finally paid off!  She let me trim ALL four hooves AT LIBERTY in her paddock.  Best trim ever on her. I can officially say that feet handling is no longer her biggest issue.