Nov IRL 2015

Oh boy oh boy oh boy.  It's that time again.
I'm not posting as much on a day-to-day basis, so these monthly summary posts provide a look at actual training and conditioning that occurs prior to my endurance races as a counter to what I believe is often unrealistic and rigid training "plans" on the internet, AND they serve to "ketchup" with you on things-you-should-know but that didn't get blogged about.
This is a LONG post. Several of these topics deserve posts all on their own. For optimal blog traffic, I absolutely should make 3 or 4 posts out of this, each with their own clever title. That ain't happening. Bookmark, read at your own pace, and enjoy!
Farley
1 – driving session on the ground.
1 – dressage ride, walk/trot
Not much eh? The only consolation is that both sessions were high quality work.
Staying flexible
The driving session was originally going to be a dressage ride, but she had a non painful filling in her right hind that I was unsure was injury or from standing around or doing something stupid like try to join in ML's antics in the paddock. It seemed safer to drive her on the ground and watch it (conclusion – it was nothing). As it turned out we had an excellent session, she was much less fussy with her head, we did a ton of trot work, and seems to be really getting circles and turning and all those more subtle cues then stop, go, and turn on the long lines.
Finding compromise
It took a couple of weeks to figure out a good system where I got to go to the stable and ride. My Dear (and long-suffering) Husband feels very strongly that he doesn't want Fig out at the stable before she's 2 months old. Not in a pack, not left in the car, not held….he wants to wait. I tried reason, pleading, and tears. To no avail. We are in the worst part of the winter for my mental health and I need my pony time. *The tricky thing is to respect my husband's wish while making sure he didn't feel like he came home from working every day only to have me throw Fig at him and take off into the darkness…but also not waiting too late into the dark and cold evening where nothing, not even the promise of pony time, gets me out the door and into their paddocks.
*a wise **person helped me put into words why I respect his wish even though I find it really difficult. Compromise is sometimes about meeting in the middle, but compromise is often about giving the other person what they want when it really really matters to them. I know how grateful I am when he gives up something because I really really want something and sometimes I need to same – especially when in the big picture this is very minor. It's just 2 months!
**OK fine. It was my mom.
It took until mid-November to figure out how to guarantee me pony time during the week and I'm happy to report that it's been a success.
SPOILER ALERT
The dressage ride in November was stiff, tense, and I did NOT feel one with the pony. In fact, I felt really uncomfortable going above a walk and working trot. I will admit that I got off after that ride wondering how long it was going to take to have it all "come back" and whether I was ever going to have my fun little pony back that I rode without fear.
I tried to remind myself that the biggest lesson I've learned over the last few years is patience to pick the right time. Even though I couldn't imagine cantering on her, much less taking her out on the trail, I knew if I just kept riding within my comfort zone the right moment would come and I would want to canter or go out on the trail and it would just "feel right". This wasn't about overcoming fear. This was about listening to my gut and not putting a time line on what I *should* be able to do.
Sure enough at our next dressage ride (which technically occurred in December) I felt 100% comfortable asking for a canter. It was absolutely wonderful and without fear on my part and without any naughty behavior on hers.
I have my pony back.
Looking forward – December
My cart shafts are being widened as we speak (might take a couple of weeks) so I can progress to more trot work without worrying about rubbing, chafing, and making her sides sore.
Lots of dressage work. On drier years I don't mind riding out on the trails in the dark, however it's been a wet(ter) fall and the trails are just slick enough it gives me the heebeejeebees not to be able to see the footing.
Goal is to have her 50 miler ready by April, look for some local trail show classes in Feb/March for a change of scenery.
MerryLegs
ML looks great – she's stopped growing UP for the moment and is growing OUT. Her weight looks better than it ever has. She's so mellow about being handled and having her feet trimmed I sometimes have panic attacks she's sick and maybe I should head out to the stable at 3am just-in-case. A HUGE difference from last year when she was starting to get a bit of a teenage attitude.
The Farley-ML dynamics seem to be leveling off. Farley is still dominant over ML, however it's starting to become a more equitable relationship, which means ML probably has stopped pushing the envelope with Farley all the time. THANK GOODNESS. A year ago I would have been lamenting "mean 'ole Farley" but over the last year I've learned to trust Farley's judgement on the social needs of young horses, and that ML is a confident, dominant horse that benefits greatly from a horse that sets draws lines in the sand.
Beyond the normal handling, there was a single training session.
Introduction to Clicker Training. I sorta hesitated before even typing those words. I've had great success with dogs and clicker training. I'm experimenting with clicker training my parrot. I'm not so convinced that clicker training is the best training modality for horses. I think it needs to be done very carefully and deliberately so you don't get unintended consequences that kill or maim you. I'm tentatively trying it with ML and we will chat more about it later I promise. It seems like a topic too big to squeeze into a ketchup/IRL post don't you agree?
Rider Fit
Let's talk about the eye first.
After a million dollar work up (literally) using diagnostics I didn't even know existed, it's been determined that the problem with my optic nerve is a true neuritis. Of unknown origin. Possibly an (unknown) auto-immune component. Possibly an (unknown) viral thing. Possibly a little of both. Plan is to take a week of heavy-duty steroids for a week and see if it goes away (so far it hasn't) and to follow-up with a neurologist to get a baseline now in case there is a development later. Everyone is optimistic that this isn't a sign of anything BAD. I think I mostly believe them. I'd rather not have my suspicion that I was destined for a rather short but remarkable life confirmed by a diagnosis of MS. There's about a 10% chance this is MS (if my MRI hadn't been clean – ie had shown a lesion in the white matter behind the eye – that chance would have gone up to 90%), however the neuro ophtho specialist I'm working with strongly believes that it will resolve with steroids and probably never come back if it goes away. Send a little prayer my way won't you?
Now for the running!!!!!!!!!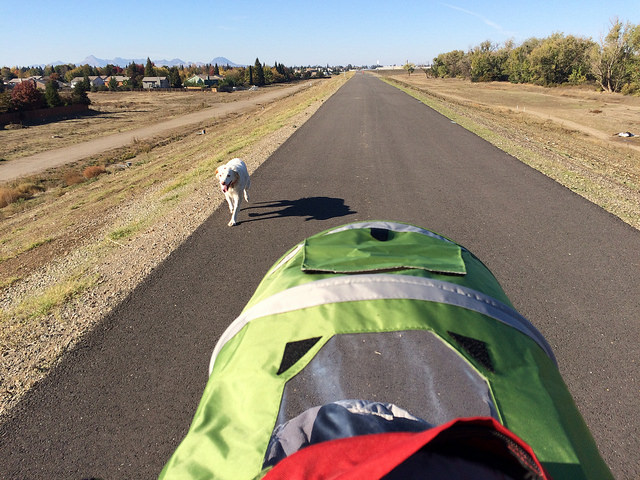 9 runs, 23.1 miles.
All runs were around 30 min and were easy paced.
The goal is to run every other day, but I typically manage a run every 2-3 days.
About half of those runs are with a stroller (one of the compromises I made to get more pony time was to do more of my runs during the day/morning with the stroller when husband is at work).
Listening to my body is paramount and while I often waited an extra day to go running if my hips were sore, only once did I abort a run after it already started and turned it into a walk.
The goal is to work up to running 30 min every other day before returning to any real "training". I ran 30 min continuously without walk breaks on the last run of the month!!!!!
Let's talk about my experience as a runner 6 weeks post partum. 
Experience of one rat study blah blah blah. But I found it incredibly helpful when people shared stuff like this, so if you are a random google search reader looking for one women's experience, here you go.
I lost a lot of weight in the first 10 days. Since then I've lost nothing…..but everything is still shrinking (weird right?).
At the "magical" 6 week point, I'm still about *12-15 pounds away from pre-preg weight. My times are still 1-2 min/mile slower than they were before pregnancy, but running feels GOOD and I'm up to my recovery goal of 30 min of running a couple of times a week.
*I don't want to give the impression that I'm overly concerned about numbers on the scale or that I'm trying hard to lose weight or inches. I'm not. I just wanted to give you guys some concrete numbers instead of a vague "I weigh less than I did pregnant, but more than I did prior to pregnancy". 
I did only approved post partum core work a couple of times a week, starting about week 3 post-partum.
I can see why 6 weeks is considered a turning point post partum. I feel great, my boobs feel great, I'm back into about half of my regular clothes, I'm sleeping great.
BUT.
Hip pain. It's still there. Whether I run or not. Whether I'm on bedrest or not (thanks to my lumbar puncture I got to experiment with that). As during pregnancy, hip pain remains my limiting factor post pregnancy.
If I wasn't a runner or very active I might not even notice it. For normal every day activities my hips and pelvic floor feels FINE. But when I ride and run, I can tell that isn't.
Like I discovered during pregnancy, recommendations for athletes during the post partum period vary, are vague, and overall incredibly unhelpful. Advice varies from "if everything isn't normal at 6 weeks then ask your doctor" to "don't even think about running again until 9 months post partum". Neither piece of advice came from sources targeting athletes and while I think there's truth in both those statements for someone who either isn't running (in which case at 6 weeks I do feel fine) or hasn't done significant running (in which case 6 weeks is probably a little soon to be starting a running program), I have decided that my personal truth/reality lies somewhere in the middle. (Incidentally my plan of working up to 30 min every other day slowly over a couple of months seems to be a very common approach for runners post partum. Nice to see my gut feeling validated in other's successes). 
Here's what I settled on:
Now that I'm six weeks out, I can start incorporating more "regular" core work.
The two main problems with my hips right now are strength, and flexibility. Pregnancy negatively impacted both, neither were an issue prior to pregnancy.
Six weeks out I'm back to all normal activities as mostly promised. Not time to panic. Instead remember that long distance running is not on most people's list as a "normal activity".
My hypothesis is that if I make significant improvements to my strength and flexibility as I continue to rehab my body this month, that my hip pain will resolve.
The best way to build strength and flexibility in my experience is pilates.
So, I dug up my old pilates routine on an off day and decided to see what I had (carefully).
Interestingly the core/ab stuff was easy. I didn't expect to be able to do a roll up or the other core specific stuff.
The hip and leg exercises were HARD.
Now, this is technically a SPOILER alert since the routine and aftermath took place in the first couple days of December…..but can you blame me for not being able to wait to share good news?
Here's the thing. The afternoon and evening after the routine my hips felt better than they have in 6 MONTHS. Overnight and the next morning they still felt great. Today, 2 days later, I'm starting to feel the stiffness again. Time to pull out my band and mat.
I'm excited. Really excited. I don't think it would have been a good idea to add in Pilates prior to 6 weeks, but I think right now is exactly the right time to add it into my routine as I gradually and carefully return to pre-pregnancy levels of activity.
Looking forward
Continue to run 30 min every other day through the end of December with the goal of feeling good and uninjured and ready to start intervals and longer distances at the beginning of the year.
Continue to focus on rehabbing my hips through strength and flexibility using Pilates on the off days.
Resume the Runner's General Strength Progression work out (from the Coach Jay website) that I was doing prior to pregnancy, replacing the post-partum ab exercises I was doing post runs.
Be ready for an early summer 100k? A late fall 100 miler?
Other news…
And now….some bad news over happy pictures. (but don't worry, I think there's a happy ending!)
We got a sixty day notice on our rental the day before Thanksgiving.
Besides having a one month old, and having to pack and move in a time frame that encompasses 3 major holidays there was another twist that made me want to bang my head against my desk. For complicated reasons we can't close on a house before mid-February.
Which means unless we wanted to sign another 12 month lease and put off buying a home, we were going to be homeless for approximately 6 weeks, assuming we found something right away to buy.
And did I mention we have 3 big dogs? So finding another rental even with a 12 month lease is a bit complicated on short notice.
Sigh.
Fortunately a week later, circumstances don't look nearly as dire (time, sleep, and alcohol does a fine job of mitigating all sorts of things) and we have a PLAN.
It still involves packing up a house with a one month old. Boarding at least one dog (thank goodness I'm a vet that works for somewhere that will let me board dogs for a drastically reduced price). Moving our stuff into storage. Trying to buy a house on short notice.
But, it does NOT involve being homeless.
I managed to find a local apartment with a month to month lease for a very reasonable price, and as a bonus they let you have 2 dogs of any size (wow!). This is significantly better than the previous plan of living in the local hotel that has extended stay rates (which is quite different then being an "extended stay hotel") and boarding ALL the dogs, and storing ALL our stuff, and paying double what the apartment costs.
Life. You gotta love it. It's like the best "fortunately…but unfortunately" story book ever written.
One last thing
I cannot end this month's post without a tribute to my first horse mentor, friend, and ever ardent supporter – Deb Luis.
In January she was diagnosed with ALS and it progressed rapidly. I made time to see her a couple times over the summer, and just after Thanksgiving she died.
There's so much I could say about what Deb and her family have meant to me since grade school, and how I wouldn't be where I am today without them and her, and the remarkable things she did in the 10 months after her diagnosis, but I cannot find the right words (probably because I always use too many).
So I leave you with this. Hug your loved ones, whether they are furry or not, a little closer. Do that thing on your bucket list a little sooner.
Much love,