Training Logs

My beloved database software that I used to log my runs and horse stuff (among LOTS of other things) was abandoned by its manufacturer several years ago. It's been a couple of years and with the software getting more unstable with each major operating system update, it was (past) time for me to move on.
I held on for as long as I could, hoping that something else suitable would come out electronically, but everything I've read from people that ought to know says that there isn't anything comparable to what I was using now, or that's due to come out.
Bummer.
For 2016 I'm returning to my tradition of physical log books!
The best log books for me are the planner calendars that show a month, followed by pages of weekly views. There's lots of options and designs but I didn't like the cost ($20-30? really? and I needed a minimum of 2 – one for me and one for the horses) and none of the ones I saw really "called" to me. I need a log book that is practically begging me to write in it and that I can't wait to fill the pages with runs, rides, and other doings.
After some searching (and trying to come up with a self designed one that flopped miserably), I am pleased to introduce my 2016 training logs!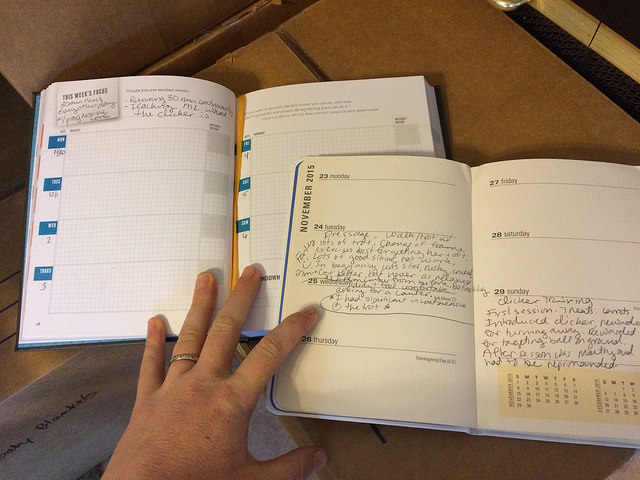 Both were purchased off of Amazon. The running journal comes in several colors and I'm linking the red version here because it has the option to look inside the book at some of the different pages. The horse one is here.
I've had my eye on the running journal for a while. I can't remember where I heard about it on the web – someone somewhere mentioned they were using it and loved it – and when I looked it up on Amazon I liked the design well enough to add it to my wish list.  I like that it's structured more for running and has specific places to record races, PR's, mileage etc. However it's not so over structured that there's no room to put a couple of sentences down on each run beyond the numbers and stats. It's the first time I've ever (in over a decade of keeping running logs) I've used something besides a generic notebook or calendar and it feels like a special treat.
The horse log caught my eye not only for the pretty and appropriate cover, but because of how the week view was set up. Most calendars with this view make Saturday and Sunday share a single box – which is inconvenient when that's the days the most stuff happens that needs to be recorded!!!!  In this book Saturday and Sunday are given the same importance as the other days of the week. There are blank pages to make notes (and a self constructed annual summary) and a pocket on the back cover. The log does not have month views, which I decided weren't essential.
Anyone else have 2016 log books they want to show off?