More 100 mile questions

I KNOW I promised to stop with the "I ran 100 miles and can't stop talking about it" posts. But you guys are asking REALLY good questions and I can't help myself.
To make up for it, here's a bonus creepy horse selfie from my #100daysofhorses challenge. Day 4:
Bibs, chips, and mats
(Or, why didn't the Auburn Lakes aid station show up on the tracking, and how do they get those numbers anyway?)
In the "old" days of chip timing the chip was some sort of plastic thingy that you would get when you checked in. You put it on your shoe laces with little zip ties, hoped it didn't fall off, and returned it post race (or get charged 20 bucks). Times have changed. Nowadays most of the races I do have disposable chips that are on the bib. Depending on the company that is doing the timing, the chips look slightly different. At Rio this is what it looked like:
There were rubber mats at the start, finish and at certain aid stations. Through "magic" when I passed over the mat the chip would say that I had been at that spot, and what time.
That information was uploaded to ultralive.net which generated this data:

The aid stations only had one mat, which I ran over EITHER on my way in OR out, so not all my times are in times.
In the case of Auburn Lake Trails I remember a mat at that aid station and I DID run over it, but either it didn't record my chip, or it wasn't working when I went over it.
The chips *aren't* GPS tracking devices. They can't be used to track me if I get lost or eaten. They just communicate with the mats.
Did I do anything special for my pacers?
I tried, but truthfully there's nothing "big" enough I can due to truly "pay" them for being there. Most of them did it because they are my friends and wanted to support me through this goal, or for the love of the sport. I made some pretty awesome corny t-shirts, managed to buy most of them lunch at some point, and tried to thank them profusely through the sweat and tears and explain how much their sacrifice of a weekend meant to me. The biggest thing I can do is return the favor either for them, or "pass on the love" by crewing or pacing for someone else.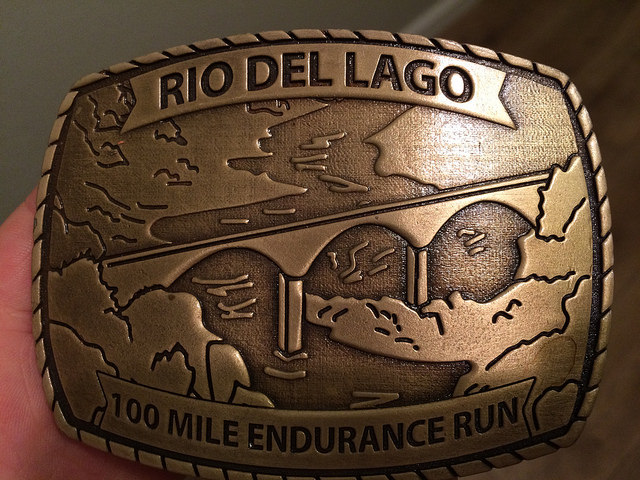 How do you train to run 100 miles?
Maggie had a bunch of questions, but they all boiled down to this.
How about training up for the one hundred mile RDL race? What was that like? Four months of one hundred miles logged over a week?
HELL NO!  I did *NOT* run that much. Ever. Looking at my IRL (In Real Life) posts that I share here every month will give you a very honest look at what my training looked like but here's a quick recap.
In 2004 (2003, I think?) I ran my first marathon (road). Ran a couple, got burnt out, switched to horse endurance. Off and on runner over most of those years. Would take a break for 6 months, get back into it etc. In 2012 started training for longer events instead of "just stay in shape so I can ride endurance" because I wanted to do Ride and Ties. In 2013 Figured out that if I was still running 9 hours into a long course ride and tie, I could *probably* do an ultramarathon.
In 2014 I ran my first ultras. Ran a 50k in March, a bunch of marathons, a 50 mile over the summer, and then DNF'ed another 50 miler in the fall around 31-ish miles. ***That was my last ultra until I did the Pioneer 50 mile this summer.***
I was pregnant January 2015 through October 2015. I was able to run very little during the last half of my pregnancy due to hip pain, but tried to hike as much as I could. I ran a couple half marathons while pregnant, the last one being the beginning of May 2015. My last long hike was somewhere in August.
So that brings us up to 1 year ago. I started running 1 week after I had my daughter. A couple of miles a couple days a week. I didn't track mileage at all in November but it was all 1-2 miles 2-3 days a week.
December 2015: 48.2 miles total. A 5K road run that I totally smoked with a time that would have been fast even pre partum for me. Longest run was 5.1 miles that month.
January 2016: 44.5 miles total. Life fell apart – we got kicked out of our rental house, had to move into an apartment/storage unit temporarily. Only ran 7 times this month but managed a long run of 10.3 miles, and just to prove it wasn't a fluke ran 9.9 miles a couple weeks later.
February: 25.7 miles. Even less running. Did a trail race of 15.9 miles. It was HARD. All the other runs were under 3 miles. Life was still really chaotic as we tried to close on a house and manage 3 dogs, an infant, a bird, an apartment etc.
March: 1 mile. Not only did I get injuried while being tossed off a horse, we closed on the house and had exactly 3 weeks to remodel it (ourselves) and get it move in ready.
April: 22.3 miles total. Worked my way up to a whopping 2.8 mile (long run).
May: 32.2 miles total. Long run of 5.5 miles. Everything else was 3ish and below.
June: 83.2 mile total. After watching my goals (such as a 100k in May, or failing that at least a 50k) slip away in the spring, and having a friend sign up for the Pioneer 50 mile race that I still felt I had unfinished business at, I realized that if I planned some long runs right, I could probably get it done. With that motivation I started logging a lot of runs – short distances but a lot of them. I managed 2 long runs – a 17.6 mile run, and a 7.3 mile.
July: 111.5 miles total. Backed off on the frequency but started doing real long runs. A 18.4 miler, a 19.5 mile run with a 3.5 mile run the day before, a 10.3 mile run. This was the most miles I logged during training.
August: 88.4 miles total. This was the month I did the 50 mile race. All the other runs were shorter – the next longest run several weeks after the 50 was an 8.8 mile run.
September: 76 miles total: Coming off of the 50 and deciding to the 100 the plan was to get in 2 more big training weekends – back to back runs totally 45-ish miles, and a second weekend of 55ish miles in October. I managed a 14 mile+31 mile (race) weekend in September. Everything else was low mileage days (next highest mileage run was a 5.2 miler).
October: 106.1 miles. I focused on double digit runs. The big back-to-back weekend didn't happen due to weather – it was a paltry 20.1 miles+3.5 miles. However, I managed *seven* other double digit runs (10-13.6 miles) that month, including a 1/2 marathon race that I used as a "pacing practice" the weekend before the 100 to test out my pacing strategy for the early miles of the 100.
November: The final week leading up to the 100 was the 1/2 marathon the weekend before (technically in October), and then a 9.5 mile very easy trail run 3 days prior to the race. I then did the 100 (yay!) and took off exactly 2 weeks. No running, no cross training. I ran for the first time last night and felt FREAKING FANTASTIC.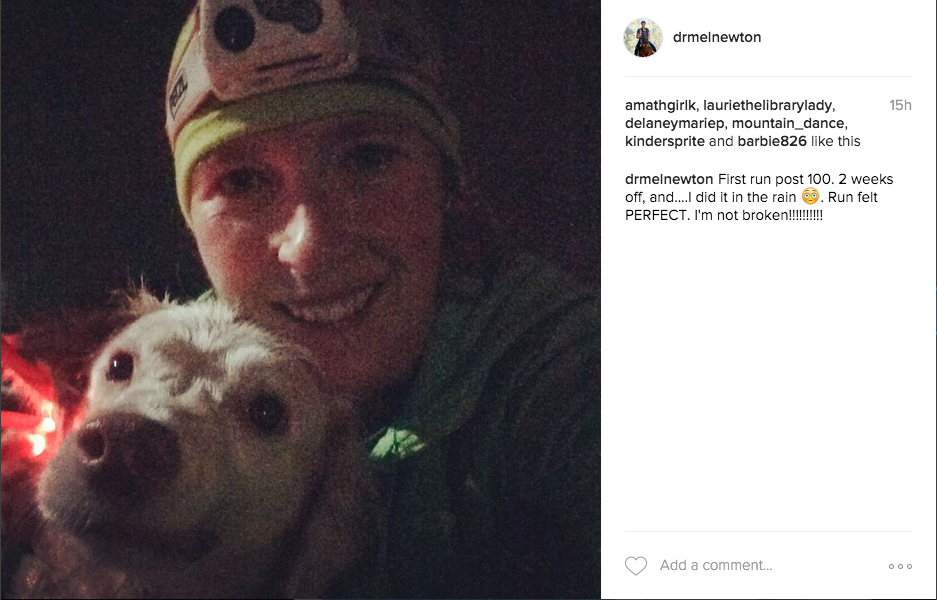 Doing runs at night to get the feel of night time running?
I had some night experience. I run at night on the streets of my neighborhood, I've been on trails at night on horse back, and I've done an hour or so running on trails in the dark on some early starting races – but nothing substantial. I did go out on a familiar trail with a friend about 1 month prior to the 100 to do a gear check. It wasn't a big deal. I had some good advice about light from some experienced runners so I never struggled with that part. LOTS of light is good and often having 2 sources is the trick.
I know we both ran CTR's Coastal Trail 50k. Did you use that as part of your training run so maybe one 50k logged on one day per week leading up to RDL?
I did the Coastal trail 50 miler (I think that's what you are referring to) in 2014 so it was 2 years ago, so while it was part of the base, it wasn't direct training for RDL100 during this training cycle. To give you an idea of how many long runs I did, here's a break down of run distances I did Dec 2015-Nov 2016/race day. This is the same training info that I summarize above too.
# of times I ran:
50 miles: 1x (50 mile race)
30-49 miles: 1x (50k race)
20-29 miles: 1x
10-19 miles: 17x (a couple races))
5-9.9 miles: 12x
1-4.9 miles: 82x (5k race)
I know that one of my ultra runner friends who has done a bunch of 50k and 50 mile races says that "ignorance is bliss" as running that stage of the game that it's mostly mental and seeing if one is tough enough to move pass the wall.
Yep. Absolutely
What is next? What races are on my bucket list?
I'm in the Western States Lottery for the 2017 race, which will have names drawn on Dec 3. If I don't get in I'll need to qualify for it again with either an eligible 100k or 100 miler. I'm not sure what I'll choose as my qualifier if I don't get in. My feeling is that I'll want to do many different races so I probably won't choose RDL100 again, unless my season as fallen apart and I need a last minute qualifier.
Other races that have been on my mind for a while that I'd love to give a go are:
The bighorn 100 miler
Tahoe rim 50 miler
Ohlone 50k
Pikes Peak half or full marathon
The OD 100
A 100 in Oregan somewhere….