Rio Del Lago 100 2016 Tracking

Tracking
Ultra Live will be doing runner tracking on my 100 mile race Saturday.
It's important to remember that the results are often not updated in real time so don't panic if you don't see me come through an aid station when I should. Also, sometimes there are glitches – Pioneer 50 also supposedly had tracking through Ultra Live, but in reality only the top runners were tracked through aid stations, and the rest of the pack had only start and finish results.
Aurora of "RedHeaded Endurance" is my Crew Chief, and Funder of "It seemed like a good idea at the time" is pacing me for part of the race (I have 3 pacers altogether) so it's a good bet that if you are on facebook, you will see updates of my progress through them.
Bib number
My bib number is 201
(and since I have a history of getting it wrong, here's the screen shot that proves it…)

Pacing
The goal is to finish. Other than trying to not being forced to DNF through missing a cutoff I've been told over and over by experienced 100 mile runners that I need to *not* have a time goal (was told that in my first marathon as well, which looking back was probably good advice). Sh*t will happen and even just having a goal in the back of your mind will cause some mental anguish watching it slip away, and there will be enough anguish just completing that I need to focus on nothing other than not going out too fast and keep moving forward as efficiently as possible.
With that in mind here's my pace chart. The 24 hour finish pace is there because in the first half of the race I have no business going faster than that, and the 30 hour finish time is what I need to do stay ahead of cutoffs. This is a "flat pace" chart that has no adjustment for the sections that are more flat, downhill, or go straight up – but should average out in the end.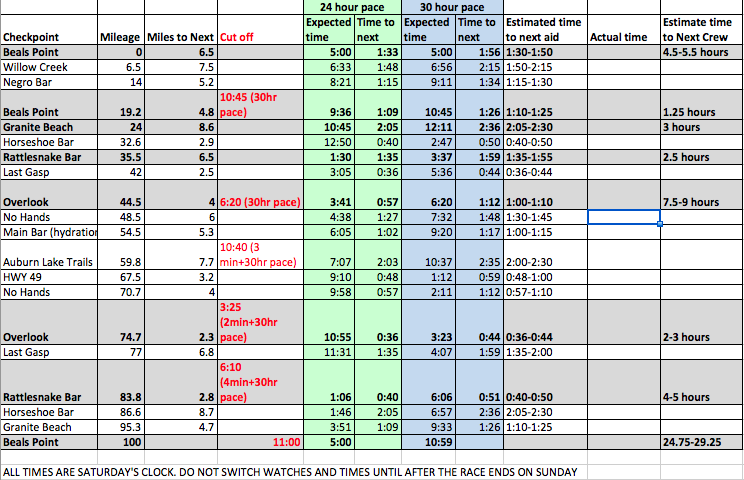 Looking Forward
After the event I'll do my normal "story" post, what-went-well/what-didn't 3×3 post, and a "Ask Me Anything" post where I answer any question (no matter how trivial, personal, or gross you think it might be) you, My Dear Reader, has about this whole thing. Feel free to post the questions any time, I'll go back and compile them when I'm ready to write the AMA post.