June 2017 IRL

Welcome to the season of alternative plans. I'm going to do ABC, I mean XYX, I mean MNOP, I mean nothing. No actually I'll spend money on surgery instead, or a bucket race, or perhaps this will be the season I focus on Farley, oops I mean running, oops I mean getting miles on MerryLegs.
I cannot remember a single more chaotic season than this one.
Welcome to endurance.
And thus the whole reason of the IRL (in real life posts) – a hard look at what *actually* happens when you train for endurance (and ultras). You aren't the only one who has to constantly remake the season over and over and over and over……BTW I do remember having whole seasons go as planned. This isn't one of them. And yet we still move forward and somehow despite the set backs it turns out OK in the end. That's part of this game.
Farley
2 Dressage Rides
3 Home set – 11.1 miles total
2 Long ride – 13.5, 13.8 miles (one flat and fast, one hilly and hot)
Surgery and bandage changes.
We were on track for a 50 mile ride on July 1 when on our last long ride prior she reinjuried an old hoof injury. For the first time EVER in my entire endurance career I had to withdraw my entry into a ride after entering it. If something hasn't happened to you yet in endurance….just wait.
So now what? I have a farrier lined up for hind shoes next week. We are a week out from surgery and waiting for the site to cornify (heal over with epithelial cells). That is estimated to take another 2 weeks, and then we can go back to riding. I'm secretly hoping the hoof doesn't grow back, but I'm told it will….(but I still harbor a secret belief that maybe it won't). She doesn't need it to have a structurally sound hoof and it would solve SO MANY OF OUR PROBLEMS if it just went away.
My Goals for Farley this season have boiled down to a single plea – a fifty. A single fifty mile ride. Please Dear God. One single fifty mile ride. Surely we can accomplish that?
Current pictures of her hoof healing – pictures taken yesterday, 1 week post surgery. (Picture from surgery day is here).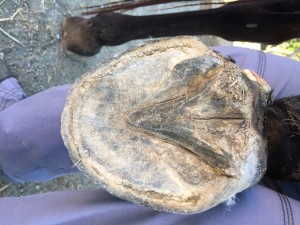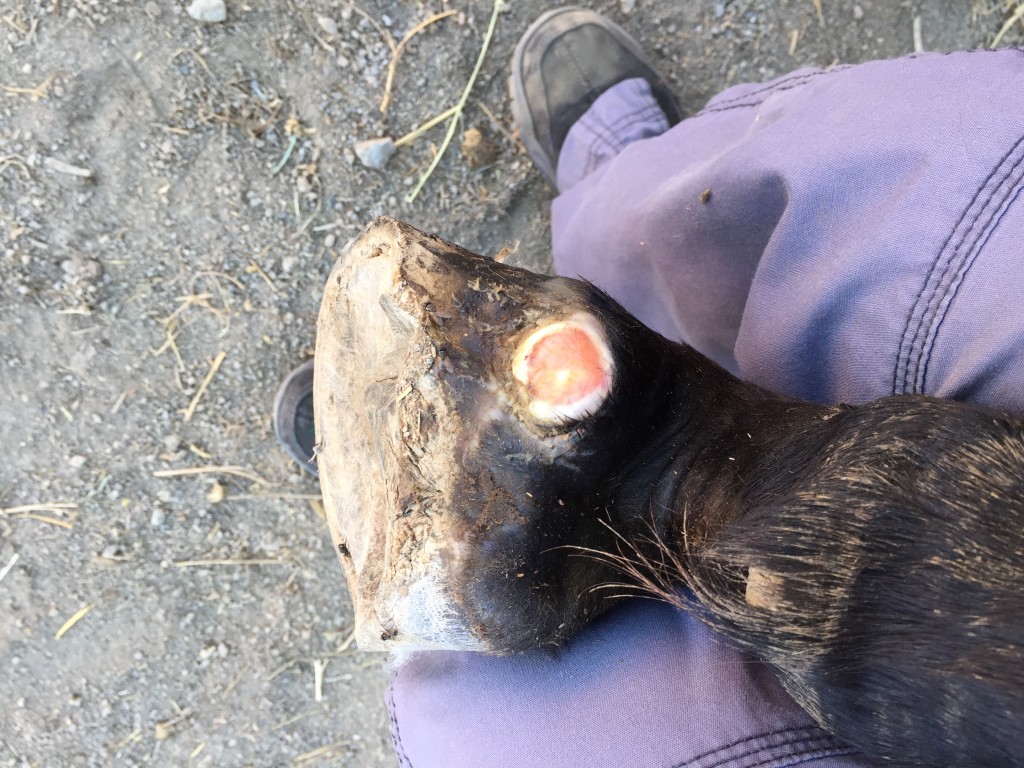 MerryLegs
On May 31 she went out for a 6 mile trail ride (described in last month's IRL). Since then she's been out in pasture at mare camp building musclez (and a little attitude). She looks gorgeous and ready to go to work for a while. I brought her home yesterday and the plan is to do stuff with her this month while Farley is preoccupied with bandages and how fast she can wear through them (*headdesk*).
Heaven forbid I actually get a whole 3 days out of a foot bandage but I digress.
(I only have one picture of ML this month so you get to see pictures of my other "kid")
Farley is the only horse in ML's life that refuses to be pushed around by ML and after almost 6 months of being the top mare, it will do ML's 5 year old brain good to be reminded that she is not in fact, at the top of the food chain.
ML looks like a different horse than she did at the beginning of the year and something that could actually start being legged up for endurance. A win for time and hilly pastures!  Perfect timing because the plan all along for ML was to be there ready to go when Farley couldn't anymore.
I suspect we are entering the era of Farley transitioning OUT (although I don't think she's completely done), and ML transitioning IN. My guess is that I have about 2 years (ML will be 7 at that time and Farley will be 20). *rubbing hands together in glee* BWAHAHAHAHAHAHAHA the plan is working.
Although based on how well "plans" worked this year I should probably go huddle in a corner and be very quiet and hope the gremlins don't notice how perfectly the pieces are falling into place.
Running
I got in I got in I GOT IN!!!!!!!!!
Three weeks prior to race day I got the email that I was OFF the wait list and IN to the Tahoe 50 mile run.
Just in time to get in a single long run that represents the sole double digit run over the last couple of months. o_O EEEPP!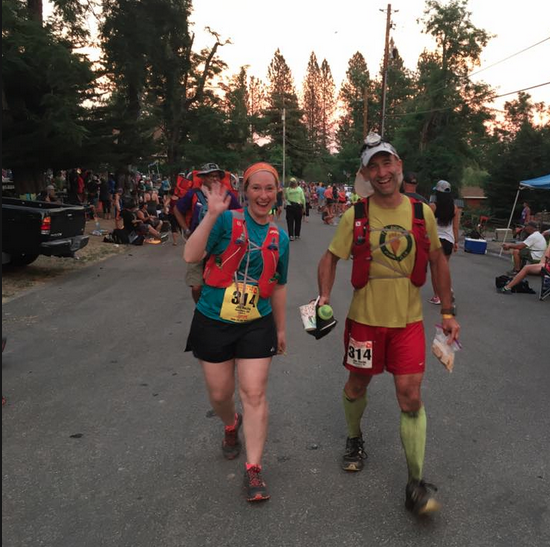 It will be fine. I'm borrowing trekking poles (the first race I've done where they are allowed!) to help me get through the snow, I'm practicing my power hiking to help with the elevation, and I snuck in some interval runs to remind me what pain and pushing during a run feels like.
What could possibly go wrong?
This month's numbers:
Runs at moderate pace that were less than 10 miles in distance: 6 runs, 31.4 miles. Not a single run was on the same trail! I ran a LOT of different locations this month.
 Interval runs: 3 runs. Total of 6.4 miles. It's been a while since I did interval runs. They SUCK.
Long run: 22.3 miles/6 hours (pacing at WS100)
Power hike sessions: 1 30 min session –  2.1 miles
Total running miles: 60.1 miles
Total power hiking miles: 2.1 miles
I was better at consistently getting 3 runs in per week. Goal for next month is to continue getting 3 runs per week, and power hike all the remaining days. I don't have anything on the calendar after Tahoe, but I'm itching to do another 100 mile or try a 24 hour event.  When I find one I want to do later this year, I want to be in the position to do it.
——————————————————
How did your month go? We are half way through the year – how has your season gone?