ML's first conditioning ride

On Tuesday the stars aligned and I had a day off work AND sunny skies. I decided to take ML out for a trail excursion about 1 hour from home.
Logically there was a ton of stuff I could have still done at home to prep.
I had never ridden her outside of an arena.
I had saddled her once this month since getting her back from Aurora's/mare camp. She bucked some and generally didn't look rideable so I didn't ride :). Rest of our rides were bareback.
She is still going primarily in a halter. I can bridle her and attach reins, but actually using the reins is something I've only done once or twice.
I had never mounted her from the ground.
I haven't trotted on her since she was a three-year old the summer she came back from Amber's (trainer).
Soooooo……..not exactly a recipe for success.
But here's the thing.
I have a really hard time in the arena. I get tense, I second guess myself, and it's hard for me to work through stuff.
It's different on the trail. I hike until I feel like I want to get on. I let the trail help me dictate pace and direction and because there's a task at hand – get on down the trail – both me and the horse are focused and relaxed as we get it done together. We aren't drilling or doing the same thing endlessly, we are communicating and adapting as we go along.
Once I've been out on the trail with a horse I feel like I know what they are capable of better and I feel more comfortable pushing and insisting in the arena. On the flip side, I feel like they trust me better – they went out to a new place and I was there with them and I brought them back safely.  I'm not all bad!
My horse life is to take the pony (can I still call ML a pony if she's 16h?), usually solo, load them up by myself, get to the trail head, tack up, go out on the trail for a couple of horse (by myself), load up to go home.
To get that accomplished on 5-year-old MerryLegs, by ourselves, would tell me a lot. How well she (we…) handled that routine would tell me more about where we were in the partnership and the journey towards endurance than anything I could do in an arena.
So, not-withstanding all the good reasons NOT to do this, we went and did it anyways.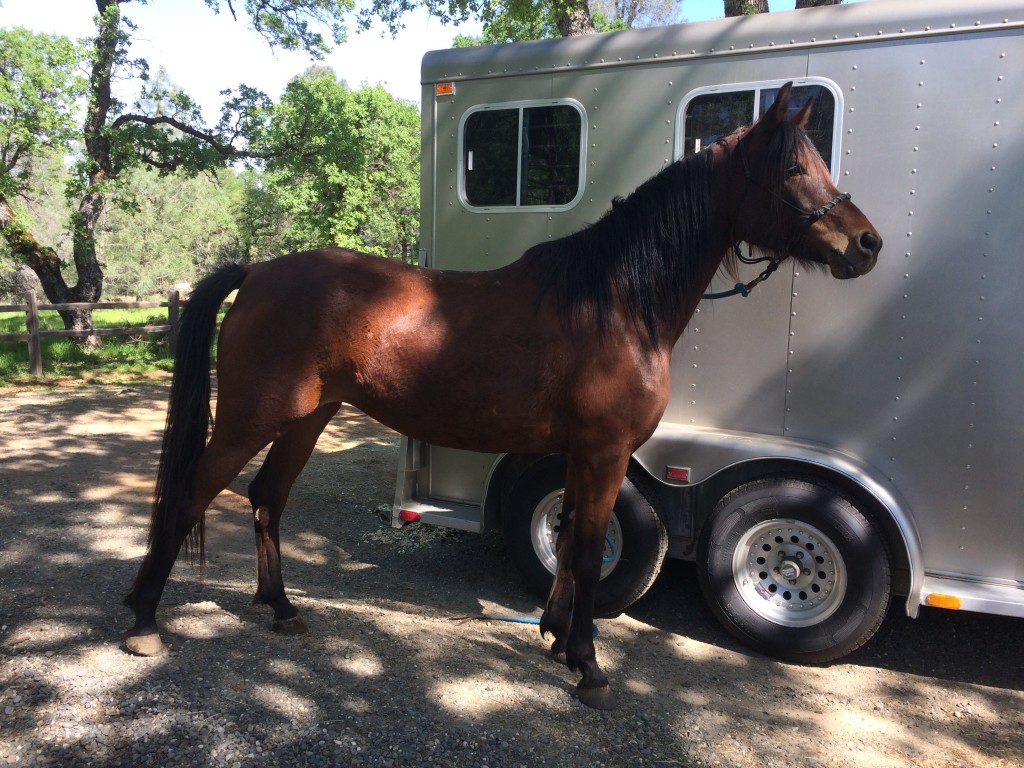 I strategically parked so that the way out was downhill, and the return to the trailer was uphill. I didn't have a lot in my favor but I was going to do what I could for success LMAO.
I won't bore you for the entire 6.5 mile, 2 1/2 hour ride so here's the highlights.
The end.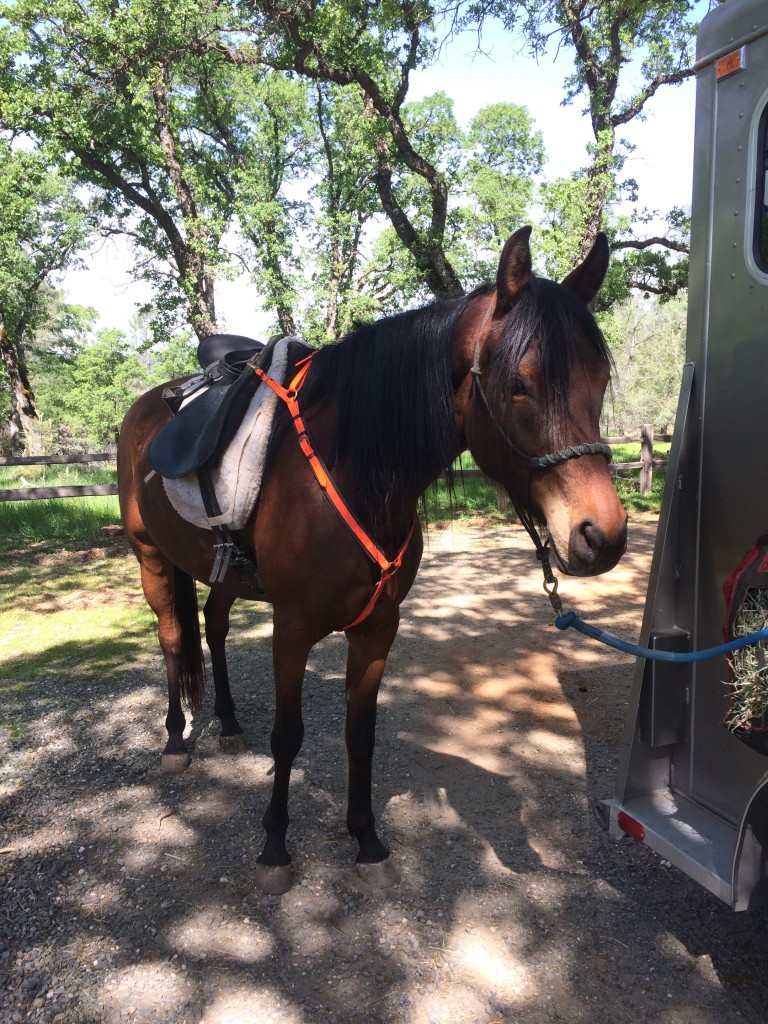 Going out (I decided to hike down to the other trail head and then turn around, riding when I could) we mostly walked and I asked her to do some in hand trotting. I don't *think* she's ever been on a technical trail before – just around the orchard type stuff on dirt roads so I could tell she was thinking hard about organizing her feet. I'm a fan of not baby-ing the horses too much – get 'er done – but keeping an eye on them that they aren't getting completely overwhelmed and shutting down. She was thinking hard for those first couple of miles – but she was thinking hard about her job, not the fact that she didn't have a buddy besides me, or what the rustling in the bushes was.
We got to my turn around point and there was some activity (firefighters doing drills, a fire truck, other horses and a trailer etc) , and the placid, obedient, non-tense mare I had been planning on riding up the hill once again turned into something I didn't wanna ride. OK. Whatever, no biggie. Headed up the hill. After a hundred yards she settled again and I hopped on from the ground.
First time ever.
SO EASY.
My Standardbred mare was 16+ hands and I didn't have trouble mounting her from the ground either. I forgot – horses that are tall…but without a big barrel are actually EASIER for me to mount than big barreled short horses.
Well, that's promising. There's not a lot of ideally positioned boulders and logs on this trail so this was going to make this whole excursion much more enjoyable.
It's hard being the lead horse – whether running or riding. When you are in the lead you are constantly making micro decisions and as we've talked about over and over, decisions deplete will power which directly impacts performance – especially endurance performance.
When I was on the ground leading ML she didn't have to think too hard. When I was in the saddle, she was faced with the responsibility of moving down the trail. The first time I mounted up, she lasted about 30 seconds before I could tell she was getting a little frazzled and needed a brain break. I hopped off, lead her for a little bit, and then hopped back on. Repeat. Each time I get on she lasted longer and longer.
By the end of the 2 1/2 hours she was moving down the trail happily and offering to trot (I declined, pointing out the number of rocks, the steepness of the drop off, and her yet to be determined ability to keep both of us upright at that gait on anything but a groomed surface). When we arrived at the trailer I had been mounted for at least 20 min.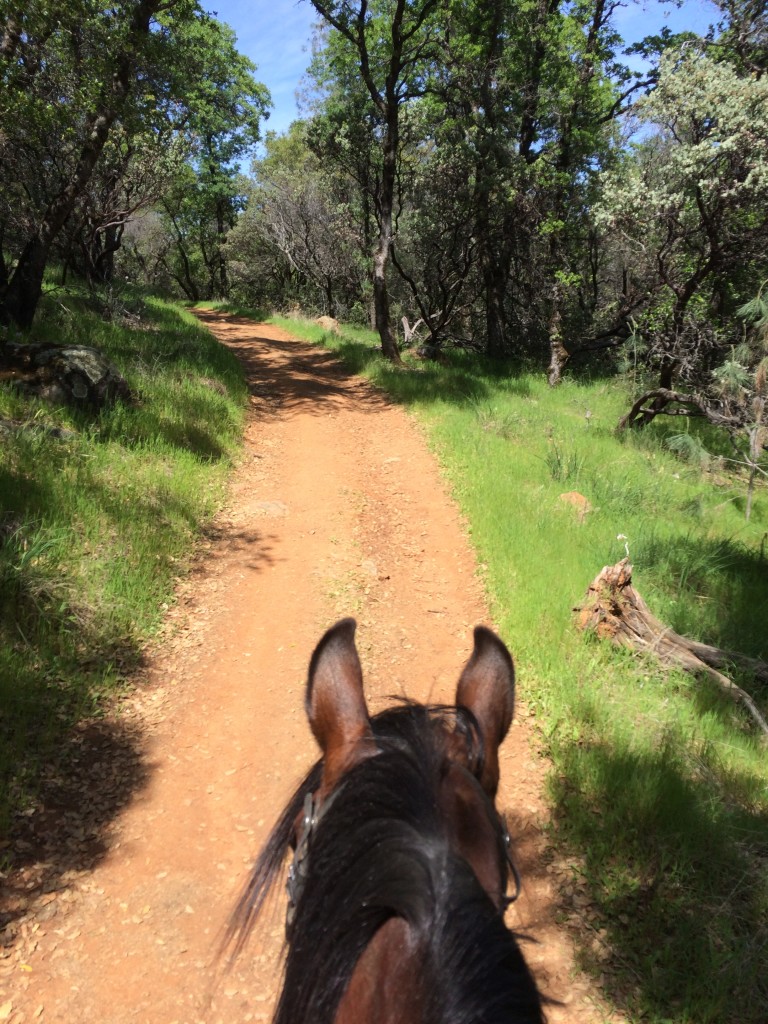 She was so freaking good even if I don't consider how INSANE what I asked her to do that day was from what we had "trained" to that point. There is something to be said about going out long and letting time be your friend for letting them figure stuff out, letting necessity be your guide for the training lessons of the day (I must have mounted from the ground 15 or so times), and allowing room in your plans for them to show you what they are capable of.
Looking forward…..
I'm hoping we get out on the trail one more time before I switch the mares out again at mare camp, weather permitting. In the meantime there's some arena work to be done, and some tack stuff to refine – she's a little girth sensitive post ride where the neoprene buckle guards from the mohair girth were.
I think I might have the beginnings of an endurance horse. So grateful for Amber's solid 60 days on her 2 years ago, and for Aurora's offer of a hilly pasture. Those things plus ML's good brain is the only way I'm getting away with the hair-brained things I do with her.