Monday Media Q: Eating under Saddle

Here's this week's Monday Media Feature:
"I'm wondering how you go about training your horse to eat on the trail only when you say it's OK. I heard that when training an endurance horse, you should encourage it to eat, but now I've got a little guy who nose dives whenever we're going slow and there's a nice patch of grass. I've almost come over his head a couple of times :)"
Before we dive into the basic guidlines and rules for training this skill, go read this post. 
I'll wait right here.
No, no cheating. Go back and click the link.
No, you can't argue with me on the merits of teaching the horse to eat under saddle or NEVER EVER ALLOWING THAT AWFUL BEHAVIOR on your own precious snowflake until you've CLICKED THE LINK.
OK, so now we are on the same page. Eating under saddle –  like cantering, loading in a trailer, polite mounting skills – is a skill that can be taught politely.
Jerking, rooting, sudden stops and diving for the choice morsels is not acceptable and needs to stop NOW.
Would you allow that same horse to buck every time it transitioned to a canter? NO! It's rude and dangerous.
The first thing that happens when a pony is making poor life decisions such as described, is the privilege of eating under saddle is revoked.
A horse doesn't need to eat on a training ride lasting 1-2 hours. Until the skill can be re-trained so that it occurs in an acceptable way on cue, the horse doesn't get to eat under saddle. It usually doesn't take more than a couple of shorter rides where no eating was allowed to get the hint. You need to be perfect – anticipate it, be prepared, and don't let them get even a single bite of grass. It's not harmless and it's very rewarding. Be effective, move the pony forward.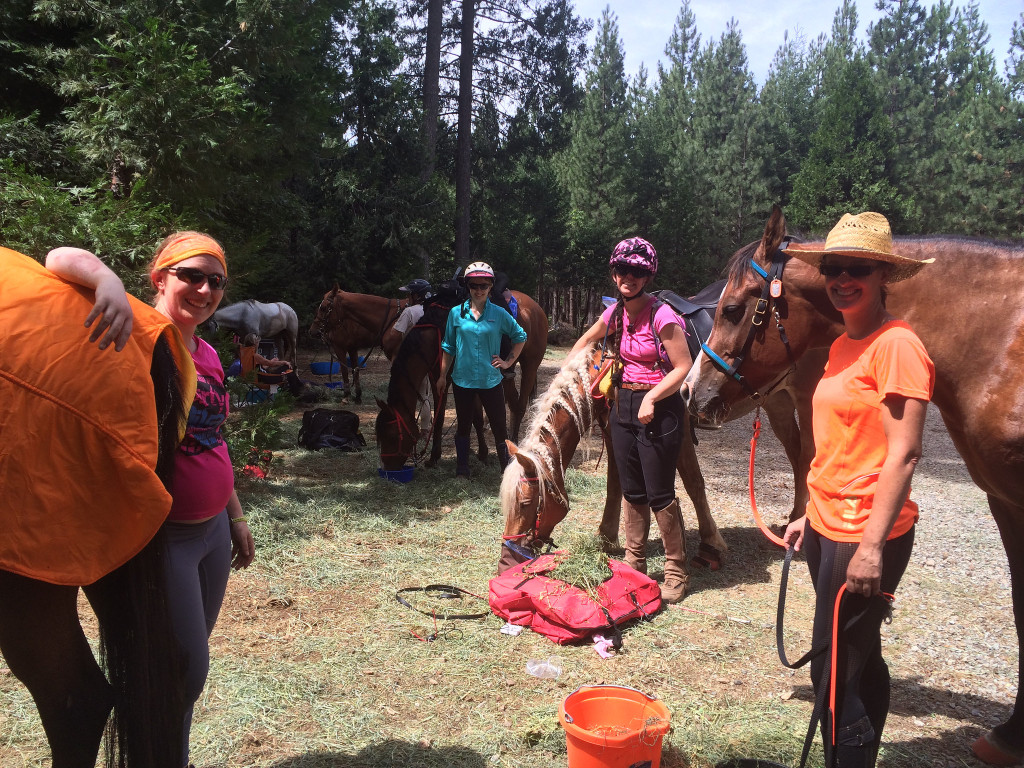 Now that you are practicing perfect avoidance, establish the ground rules for eating under saddle and consistently enforce them.
Here are my ground rules for eating under saddle.
Thou shalt not jerk against me in any way – lead rope or rein – towards grass to eat.
Thou shalt wait for a signal that eating can be practiced.
Thou shalt STOP eating and come away willingly when asked.
Violation of these rules results in a complete loss of eating privileges (usually, for the rest of the ride).
I signal to my horses that it's OK to eat in a couple of different ways:
Situational – if I'm on the trail and I'm mounting, or standing still next to grass, it's perfectly acceptable for them to partake – as long as they aren't moving their feet or using it as an excuse to move forward down the trail.
A verbal cue – "wanna eat"? I then loosen my reins and point them towards a delicious pile of grass. They have the choice of eating, or ignoring the question (in which case I gather up my reins and move on to other things). I don't beg them to eat or allow them to wander all over the trail. Either they decide they are hungry and want to eat and do so, or they can wait until I decide to offer the chance again, or we are at the trailer.
In either situation, when I kiss and say "let's go" and gently bump my feet against their sides, they need to grab their last mouthful and GO. No yanking their head up, screaming, thumping, or jerking.
At first I over-exaggerate my cues for asking them to eat making it very obvious and deliberate. Over time my horses have learned the situations and my body language of when it's an appropriate time and the cues can be more subtle
"Training" good under saddle eating behavior is as simple as being very consistent about your ground rules and not allowing it to happen rudely or inappropriately