Not a Gift Guide 2018

Did you think I could really let the new year slip by without my annual "definitely not a gift guide" post? For those of you that indulged in copious amounts of eggnog and don't remember what the point of these posts are, this is about items that came into my life this year that bring me absolute unqualified joy when I use them.
It's an exercise in me giving thanks rather than putting together a list of crap I think you or I might like. These are not the sexiest things on the planet. Neither are they the most trendy, cool, gadgets of the year. These are the silent work horses in my life that bring me joy every single time I use them.
Different from previous years, this year's list is mostly filled with things that other people got me. It's even another layer of thanks-giving beyond the objects themselves, to the many wonderful people of my life
Best of the Best 2018
Bullet Journalling
At the beginning of the year I bought a notebook and started bullet journaling. Excuse some language here….it was such a fucking relief to let go of the electronic to-dos, calendars, and notepads. Good bye to multiple devices that sometimes did not sync in expected ways. Good bye to random purging of historical calendar events that would occur. Good bye to favorite useful apps not updating with the current operating systems and having to start all over with another app. Good bye to keeping a riding log, running log, and a shoe log, and a financial planning log-app-random-notebook.
I had NO IDEA how much brain space went towards trying to keep track of all the threads of my complicated life in electronic form. The resulting low-level anxiety and stress over keeping on top of everything was real, even if unacknowledged. I spent more energy making sure that the things I wrote down in order to remember them were still there and not lost to some glitch, or that I could find them later, or trying to organize them within the confines of whatever program I was using…..I HAD ENOUGH.
No pre-made planner will accommodate all my needs. I decided to buy a blank notebook and try bullet journaling.
Not the pretty artsy pages you see on pinterest…but a work horse bullet journal that would make my life EASIER, lessen stress, and make me feel in control of my life during a time when there are a million metaphorical balls in the air.
I looked at some examples of basic page types online, and took the advice to keep it really simple at first, only adding "other" stuff beyond calendar and to-do type things after a couple of weeks.
I made my first Bujo entry on Jan 11th 2018. Almost a year later I've diligently written in my Bujo every single day. Many things have gone wrong or just plain crazy this year, but the Bujo has been my touchstone and has truly saved me time and reduced my anxiety.
The bulk of the Bujo is events and to-do, with any daily comments very precise and brief. However, to give you an idea of the power of Bullet Journaling, here is the index of my current Bujo, excluding calendar/to-do type stuff.
2018 wins (anytime something happened to me that was good because goodness knows I needed the reminders this year)
CE hours (professional continuing education hours that are required in various topics in certain quantities of hours)
Pet Health Records
Shoe log
Running log
Past Race paces and finish times
Rio 100 2018 planning and events notes
Quicksilver 100k planning notes
Monthly bill schedule
Quarterly Bill schedule
Loan details and balances
Debt pay off and savings goals
Financial plan
Farley log
MerryLegs log
Book ideas
Blog post ideas
2018 books read
Vehicle maintenance
Paige memories
Style project notes
2018 Lakes and trails visited
Various planning/cost estimates for proton treatment at Loma Linda
Various pages that correspond to when we were on family vacations to various places
My Bujo's are messy and far from the cohesive beautiful organized images you see on the internet, but it fulfills its purpose wonderfully in my life. The fear of not being able to do it "good enough" shouldn't keep you from trying bullet journaling out if you think it might benefit you.
The Curated Closet Book
I don't buy books.
This is an exception. Even weirder….the subject was clothes and fashion. Subjects I normally abhor.
I heard about this book on the podcast "By the Book" and liked it enough from the synopsis there that I checked it out as an ebook from the library. After only reading a couple of chapters, I knew I needed the physical copy of the book in my home library to refer to often so I bought it.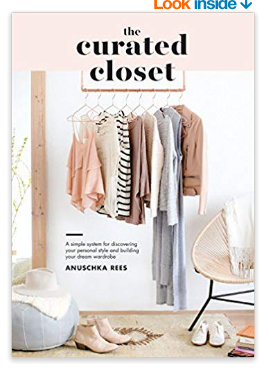 I spent about 2 months doing exactly what she said. I set up a pinterest board. I spent time evaluating the key and signature pieces missing in my closet. I decided how often I wanted to do laundry. I developed my own personal palette of colors. I took pictures of myself for 2 weeks in every single outfit I put on. I did the homework, and it was totally worth it.
I'm so happy with my wardrobe in a way that I can't remember since before junior high. It's SO ME. I have so many outfits that work in so many different ways. I don't even have to think about what to wear any more because I love everything in my closet (and when I discover that there's something I don't, it immediately goes away) and it all works together to create cute, flattering, comfortable outfits instantly. I didn't follow someone else's style for my body type, or coloring, or season, this is *my* style that *I* put together and that's so empowering.
Near the end I did modify her system since I am cheap and also have store/buying anxiety. I used Stitch Fix and Thrift stores to get my wardrobe up and going.
Thrift store shopping is so easy because I have certain pieces I'm still missing and specific criteria for clothes I'm buying nowadays. I can breeze through a thrift store in 15-20 minutes and come out with one or two perfect things, instead of a whole armful of "almost" clothes that I'll never wear.
This book gave me such a wonderful gift – I feel comfortable in my own clothes. Which is amazing.
Kindle with a pretty case
I read a lot of ebooks through my library on my mini ipad. (ebooks from libraries should totally be their own separate THAT'S AWESOME item). I've been toying with the idea of asking for a kindle for xmas since the battery life is wanting on the ipad, and the weight of the ipad when trying to read on my back in bed is annoying….but then my parents did something even more amazing this year. They bought me a kindle….LINKED TO THEIR BOOK ACCOUNT and now I can read like a billion books, even if I forgot to check out a library book and get on the wait list (most of the really popular books I have to wait a couple of weeks for). It's a pretty awesome gift for a bookworm like me that grew up among my parents ever towering book cases of books. I've basically not left the couch since Christmas.
Since the first two months of the year will likely be lots of airports and doctor's offices (proton radiation starts in Lomo Linda hopefully Jan 7!) this is a welcome gift in so many ways.
Art Prints
I'm a little obsessed with having art that makes me feel good on my walls. I'm home a lot more than I've ever been (small child, various home-owner emergencies, dealing with the treatment choices etc for the meningioma) and I'm finding that have images around me that make me happy make not being on the trails on horse back a little more bearable.
My favorite horse print in my horse is a small piece by Terry Hecker that I fell in love with at an endurance ride I was vetting. It was being offered as one of many prizes to choose from on a table. In desperation I asked the ride manager whether I could buy it – name your price – and instead she gave it to me.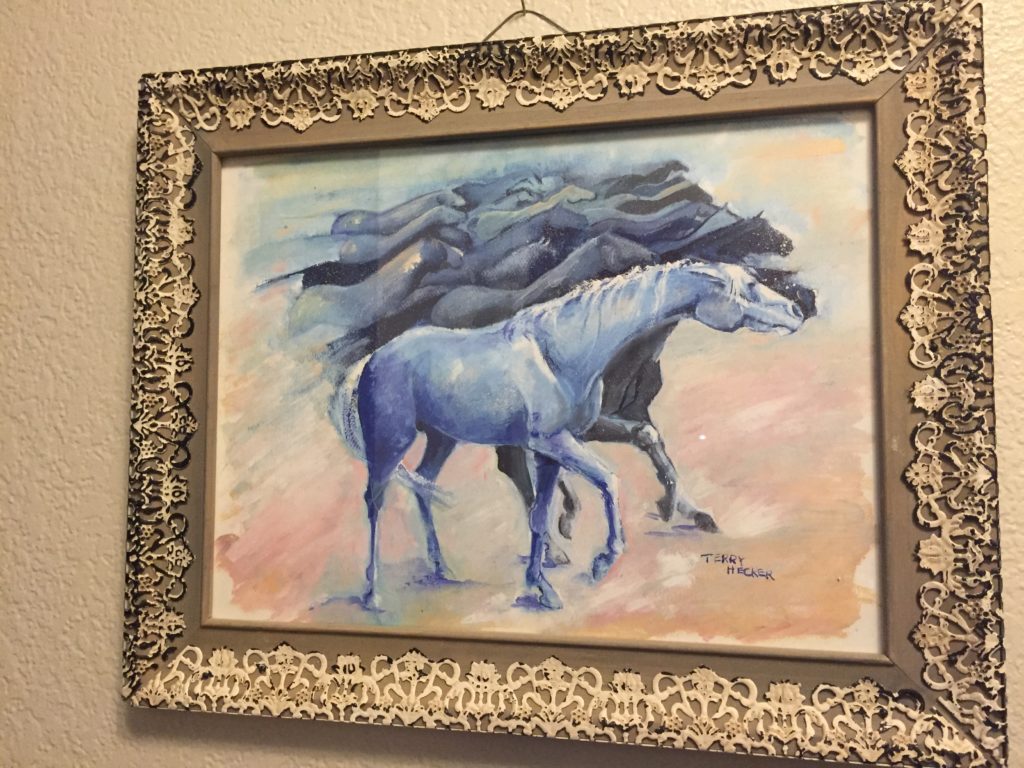 For Xmas my husband told me I could choose a large horse-themed print for the front living room, which is the room the family hangs out in the most often. This was a huge trust exercise from him, not being a horse person, and he knows my taste in art is NOT photo-realistic, while his IS. The compromise was this: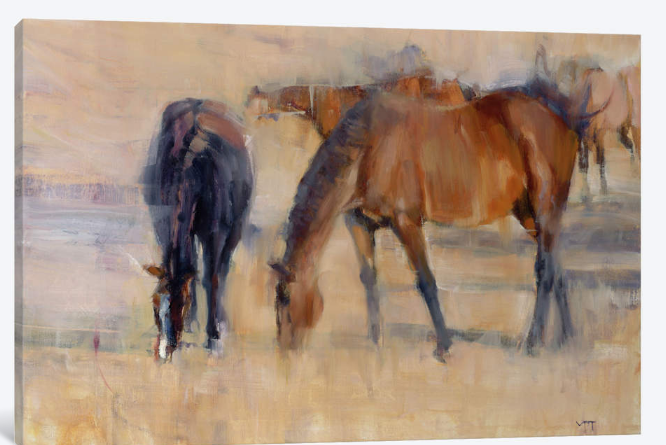 icanvas.com was great. They have sales all the time, so don't you dare buy something full price! Shipping was free, the order came quickly, and completely undamaged, which is saying something since I chose the massive 40×26 size. It looks perfect in my living room. Their prices are reasonable (buy on sale!) enough that I could see myself splurging on another piece someday soon. Maybe one of these?
Unexpected generosity from a friend
I really struggled whether to share this one here. I'm not so good at accepting gifts in general, and money in particular. I'm acutely aware that life isn't fair, and I'm no more deserving of good fortune or luck as anyone else that is reading this. But, the random acts of generosity from friends this year touched me so deeply I'll take the risk that this might alienate readers.
Multiple times this year friends and acquaintances were generous. ie they gave me money, even though I insisted it wasn't necessary (I have good credit! I can easily get a loan if needed!). But lots of people decided to give me a lesson in generosity. Their reasons ranged from "I have it and I want to share it", to "you are family and I want to contribute". I understood these reasons and even though I was uncomfortable, I was grateful. But, it was the final lesson in generosity that I really taught me what this was all about. Someone else (a friend of a mutual friend that I've admired from afar)  "felt rich for a day". For no other reason than because she wanted another one of her friends to share in that feeling, she pay pal'ed me. That's it. No strings attached, no justification given. It was amazing. I cried. I couldn't believe it.
Generosity. To people I know well, and people you don't. To family, friends, and acquaintances. I'm inspired to do better. To see a need and do my best to fulfill it. To share my windfalls with my friends so that we can all feel "rich for a day". Rich beyond money – but to feel "rich" because  people who care are surrounding us, who don't have to because of blood and history, but simply because they do.
Motion LED battery lights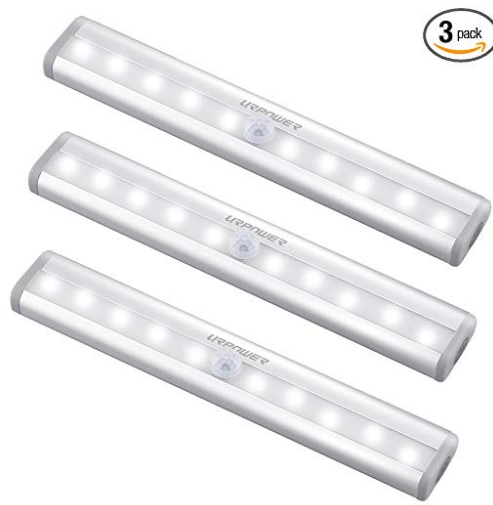 I bought these for about $20 on Amazon (price fluctuates a little bit) as a three pack. The base sticks onto a surface, and then the light part pulls away (magnet) so that no matter where you put these, it's easy to replace the batteries. I liked my first set so much I immediately bought a second 3 pack. I've stuck them in and under cabinets, in closets and pantries….and in my horse trailer and tack room. They work like a charm! The light is a little "blue" to be really easy on the eyes, but it's effective and the motion sensor works really well. It's been a couple of months and I'm on the first set of batteries on all the lights except the one that I put in the kitchen under a cabinet. It turns on every time I walk by because it's such a dark area and it's a high traffic area.
I don't know if the sticky will survive a California summer on the ceiling of my horse trailer, but based on the surface area of the sticky and overall weight of the light, I'll think I'll be ok.
Braava floor robot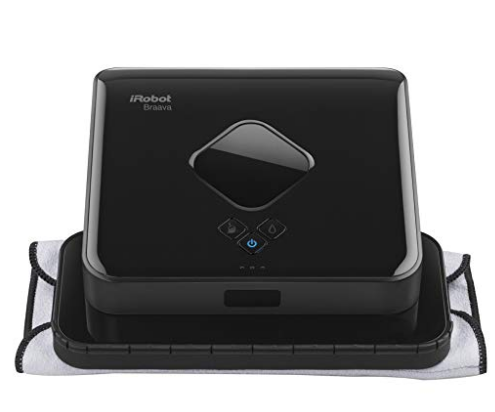 I have mostly hard floors (laminate and vinyl) in my house and I use this sweep/mop robot way more than my roomba at this point. This one quiet and effective. I still use the roomba in my few carpeted rooms, but it's so loud I don't like to run it when I'm home and it gets "stuck" far more than this little beauty. This Braava used to be my Mom's and needed a battery replacement. I bought a battery off of amazon and it works like a charm!
If you are interested in your own floor robots, check out Facebook Marketplace. I see them there for ~$100 or less all the time. Most of the parts are easily replaced and the cost of the parts is reasonable. Over the years I've put a new battery and a new gear box in the roomba (I've had it for 7 years), and I've replaced a battery in the Braava. Consider buying one cheap used and replacing parts.
Tailor's chalk
I used these at a friend's house and immediately knew I needed some. If you do any marking on fabric and need precise lines and marks or to trace dynamic shapes (such as around a saddle on a horse back onto a sheet etc.) this is one of the best chalks out there IMO. I love how the feel in my hand.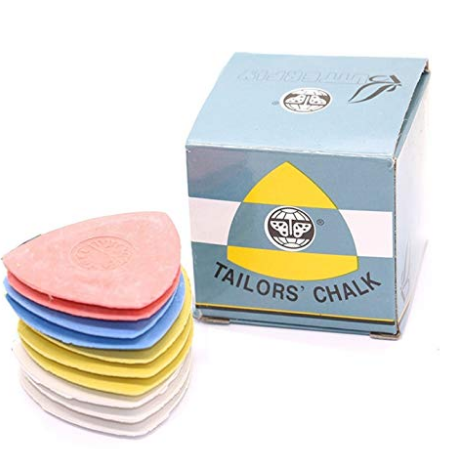 Waist leash with elastic
I picked up one of these in a thrift store and I have been using it with Tess. It GREATLY reduces fatigue on my arms and hands during a run, is the right length for me not to trip on it but it also keep her far enough away from me to not be under my feet. I've had no problems with the waist band – it's comfy on runs of up to a couple of hours (haven't used it for runs over 3 hours yet).
This is the one I have: http://spindriftdog.com/daisy_runner.html but I'm not sure if they are available. I think the important elements if you buy a different brand are the neoprene padded belt, the bungee leash, and the leash length. I'm 5'2″ so if you are much taller than me, you might want a longer leash.
BeFree water filter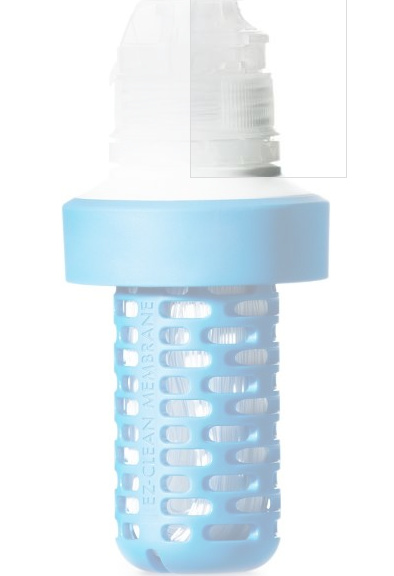 Last year I said that the Sawyer straw water filter was awesome. This one is even more awesome. It only fits on the wide mouth hydrapak bottles – but since they are the soft bottles I already use it's fine. I can use one of these (on a soft bottle) in my vest pocket and it works exactly like the regular top – I don't have to remove the bottle from the pocket to drink and it doesn't require a lot of "sucking" to get the water to come out. I drink enough water because my mouth doesn't get fatigued even without squeezing it.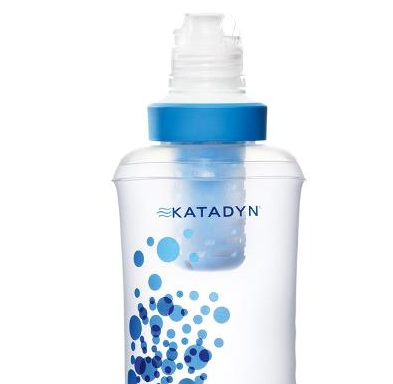 I carry this filter plus a bottle on long training runs and it has worked perfectly for me all year. I did a 20 mile training run on a section of trail I knew had creeks, and with this filter plus 500 ml soft bottle I didn't have to carry anything else. It made the run much more comfortable not carrying a ton of water.
Best of 2018 Reading
Is there anything better than a good book? Ok, maybe a good horse. But besides that? Here's the books that I read this year that got 4 or 5 star ratings. In my system a perfectly adequate, enjoyable book gets 3 stars. 4 stars means I can recommend the book without reservation. 5 stars means I lost sleep trying to read it because I couldn't put it down.
If you want to follow me on GoodReads, I rate every book I read there (I can't keep track of what I've already read and what I want to read next unless I use GoodReads).
The Radium Girls: The Dark Story of America's Shining Women
The Giver (I reread it this year so that I could read the sequels, which I had not read before. The first book of the series is far better than the sequals IMO and the only one to appear on this list. It was not originally written to have a sequal, so don't be afraid to read this book as a stand alone).
The Hundred Thousand Kingdoms (after you finish this one, read the next two in the trilogy, I rated them highly as well!)
Hold Me Closer Necromancer (best book I read in 2018)
Before the Devil Breaks You (this is #3 in a series, and by far my favorite. If you read the first 2 and are wondering whether to go on….do it! Finally the character development is far enough along that I find them interesting and I care about them)
The Family that Couldn't Sleep: A medical mystery
Thunderhead (#2 in the series, yes, read the first one first. It was on my 2017 list as a must read)
Cannibalism: a perfectly natural history
Helter Skelter: The true story of the mason murders
The Butchering Art: Joseph Lister's quest to transform the grisly world of Victorian Medicine
I also read the Game of Thrones graphic novels and they were GREAT. The art was incredible. They aren't listed above because I think you will enjoy them more if you have some context for them – either have read the books or seen the HBO show first, but if you are curious about GOT before committing to the books or show, they also might be enjoyable? Check them out if you wish.
Another honorable mention is the 55 corrective exercises for horses book that is featured near the end of this post. 
I wanna know….
What were the best books you read in 2018? Any gadgets or products that you discovered in 2018 that you love and want to share?