Boredom Busters

Let's say you have a horse on stall rest. A very smart, relatively young horse that just came home for three months from the trainer where she was amused every.single.day. From past experience I knew that MerryLegs responds to stall rest with fidgety restless energy that barely leaves the stall standing, when she isn't busy being completely depressed, non-engaged and completely apathetic about life.
As I see it there are two choices. Grab the pharmaceuticals, or get creative. As the latter is preferable to the former if at all possible, I gave it my best shot. Here's what I tried, what worked, and what didn't.
Unlimited hay
ML actually needs to gain weight and isn't a hay pig so this was my go-to. Constant hay in her feeder was a sure way to occupy at least some of her time. We had compromised on giving her a little outdoor run area attached to the stall, instead of the absolutely stall rest originally recommended for the first two weeks. I figured out that location was really important. Hay set in the corner of her outdoor area was actually eaten so I set up a little feeding area out there. I was happy because she was eating, and she was happy because she could hang out where she could see Farley and feel like she was still "part of things" (an important thing for this mare). Unlike the last time she was on stall rest, she actually maintained weight (and maybe gained a little bit) instead of the weight melting off of her at a horrifying rate.
If your horse is more of a Farley (piglet) and less of a ML, a slow feeder might be a good way to integrate this concept.
I also learned my lesson about putting the "thing you want the horse to pay attention to" in the right spot. Don't bother putting the toys and other entertainment somewhere the horse doesn't want to be. Putting it in the their favorite location means they will spend more time with it, and engage with it more.
Lickit treat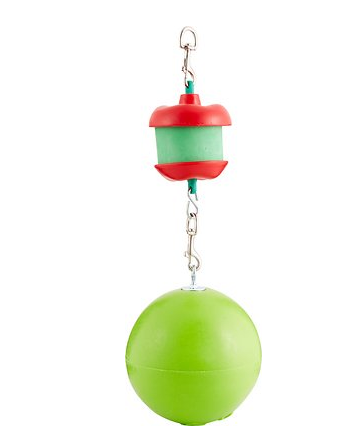 Borrowed this from a friend and she used it a lot more once she was in weeks 3-4 of confinement, when she was allowed out of the stall and into a slightly bigger paddock. This is pretty common toy and if you don't have one, you might see if you can borrow one.
Pellet ball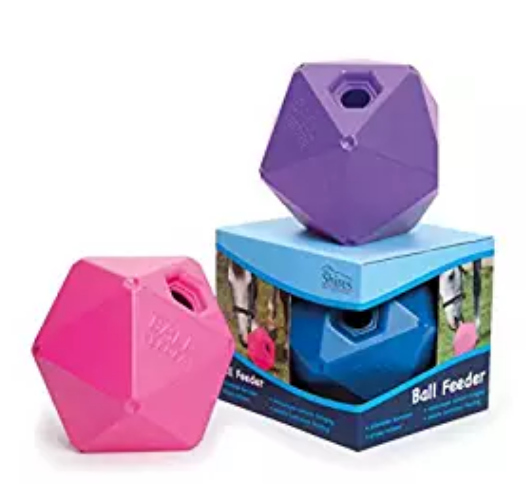 There's a ton of different balls out there similar to what is pictured above. Mine had an opening about the size of a quarter, and I filled it with a couple of pounds of my favorite pelleted feed –  a complete forage based pellet made by a local to my company. I never actually saw her playing with it, but as soon as I was out of sight, I KNOW she immediately went for it, because the times I forgot something and came back 10 minutes later, the ball was moved and had less pellets in it. It was always empty when I came back the next day. This toy worked well in her second stage paddock (weeks 3-4) because the pipe corral fencing was overlaid by no climb that went all the way to the bottom. In the outside run of the stall, the ball easily slipped out the bottom of the pipe corral and I would have to play the game of "find the ball".
If you are only going to buy one toy (and do DIY projects for the rest of them), I think this is the one to buy. I had the fortune to borrow mine from a friend, but I would buy it if I had another horse on stall rest again.
Milk Carton Toys
Going to have a horse on stall rest? Start saving your milk cartons.
The pellets or pieces of grain mixing in with the bedding is a good point. ML spent so little time in her stall, that I didn't bother putting bedding down in it so that any food toys in there could take advantage of the rubber mats. Once she was outside, she managed to find most of the little pieces off of the ground. Yes, sand ingestion and eating of the ground isn't ideal. I haven't had an issue and decided I was comfortable with it. You will have to make your own decision for your own horses and situation.
Non-food toys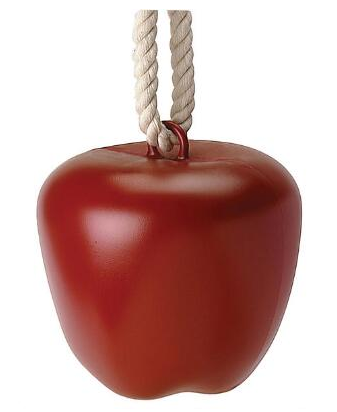 A big plastic apple like this with the rope also attached to a Himalayan block of salt was a get-well gift to ML from a friend. She did play with it some. It wasn't her favorite, but it seemed to take some of her abuse when the food in the food toys was gone (and she was probably trying to figure out the "trick" of getting food out of this one). I thought about drilling holes in the hollow apple and modifying it into a food toy but never got around to it. I hung it on the fence along with the lickit toy above. She does seem to like the Himalayan salt block!
Human interaction
Whatever success the above toys had, the best-est thing ever from ML's perspective was the once or twice a day visits from me. By far, this is the best thing you can do with your stall bound horse. It felt good that she was interacting with the above toys while I was gone, but I could tell they were merely time-wasters until she could BE WITH ME AGAIN.
What did we do?
We played games. All sorts of games.
Some of the games were "tricks" (nod your head, bow, lift a leg, touch a cone) and some where more traditional "tasks" that I approached as tricks and games. Things like: can you back up if I pull on your tail? Can you side pass if I wiggle my fingers?
I varied my methods that I used to teach the different tricks – click-treat, targeting (an extension of click-treat) a ball, a bat, or a cone, as well as traditional pressure and release. There were lots and lots and lots of carrots and treats involved in our games. Treats that she had to earn with polite behavior, and by listening to me. She learned that playing my game meant nice words, scratches, and usually a cookie. She became VERY interested in my games, even if we were doing things that didn't used to be games. Such as trimming feet. Trimming feet used to be boring. She had to stand still and hold her foot up, but the reward of "not getting in trouble" wasn't all that motivating depending on what else was going on in the environment or her brain. However, when the game turned into "If you are an absolute angel and do exactly what I tell her to do with this foot, you get a cookie", she dived into it like a three-year old discovering trick or treating.
My point is, don't just limit yourself to "useless" tricks. Rethink anything you have ever tried to teach your horse and teach it in a different way.
I came out of ML's stall rest trusting her more and trusting her brain.
Book recommendation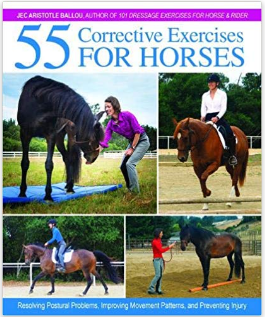 I wish I had this book when ML was going through her post surgical recovery. Many of these exercises are appropriate for horses on stall rest, or cleared for some hand walking. I'm working through the exercises in this book with both horses and having a LOT of fun. This week ML and I worked on "straddling a single pole" (pictured on the cover as the lower right hand image) and got exactly the physiological response the book told me I would (chewing, relaxation). Some of the exercises in the books were actually "tricks" that we worked on during her stall rest period.
On my facebook page (https://www.facebook.com/drmelnewton) I will be posting a few of the exercises that I'm using currently from this book over the next couple of weeks. I'm not sponsored in any way by this book's publisher or the author. I just think it's a great book and deserves some exposure.
Last thoughts
I'll update this post if I come across any more good ideas…but in the meantime, if I missed something that worked really well for your horse, please post in the comments!