Unfortunately….Farley had a massive hoof abscess

Fortunately she's sound again!
Unfortunately it *only* took 4 months.
The day I sent MerryLegs to Amber (our Trainer-extraordinaire) the first week of May, Farley was lame.
If I'm being quite honest, the last five years have been shit. But I had some how thought this was the point it all turned around because I'm an undefeated optimist when I'm not being a pragmatic who refuses to believe that it won't get better at some point.
Being down to one horse simplified my pony life to "ride Farley". Great. Perfect time to figure out how horses fit into my current life chapter. A chapter which apparently is defined as
having cancer (although at this exact moment in time I was still a month away from diagnosis),
just enough money that it covers the countless emergencies that come at regular intervals lately,
a kid that isn't quite old enough to look after themselves while I arena ride.
I should have plenty of time since I don't work 40 hours a week, but every time I manage to carve a chunk of time out for running or writing or running, it gets rudely trampled on by doctor appointments (that are getting increasingly far away), treatment decisions, work and legal drama, and generally being so mentally burned out that instead of consuming trail miles I'm consuming copious amounts of library books on the couch.
Deep breath.
Looking forward to ML coming back from Amber's in a couple months my goal was to:
Get myself back in riding shape.
Figure out how to work riding regularly into my life and schedule since (cross my fingers) everything was settling down nicely.
Having negotiated every other night off from bedtime duties as stable time I was practically flying to the stable to mount my NQR (not quite retired) steed, who then 10 steps into our "get to know each other again" arena ride proved herself the more traditional definition of NQR (not quite right).
Oh Farley.
So many years of problem free riding and endurance competitions. And now, for the last 2 years every time there are *plans* they are countered by SOMETHING.
It's why she's *sorta* retired. Whether by choice or by fate, I can't reliably condition her for endurance, which means she no longer has center stage. This doesn't mean she will never do endurance again if the starts don't align for a particular ride, but I can't count on her any more.
And now it appeared she had a hoof abscess.
Her first in over a decade of me owning her.
As the weeks passed she was "broken leg lame", which only confirmed my suspicion of an abscess. I waited for it to bust and drain.
I soaked. I bought a pair of hoof testers but she wouldn't react. I tried to use lidocaine to block the foot but it was inconclusive. I tried trimming and digging.
I looked like an abscess, talked like an abscess, and walked like an abscess.  As a month passed I started to doubt myself. Was it really abscess? Or did she actually break something? Had the abscess infected the P3 bone and we were both SCREWED?
Finally on Memorial Day weekend me and the Barn Owner (who is much more than that – old FFA advisor, friend, mentor – seems silly just to call her the Barn Owner) agreed that *something* had to get done. She was in a lot of pain, nothing was working, she was non weight-bearing and even though it sure seemed like an abscess she had to get some relief.
Of course, the day I got home to check on her and call a vet out on a holiday weekend (I don't have the ability to do radiographs at any of my practices right now)….SHE WAS BETTER! She gets to keep her title of least *dramatic horse a little longer.
*This horse is a bloody miracle. Over ten years of competition and yet no emergency vet calls, treatments, no major diseases. Compared to my other horses who seem to require some sort of urgent care every couple of years (Minx colicked twice, ML has had TWO major incidents in 4 years), Farley is a SURVIVOR. A tough old bird who somehow slipped through the cracks early on in her life, slipping under the radar with the reputation as that "sweet little brown mare with straight legs". Who knew that she had a core of pure iron? I'm in awe of this horse every day as I compare what I thought I was buying 12 years ago to what she's become.
Sure enough, there was a draining tract from an abscess above her heel bulb.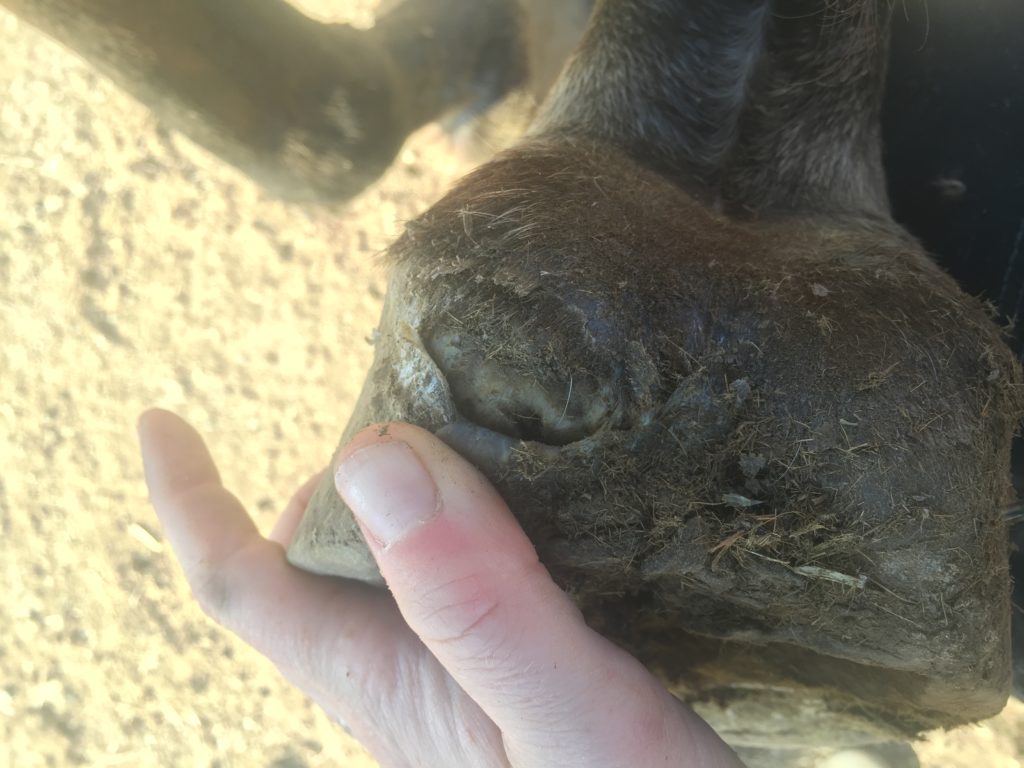 I stuck my thumb in the hole. I could explore a giant hole that took up the ENTIRE space on the bottom of her foot, without reaching the boundaries. That's how big that abscess was. There is nothing creepier than feeling the bottom of the hoof from the "wrong side".
I'd like to tell you I behaved like a well-trained and rational vet.
I did not.
I suppressed the urge to vomit and immediately posted on a horse vets only facebook group asking for advice. WTF do I do with this? This was like no hoof abscess I'd ever seen before. It was HUGE inside that foot.
After some hysterics and some hand holding I found out I had already completed step one (explore the cavity and make sure there was no sticks or foreign objects in there) and they walked me through the laziest way to wrap and poultice.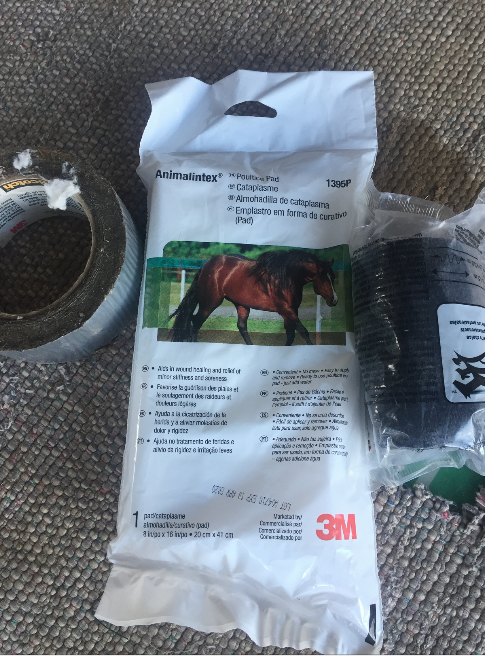 You should definitely not be a lazy ass like me and should definitely follow the advice of your vet.
Here's the problem.
It's totally true what they say about vets and how much time, energy, and attention they have for their own horses. Add in kids, marriage, and a health problem and the gulf between what I'm absolutely going to tell you to do (soak daily, replace every 24 hours) and what I think will probably work and turn out ok (soak as often as I can but it's not happening daily, replace when the whole thing falls off) gets wider and wider.
How long did the wrap last before I replaced it? A long time. She was weight-bearing but wasn't moving around much, so I think (I'm writing this post a couple of months in the future so hard to remember) they were lasting 5-7 days. I could track her comfort and soundness because as she used her foot more, the wraps wouldn't last more than 24 hours.
But I'm getting ahead of myself because the abscess got a lot worse before it got better.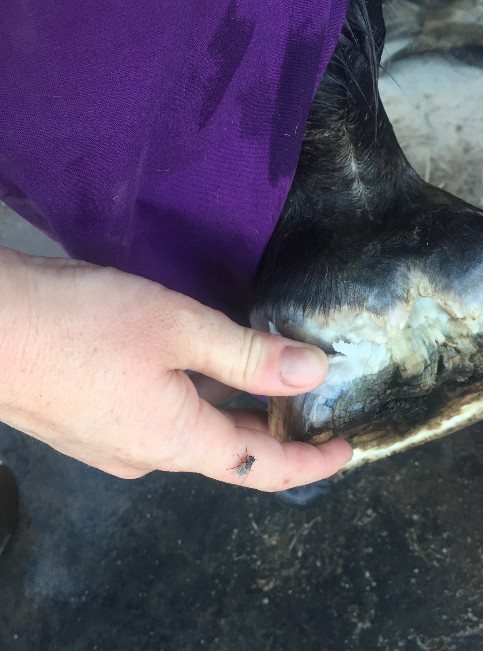 It stayed like this for a while – a nice little manageable hole. It didn't stay like this.
AHHHHHHHHHHH!!!!!!!!!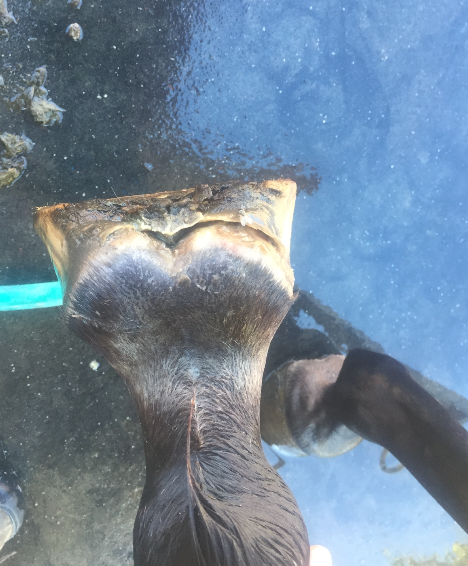 Why yes, it does look like her ENTIRE foot is going to fall off. Why YES, you could slip your fingers into that crack and the whole thing was DETATCHED from the underlying soft tissues.
Cue more panicked messaging to my equine vet only facebook group.
o_O
There was talk of ressecting the obviously dead tissue and cutting away various things, but in the end I was too chicken to do anything but supportive care and let her do the rest.
Eventually (a week or 2?) she was moving around her paddock normally and destroying wraps within 24 hours….so I quit wrapping (very scientific!).
She wasn't sound enough for riding but was comfortable so I monitored her hoof and tried to help where I could as she rebuilt her hoof.
Her frog fell off first. Do you see the crack on the left side of the picture that represents what used to be the coronary band in the picture above?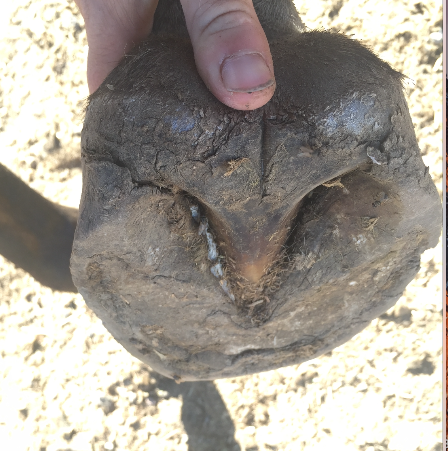 I could tell the whole surface of bottom of that hoof was a thick protective "scab" that had a hollow space underneath it. I finally had to satisfy my curiosity and did a little resection with my hoof nippers.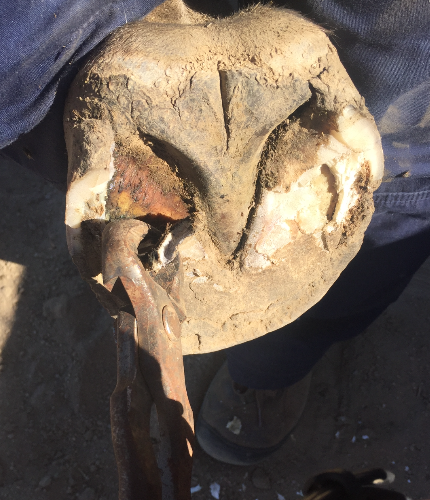 The hoof surface under that hard sole was soft and a bruised color. Looking at the color of the sole and other signs, it was obvious the abscess had occupied about 80% of the surface of the sole. o_O.
The new sole was very tender and sensitive and I tried to do a minimal amount of trimming. I wanted to encourage the foot to grow and heal, but also leave its protective mechanisms for as long as it was needed. Here's what the hoof looked like after its first trim.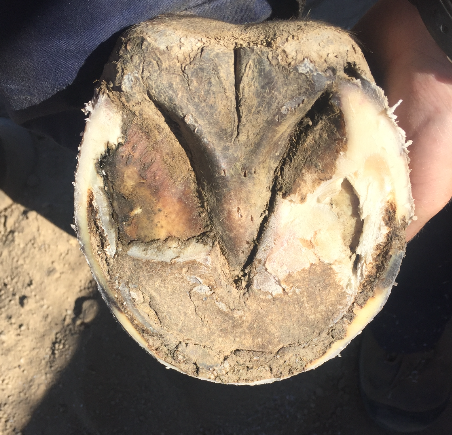 Eventually her hoof did this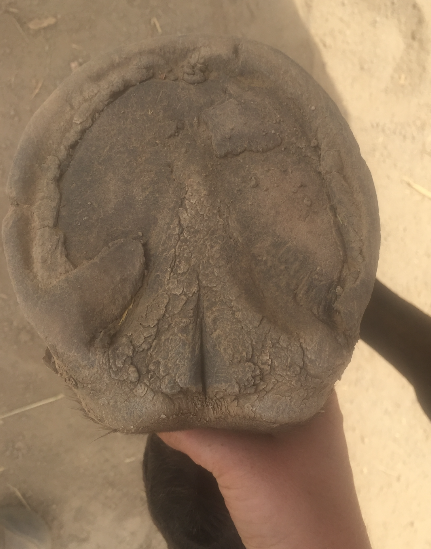 It's hard to appreciate the depth of the hoof in this picture. The sole is still extremely thin and sensitive and there's a thick tall rim of hoof wall that she's using to keep pressure off that sole as it continues to build depth.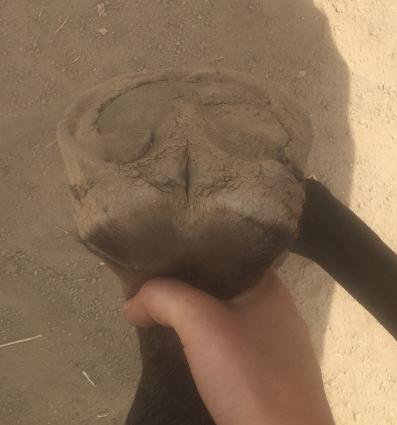 I resisted the urge to trim the hoof in submission. This wasn't a normal hoof. Trimming that wall off and making it look "normal" would have crippled her again at this stage. At this point in her healing she was finally completely sound at all gaits at liberty!!!!!!! She had been walk/trot sound in her paddock for a couple weeks, but reluctant to move out in turnout. But on the day I took the pictures above, she showed me how good she was feeling!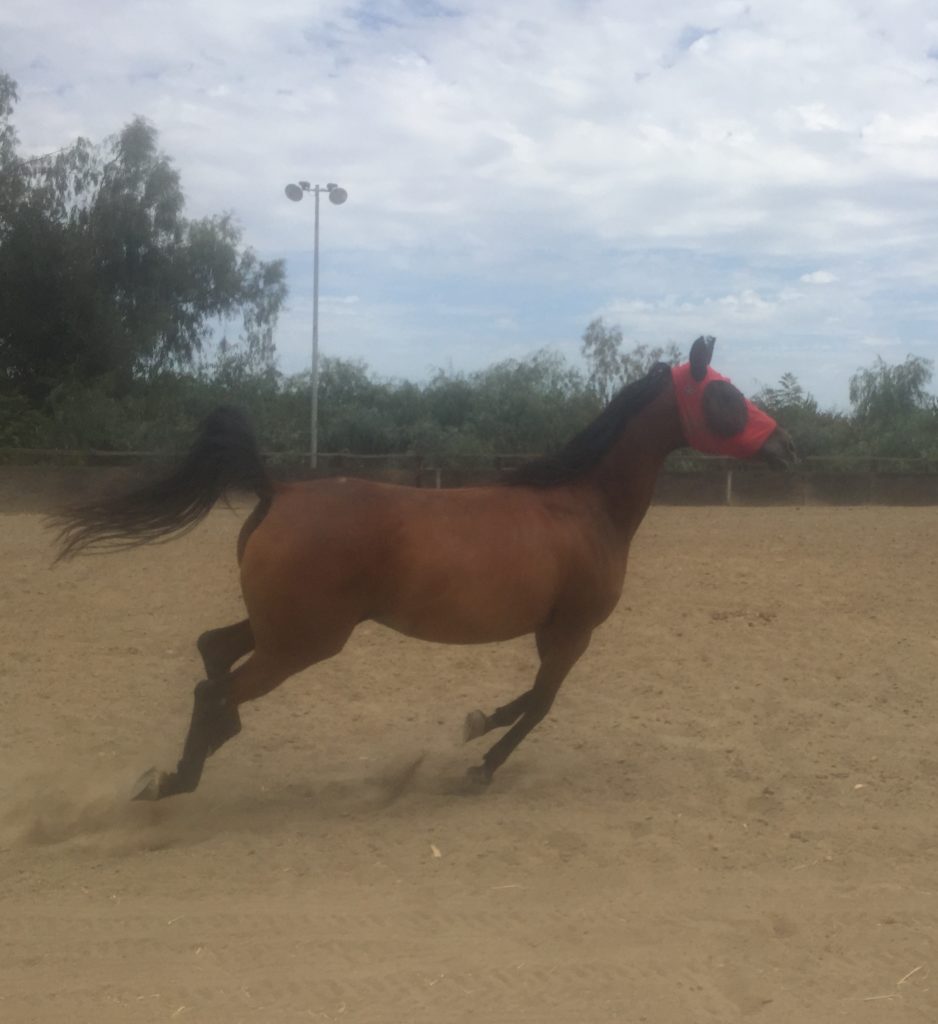 How long did this take? Three months.
Long enough for me to run a 100k,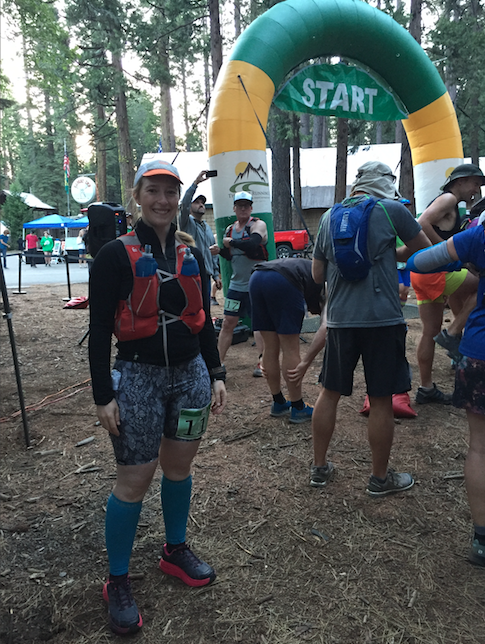 finish the ride and tie long course with the mini Jelly Bean (and then also put together audio files about the experience for a podcast),
run part of a 100 miler,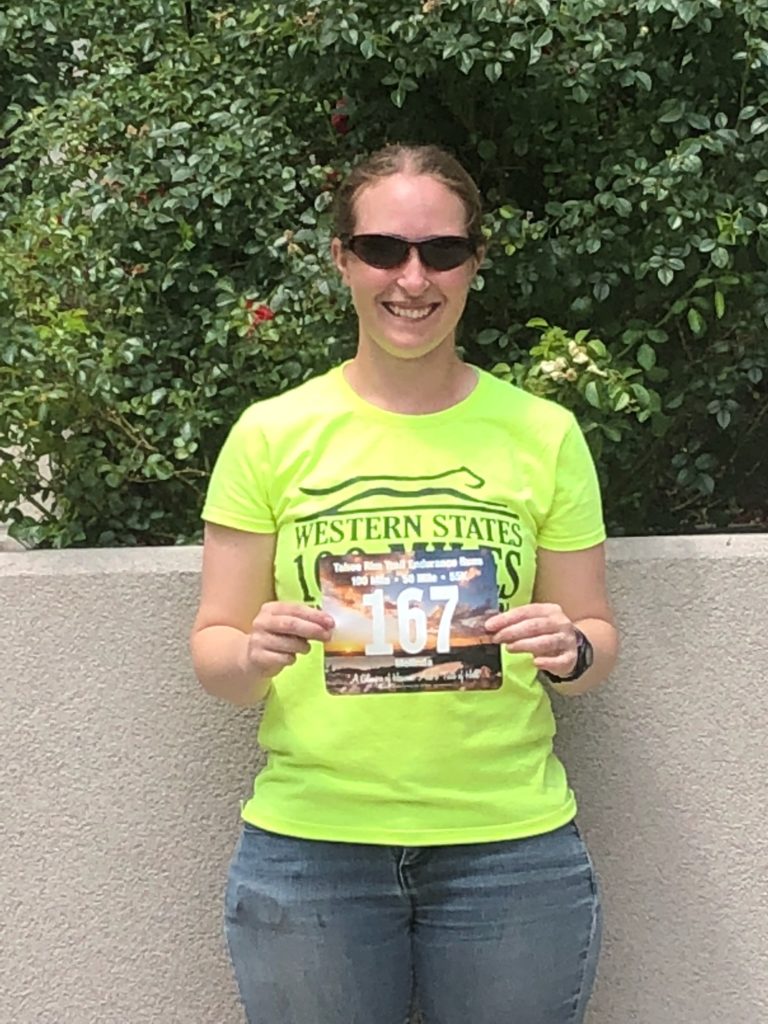 for ML to get diagnosed with an ovarian tumor AND get surgery (more on that later),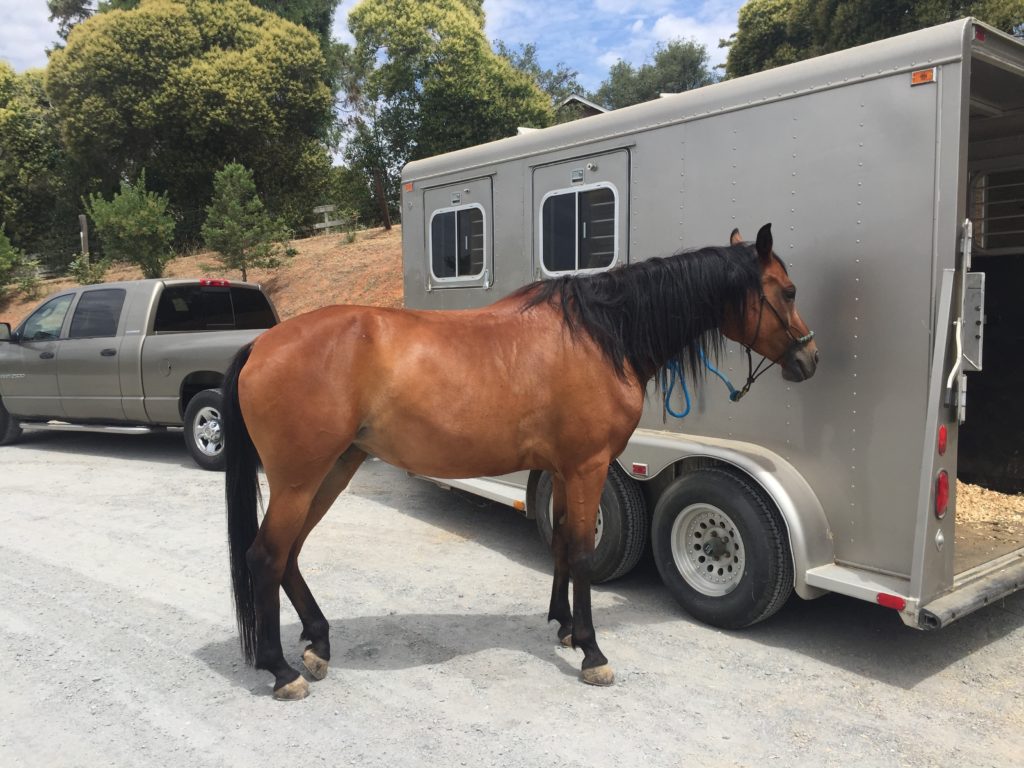 to have another anniversary (can you see where Fig got to the cake before we did? LOL!),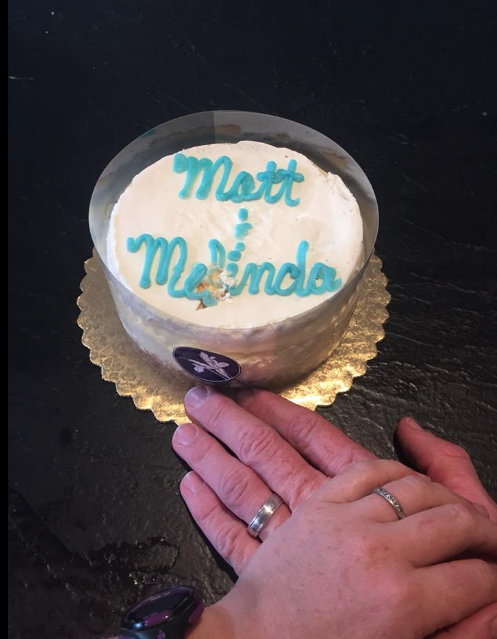 and last but not least, enough time to take two more adorable pictures of this almost-3-year-old.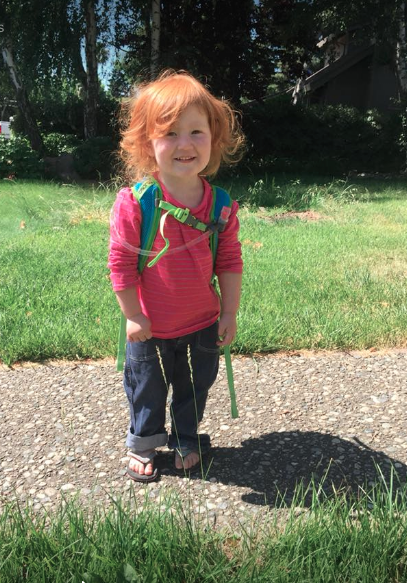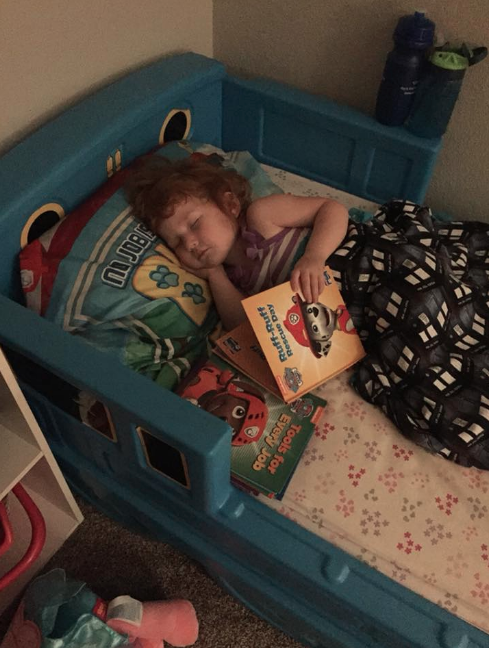 It was another month before she was riding sound with boots on.
So we went riding, and I had a completely magical ride.
In part because during this unscheduled time off I have learned an important lesson about carrots and food rewards.
I'm not a big treat person with my horses.
Farley doesn't care.
She feels she has earned the right to set the terms of our contract and I have been notified that the renegotiated terms includes a LOT of carrots, mashes, and treats.
I would protest more except it's WORKING. I'm generous with the food treats and she's generous with her talents. Even eager to share them with me.
I'll take it.
A couple weeks ago I pulled a blood sample to test her for Cushings. As an older Arab mare that's two strikes. Was the abscess a sign that something else was going on? Catching cushings (PPID) early and treating subclinical horses can really improve outcomes and quality of life. Better to know and make a conscious decision to treat (or not).
and…..she doesn't have Cushings!!!!!! YESSSSSSS. The foot abscess really was just an unlucky stroke of luck this summer, not a sign of something more sinister.
Next up, more "Fortunately…but unfortunately" stories from this summer.