Cooling a hot horse

Here's a highly simplified and barely scientific explanation of why it's important to cool a hot horse during a vet check at an endurance ride.
It boils down to this simple concept:
Blood has lots of jobs to do in the horse's body. Once your horse is standing in the vet check, the blood has two choice – cool the body by going to the skin and releasing heat, or go to the GI system and absorb water, calories and electrolytes. There's only so much blood to go around, so if it's busy cooling your horse down, it won't be helping the digestion system move around and do its thing. You gotta help your horse cool so the blood can prioritize the digestion system!
Now let's review the other over-simplified concept that is terribly important to remember:
Horses get dehydrated over 50 mile rides. The amount of fluid in the their body decreases. What is made up of a LOT of water? Blood. Thus, the volume of blood in a horse's body decreases. Now less blood/body water available, but the demands of cooling the body and making the GI tract happy are even greater – making it even MORE critical that you help your horse out by actively cooling them, so that they can get on with the business of EDPP (Eating, Drinking, Peeing, Pooping).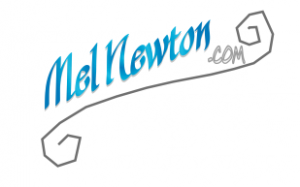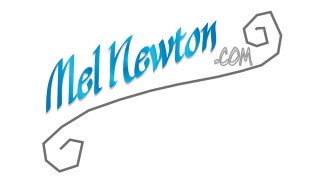 PS. Edit. It's amazing to me how many emails/comments/messages I'm getting that are telling me to redraw the frame with water being poured over the horse's back. Enough that I feel like I have to say something to justify why I drew it that way beyond just it being a more clear image to show water coming from the top instead of being splashed below on the belly.
IT'S OK TO PUT WATER ON YOUR HORSE'S BACK. Do you want to take a really hot horse on a hot day that still has it's tack on and dump ice water on it's butt? No. So, sponge down it's belly and neck and shoulders while you are untacking. At that point the horse should be cool enough that pouring water across it's back etc should be fine and will continue to cool the horse more efficiently than continuing to only place water on the belly. Feet/legs/belly may be sufficient for a horse that is doing pretty well in the heat, but for a horse that is really struggling, is still hot to the touch in the vet line, with an increased respiration and quiet gut sounds, GET SOME WATER ON THE HORSE. It's amazing what can happen after 5 minutes of dedicated cooling and LOTS of water being poured over the horse.
It's important to remember that horse's are individuals. Some horses may be more sensitive to water on their rump etc and getting crampy. My retired 100 mile mare (Farley) tends to be like this. Based on lots of miles together I know to avoid a 2 foot square portion of her rump.
I talk about buckets of water, but actively sponging works too – and you can avoid the rump and problem areas for your horse.
So, like everything else in endurance, where you specifically choose to put water on your horse is an individual choice without a black and white rule. However, if you have a really hot horse this isn't wrong: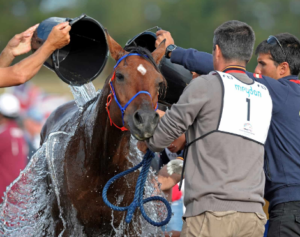 ….and it makes a helluva difference in how they look metabolically.
Is there a risk of cramping? Maybe. Cool smart. Is there a risk that your horse will not be able to dissipate heat well and poor gut motility leading to metabolic problems? Sure. Cool smart. There's a risk and a benefit for almost every decision you make in endurance and part of the game is balancing those risks for you and your horse and getting to the finish line looking as good as you can.