Fall River Century

I recently did the Fall River Century.
When I started this post it was "yesterday I…". Then "last weekend I…" At this point we will settle on "recently" as I have been drowning in work shifts and thwarted by stupid word press problems and just now getting this published. So anyways. In the not so distant past I biked 100 miles.
Biking 100 miles is easier than running 100 miles. 
I mean, duh. One takes 7ish hours and the other takes at at least 24 hours for this slow-ass runner. There is probably something that I could do for 7 hours that is harder than running for 30 hours (swimming comes to mind), but biking isn't it. 
That doesn't mean *biking 100 miles is easy.
*desperately trying NOT to use the word "riding" to describe the bike ride as that will muddle the terminology in this blog until my head explodes. Is she talking about riding horses? riding bikes? I just FINALLY stopped calling the aid stations during a run "vet checks." This is getting so complicated. 
So, what does biking a century feel like if it doesn't feel like running 100 miles? I would compare the effort needed to finish a flat-ish century as similar to a moderately difficult 50k trail race.
Here's the thing. Easier isn't a bad thing, but it also doesn't make for good blogging. 
Where the blood? The tears? The dark night of the soul? 
[Edit: deleted approximately 3 paragraphs of blah blah blah words about scenery and food. Great memories. No story. I can still taste that homemade cobbler though…mmm….]
So, let's just sum up the ride like this. Incredible scenery. More delicious food than I could possible eat in one day. Amazing volunteers and race organization. Supportive teammates out on the road. Highlight of the ride was getting up to FORTY-TWO MILES PER HOUR speeding down a long straight hill with excellent pavement. The secret? I told myself I was going 25 mph and I picked another person traveling at the same speed ahead of me and fixed my eyes on that "fixed" point and lived in denial of how fast the pavement and trees were flying by.
Have I mentioned that I got all of this for 60 bucks, plus another $5 for tent camping? #LetsDoCenturies4Ever!!!!!!!!
I know as I push harder at future races, things will get more interesting.  I think biking centuries is a sweet spot between an endurance effort of just surviving the mileage, while being short enough that I can push without sacrificing a completion. 
Since the most exciting thing about this ride was that I didn't die while moving 42 mph, let's talk about some of the best advice I got for riding biking this century from the experienced riders, and then I'll share some of the "newbie" perspective advice that I would give to another newbie.
Best Century Advice From Experienced People
Carry two spare tubes (I usually only carry one). I didn't have a flat during the ride, but I could have!
Pay attention to your gearing and save a gear "for the top." Always knowing I had one last oh shit gear was a huge mental boost.
Get clipless pedals. I resisted this for months, but finally decided to clip in a week or so before the ride. It made a huge difference and actually does make the distance easier. I think my hesitation has to do with a horse back riding background and a distaste for having my feet "stuck" as I speed along. But once I actually thought through the risks and realized where my fear was coming from – high speed dismounts and being dragged along behind a panicking beast – and how very unlikely that was on a bike, I made then leap and I have zero regrets.
It's OK to walk up that hill if you need to. Someone called it their "last gear." I never actually had to do it, but the option was there.
Use other riders to help you ride smarter. Riding with another horse, or following another runner can have a positive mental benefit for moving along, but biking behind someone else is physically easier and counts as biking smarter, not harder. Several members of my local triathlon club went to the event so I was lucky enough to be able to draft in the group for the first half of the ride.
Wash your bike before the race. It means you will have to actually touch and look at the bike instead of just glancing at it. I found an issue with my rear axle that I was able to fix thanks to washing it the day before!
Newbie to Newbie Advice
Make your first century a ride instead of a race if you can find one. A relaxed atmosphere without the pressure made it more enjoyable.
Just like any other endurance type event, pay attention to your hydration, electrolytes, and fueling. When was the last time you peed? Are you grumpy because you need calories?
Don't get lost.
Get the padded bike shorts. Yeah, they do make a difference. Even if you can do it in unpadded shorts, there's no extra bonus for doing it the hard way.
Make it easy to get to your water while riding. having to slow down to grab a bottle sucks because if you are drafting in a group it will throw you out of position and require a lot of work to get back into position.
Let everyone know it's your first. They will be more forgiving if you do something stupid or ignorant.
Nailed it, Failed it
No, we aren't going to pass this ride by without our usual post-event analysis!
Nailed it
Let's talk about the good first!
Had plenty of gas in the tank at the end of the ride. In future races this wouldn't be a good thing, but for my first century I think that is an excellent pacing decision.
Hydration/fuel/electrolytes were spot on.
Shoving snacks and gear into the pockets on the back of the jersey wasn't nearly as annoying as I thought it would be. My jersey is looser than ideal so putting stuff in those pockets pulls on the neck line when I'm standing, but I didn't even notice the weight or bulk when I was biking. I'm eliminating one of my bike packs for now (see Failed it #2) so being able to stuff things in those back pockets is going to be life-saver.
Failed it
The top three glaring fails of the ride.
Two health things for me to remember. a. Weird rash post race that was probably heat rash on the tops of my thighs, below my bike shorts. **Shrug**. My skin is weird, reacts to everything, and it doesn't take much for it to be grumpy. I got longer shorts to keep more skin out of the sunlight, and I'll just monitor. The rash showed up again at my next ride later in the week, exactly in the same spot even though I was in longer bike shorts, but didn't come back on a longer run today. So we will chalk that up to weird sh*t my skin does and try to keep my pasty white skin out of the sun as much as possible is as my regular mission. b. The bike is triggering my exercise-induced asthma way more than running or swimming. I'm not sure why? It was several hours into the ride before I could properly control my respiration rate. Usually it takes about 30-40 minutes to "warm up." At first I thought that my respiration only got better because that late in the race it was hot and my pace was probably down, but when I looked at my GPS speed data afterwards, I was traveling at the SAME pace as the morning. I'm really going to try and remember to use my inhaler before starting bike rides and swims for a while and see if it helps. It's been a bad allergy year which might be contributing to the exercise-induced asthma being worse? I literally haven't had to think about it in a very very long time.
One of my frame packs interferes with a quick water bottle grab. It was fine for training rides, but on this longer ride it was so very annoying to have to coast for a second to grab a bottle. I found myself putting off a drink because it wasn't easy enough to grab a bottle for a quick drink. So, that frame bag had to go. It's annoying because I'm so short I need a small frame bike and there just isn't a lot of room to put water bottle cages and packs. I'm sure there is a disadvantage to being a 6′ guy and getting to ride a bike frame in the mid to upper 50's (I'm riding a 48cm) but right now as I try to be creative with my gear, I'm a green-eyed envy monster.
Overinflated tires. Turns out that you should completely ignore the sidewall recommendations on bike tires. Something that was pointed out to me AFTER I finished the ride. My tires say 90-100psi. So I run them at 95psi. Apparently because my rims are 28mm in width, I should be running them at 70-75psi or so. Ah. Ok then. Turns out that riding your bike should not feel like you are mounted on a jack hammer with debris fields on the pavement shooting out from underneath your tires like bullets. Newbie fail!
Gear
2018 Ruby Sport Specialized 48″ frame
Helmet (duh)
Lake 39.0 shoes w/ 56 multi directional release clips
Hiking sock liners
Baleaf shorts (oh yes, my favorite cheap running short company makes cheap bike shorts too!)
Random bike jersey. The only one I own.
$20 sunglasses from Amazon that don't slip off my nose and make me bike while grimacing and thus filtering bugs with my teeth,
Sunsleeves from Buff
Random bike gloves. I don't love them. I don't hate them. I meh them.
Bento bag, frame bag, under the seat bag (with tools and tubes).
Two water bottles – one straight water, one with Hammer's Sustained Energy (I'm finding I like this better than their Perpectum product I have been using).
etrex GPS
Fueling: Huma Gels, Spring Energy Gels, Honey stinger caramel waffles, applesauce pouches, ritz bits with cheese. Hammer's endurolyte capsules. Back up ICE: mentos, candied ginger.
Bonus – I haven't been blogging much so how about a little catch up picture-style for those of you that don't see my facebook or instagram (@drmelnewton) stuff?
Bad ass pics from one of my favorite trails in Northern CA.
I'm doing some open water swimming! It's hard and scary but I'm getting better and it's not a bad thing to do things that scare you.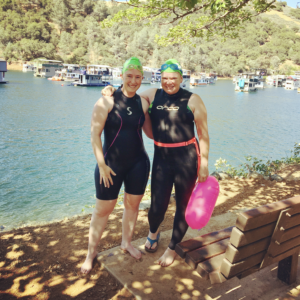 Above: Englebright with fellow blogger, runner, and rider Cyd!
Below: Swimming in one of my favorite Alpine lakes on a camping trip with a view of Lassen in the background.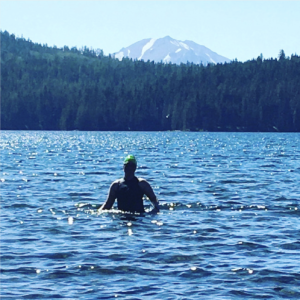 Miss Paige. Who seems to think that just because you are going camping doesn't mean you need to dress anything less than fabulously.