Mel tries a new thing

On Saturday I sorta kinda did my first triathlon.
Except it was virtual.
And with the shut-downs a swim wasn't an option so it was a run-bike-run event.
It also is nowhere near official even for a virtual race because there's no GPS tracks because my GPS was taking forever to get a fix outside and I didn't have forever. I had about three hours before the husband-with-a-migraine and the locked-in-a-house-with-only-adults 4-year-old child needed me RIGHT NOW.
I had spent approximate (edited out because no one needs to know how much time got wasted designing unique loops around my house that were not repetitive and were also exactly the required distances, minimizing red lights and maximizing right hand turns) hours perfecting a 3 km run (~2 miles), 40 km bike (~25 miles), and a 10km run (6.2 miles) that I would use to finish my first official-not-official Olympic distance triathlon, also known as the 5150 distance, because if you add up all the km used, assuming a 1.5km swim, the distance is 51.50 km total. I just saved you a google search. You are welcome.
I set up my transition area in the garage, which is insanely easy when you are biking in your running shoes and your typical running shorts can easily double as biking shorts, and then headed out the door.
Starting what was likely going to be a 3 hour effort with a 2 mile sprint was…challenging.
Here's a moment of truth.
I don't actually know how to warm up. Considering that my first race distance ever was a road marathon, I don't have a race PR for anything shorter than a *10 miler, and I can't remember racing anything shorter than a 100k in the last 2 years, is it that surprising?
*I do have a 5k PR thanks to a free race that the local triathlon club puts on every year. It was that race that introduced me to the club and convinced me to sign up with them. But it's not an event I've ever treated as a race and trained for and my post event comments are always the same: "next year consider warming up."
When you <3 distances that are tests of endurance, the thought of spending time in the parking lot doing high knees prior to measuring your mettle against a trail of epic proportions seems ludicrous…can you blame me for the lack of serious thought in this area?
Nineteen minutes later I ran into my garage, panting gasping and promising that by next time I did one of these things I would know how to perform a freaking warm up. I also knew at this point that not a single step of this effort was going to count, thanks to a temperamental GPS. But, not getting an online badge was OK.
I've always loved training. Even without a race on my calendar, I run. I know for some people the drive to train comes from their goal….I but I just love to run. 
There is a dark side to this. It's why I don't do well with any goal except "to finish." A race looming on the calendar doesn't do much for getting me out the door to do workouts I hate or cross training that I *should* do. Running for the sake of running is a beautiful thing but it's not always going to mean you run with distinction on race day.
It's also why the idea of a virtual race has always struck me as a bit stupid. Why would I constrain myself to a certain distance on a certain day, and maybe give up some runs to taper for a race that wasn't really any different from a training run – ie by myself, from home, and self-supported?
But, I had joined my local triathlon club and they were all doing it, and I wanna be cool too! Sign me up! It's free!
It turns out that virtual races are very useful if you are doing a new sport. It's been a long time since I tried a completely new sport and so while maybe I don't need a virtual marathon to help me run 26.2 miles in a fulfilling way, doing a virtual race for a triathlon/dualathon was actually A BLAST. And yeah, there were some lessons learned.
Getting on the bike to go for a 25 mile ride after panting my way through 2 miles wasn't that hard. Take off hat, put on helmet. As the sweat from my run breezed off my body I had a revelation that after getting out of the water at a real triathlon, the first couple biking miles were going to be very…refreshing. 😬. <— this is me contemplating how very cold and damp I'm going to be. I don't do cold and damp.
I wasn't that worried about getting through the 25 biking miles. I've been doing 20 miles on the bike regularly for the last month, with my longest ride being 25 miles without any trouble about two weeks ago. It turns out that being a trail runner translates really well to road biking fitness. I have yet to really push myself on my road bike, but I was even more cognizant of trying to relax and rid the bike conservatively on Saturday, knowing that I had 10k to run still.
10k is a long way to run if you blow it the first 2 hours.
Each event within the triathlon is so doable that it can be hard to remember that you will be out there for 3+ hours. I know what a 3 hour run feels like. It's not to be taken lightly.
Here's something you should know if you aren't a tri person (tri person? Is that a thing? That's the problem with a not a tri person trying to write a post for also-not-tri-people who know even less than she does). There's these workouts called bricks, where you bike for a while, and then you immediately go out for a run.  During the very short bricks I had done I had noticed that it took a bit for my legs to shift into running mode after biking, sort of like what it feels like to go from riding your horse to hoping off and running. Takes a bit for your brain to rewire its impulses that it's sending your legs. That transition improves with practice.
The other really hard part about this transition is gauging my running pace after being on a bike. Running feels SO HARD after biking…but it's more than that. Biking completely corrupts my internal computer in a way that riding a horse doesn't. My leg turnover while running after getting off the bike feels terrible – like moving through molasses until my brain catches up. But even after it does, I'm still struggling because the run feels really HARD because I'm running much faster than I think am.
I am really good at being able to tell how fast I'm running. It's a skill I've honed and practiced since I started running distance during a time when GPS was unaffordable for a teenager and I didn't have a car to mileage my runs. Fun fact: Biking completely blows my sense of running pace out of the water. It's like tying magnets to a homing pigeon's head.
My bricks had been infrequent and short, but at least I was prepared when I hopped off my bike and my legs felt weird and tight and my brain was screaming at me that it was all over. Relax and keep my feet moving. Go slower even though you think you are slow because nailing 9 min miles when you think you are doing 11's aren't going to do you any favors in the next hour. That's it. Breathe, relax…
But there was another problem.
Despite trying to stuff my face on the bike, my body, now in its running comfort zone, started to demand food.
Being an ultra runner who's ability to continue to go forward is almost entirely based on the consumption of calories, I have a finely honed sense of when I need fuel. A sense that apparently, unlike running pace, biking does not smash into smithereens.
Here's the problem.
I didn't have food.
My stomach growled. I had 6 more miles in a 6.2 mile run and I wasn't headed back to the house to grab food. THIS WAS A RACE DAMNIT.
This was going to be a long 6 miles.
I turned on a peloton outdoor 60 min fun run (free for 90 days!) and prepared to get to work.
My legs started to loosen up. Good good. Just like I thought they would.
I was hungry.
That was OK. I've done fasted runs before. They suck but my body knows how to do this.
My body might, but my brain was crying uncle. I fed it some walk breaks.
My brain started to sulk.
Time to dig deep and pull out some run-walk intervals. My secret weapon.
Trails naturally have walk breaks built into them so I don't bother doing timed intervals, but flat roads can be unrelenting and I can maintain a faster overall pace if I take short frequent breaks. These short run-walk intervals are something I've done since I first started running (thanks Galloway). My magic number is usually a 3 min run and 1 min walk interval. So that's what I did.
Put your head down and do it. Put aside your ego and take the breaks. You've cruised to a lot of marathon finishes just like this and you can maintain an 11:30 average easily with a 3:1.
I felt like I walked a LOT. Way more than what I imagined myself doing on a road 10k. But I also wondered (hoped?) whether the bike to run transition was messing with my running pace more than I thought since the bike ride was so long.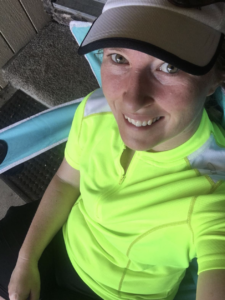 When it was all said and done it was a total effort of 3 hours and 20 min (19 min run, 1:52 bike, 1:07 run). 20 min longer than I thought it would take me. Very sweaty, more tired than I thought I would be, and way more proud. I did it!!!!!!!! And yeah, I did run that last 10k way faster than I thought at the time.
Here's my advice to anyone that has a disability that changes how they interact with the world.
Try something different that you've never done before.
When I'm doing something it's practically impossible for me not to compare before and after having two eyes. I can't do a run without being reminded I have one eye now instead of two, no matter whether it's on the road or the trail. Curb coming up. Am I going to be able to judge when it's time to step over it? Will I step high enough?  Riding horses is the same way. Cowboy action shooting. Bird watching. Sewing, doing surgeries I don't do all the time, running downhill, running in the dark, driving, painting, playing ball with my daughter. All these things are less fun with one eye than two. But road biking? Prior to last month I had never even BEEN on a road bike. The position is so different from the biking I did for commuting, or being on a mountain bike that my brain doesn't even make the correlation between that biking and this biking. IT'S GREAT.
I'm still getting used to the mechanics of the bike and how it responds under me, getting my bum adjusted to being in the saddle again, and figuring out how to hydrate and fuel while pedaling. Right now my bike "training" consists of going out from my front door and careening around the roads for 1-2 hours like a crazy person. I'm having a helluva lot of fun and it comes without being constantly reminded of what I have lost.
Nailed it Failed it
Nailed it
Executing a planned route
Managed to eat and drink on my bike while moving and not fall off
Ummm…my shoe laces stayed tied?
Failed it
Way hungrier when I got off the bike than I realized, with no snacks on the run
When I was doing my walk/run intervals and struggling with how "slow" it felt, I wondered whether my sense of pacing was off and I was actually going way faster than I thought (which is why the exertion felt so hard). Yep. When I checked my times afterwards that 10k was way faster than I thought it would be. My running pacing after getting off the bike will improve with practice, but in the meantime I probably need to do some walk-run intervals during my runs right after getting off the bike to try to recalibrate my pacing and make sure I'm not running too fast as I run longer triathlon distances.
GPS not reliable enough to get official credit. Yeah, i could spend some money and upgrade the GPS I'm running with. But. I know the more tech I add to my sports, the more OCD I get and eventually I burn out and have less fun. So for now I'll live with the risk that these virtual races will not be anything more than just personal accomplishments.
Next up? Next weekend the Ironman site is holding the third race in their virtual race series – a sprint distance. If I thought that a two mile effort was a difficult way to start my morning, what about a 1 mile sprint?