Mendocino 50k Race Sweep 3×3

The first race of the season wasn't really a "race". I was invited to sweep the Mendocino Ultra 50k with my friend Cyd! (Yes, the Cyd of the river adventure…)
I've never gotten to sweep a race, but I've always wanted to. It's one of the best volunteer jobs. A sweep runner is deliberately last and acts as a safety runner, trash picker-upper, etc. In return I get to run a beautiful marked course with aid stations. Total time on Saturday was just under 10 hours on my feet which is AWESOME training. I got to catch up with Cyd, dwaddle in aid stations, pose for pictures, and experiment with some different gear and fueling strategies.
Here's my 3×3 for this race and as always, if you have any questions about the race, my training or anything else leave them in the comments or shoot me a message and I would be happy to answer them.
The Good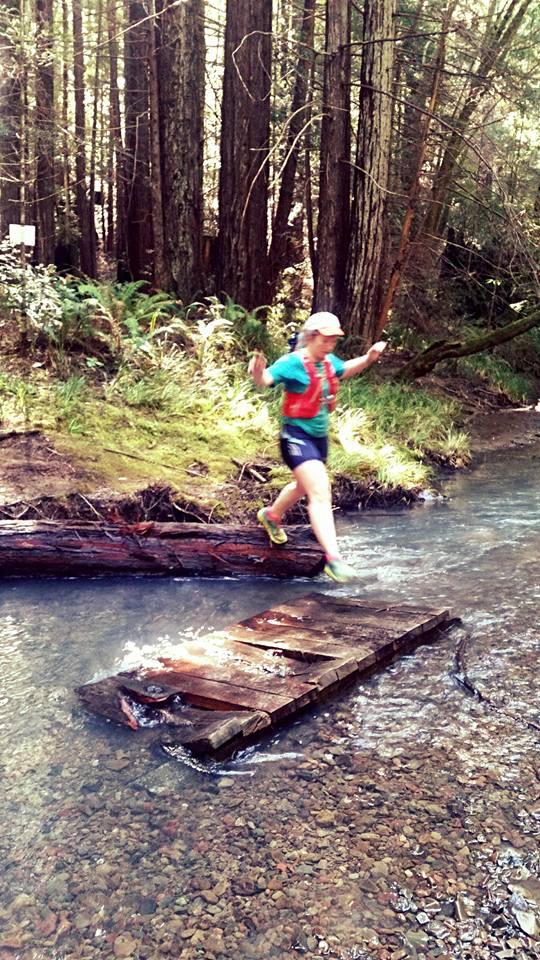 Race Vest
The Salomon Race Vest I started to use last season is still working really well for me. Plenty of storage for long runs but not bulky and worth putting on for just an hour or two. It's comfy, doesn't rub, and has held up well to the miles. It still has my unqualified recommendation.
Injury Update
Hip was tight at the beginning, but never actually hurt. By the end of the 32.5ish miles it was perfectly fine, and nothing developed that night or in the 48 hours afterwards!  SUCCESS. I'm pretty sure the hip was tight in the days leading up to the race because of a work incident – Lifting a big heavy dog off of a surgery table I stepped backwards onto a floor stretcher with wheels with my right leg and it scooted out from underneath me. I definitely felt the previously injured area pull a little bit.
My glute and IT band was also a little crunchy the morning of the race. Except for the injured area my tissues are happy as long as I get a double digit run in every 10-14 days. Less miles than that and I start feel creaky. It's been a hard balance between giving the hip enough rest to heal, but keeping the rest of my body happy. So far so good. Basically I alternate between as much rest as I can stand, and then a run with as many miles as the hip will handle and repeat. :).
Nailing it
Never bonked hard, and all the little bonks were identified early and headed off successfully. I'm pretty damn proud of this one. Only 1 1/2 years ago I was still bonking hard enough in the afternoons that it was difficult to keep my eyes open and stay on my feet in the middle of it (Hello Pioneer 50 2016!). At this race sometimes I needed to eat a snack, and sometimes I needed to pop a couple electrolyte tabs. It helped that the weather was nice and cool but not chilly.
The Bad
Sometimes you get lucky with new gear at a race and sometimes you don't
The shorts that were good for 7ish miles were not good for 32ish miles. Who knew? Maybe I would have if I had actually done some longer runs in them? Ah well. They will go into the stack of "under marathon distance". They are a pair of old bike shorts (like….17 or 18 years old….) that are super comfy and make me feel good and may have some promise as ultra shorts if I can figure out how to keep a bulky seam on the bottom cuff located on the medial thigh from rubbing. Perhaps putting on antichafe lube once in 10 hours wasn't sufficient?
It's amazing how many things you "forgot" when you haven't done long distance in a while. I lubed and suncreened only once AND forgot to fill water bottles on course at least twice. And used the aid stations as my main fueling instead of supplemental. Ooops…..
Gels are not my thing (still)
GU or gels are still not my friend. I haven't had one in 10 years (literally), but my fueling options at the aid stations were limited and midway through the race I was getting sort of desperate (and palate fatigued). So, why not try?
This is a picture of me getting ready to eat my first gel in 10 years. It was tasty, they always did go down well. I felt fine! And then I didn't. I was starving 10 minutes later. Then vaguely ill. Despite trying to get back on my "regular" fueling (a snack every 20-30 minutes according to hunger or other signs) it took 60-90 minutes to get my GI tract feeling OK again. Nope nope nope. Not for me. Especially when I have an history of a GI tract like iron.
Shoes needed
My feet were trashed afterwards. They started hurting during the race around mile 20. Driving home I took my crocs off because I could feel they were swollen. The next morning they looked like little sausages, and today (day 2) they are still a little puffy. No blisters or actual bruises….but more inflammation than I would expect for the conditions.
I've been running in Hoka Challenger 2's, which is a really old model of the shoe (they are up to model 4….). When the 2's were available I bought several pairs (on sale!) because I knew they would get me through a 100 miler and didn't want to figure out shoes for western states if I got in. Sometimes the updated model of a shoe can be really different.
Unfortunately it's not just miles that ages a shoe, it's also time on shelf. Each new pair I've taken out of the box I've gotten less miles out of. I'm lucky to get 1-2 ultras on a pair, along with some long training runs, maybe 200 miles total. 250 miles if I then use them for short runs.
The pair I used Saturday is the last pair of 2's I have. They did the Tahoe 50 miler last summer, and then became my main running shoes for long runs in February in an effort to see if I could make some progress on my hip injury by switching to shoes with less miles on them. Total, including last weekend, they only have 200 miles on them.
I can see the writing on the wall – time to see if the new model works for me. But because I'm lazy and I know that a new pair still works I did do one last check on the internet for a pair of Women's Hoka Challenger 2 size 9…just in case I really could just go on forever in cheap old shoes….but nope. It's not a bad thing. The timing is pretty good to test out a new shoe and make sure I have something that works for me at Tahoe 100 mile in mid July. This is a good thing! Really! I just need to keep telling myself that.
I did pick up a pair of Challenger 4's today. They've altered the width enough I've been able to go down to a size 8 1/2…but I'm a little skeptical even though the 9's were a touch too sloppy. The plan is to test them out at the 100k in 6 weeks!
Errr…maybe try and do a 15 or 20 mile run before that in them *just in case* a la the shorts incident just covered…..
And that's it!
My mileage is still ridicdulously low. Like……Saturday's run was the same mileage as I ran in the entire month February, and in March, and it doubled my mileage for April thus far. Oops.
Hope you have been enjoying the little videos and the pictures I've been posting on the facebook page. I'll keep you posted on any interesting developments. 🙂
Here's some pics from some other outdoor adventures I've been having the last couple of weeks.