Toddler Backpacking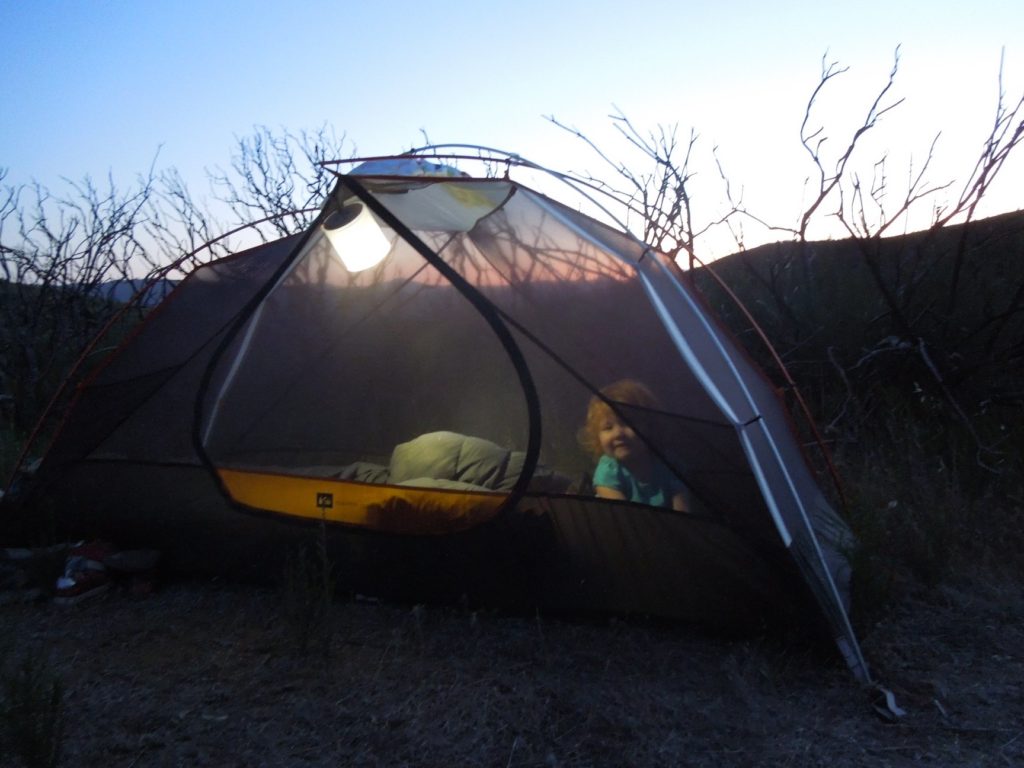 Yes, me and the child shared that one person tent for a night, on her first backpacking trip! She's 2 1/2 years old, almost 30 pounds, and had gotten through a technical two mile day hike (albeit slowly) on her own two feet, so I decided it was time.
I had agreed to take one of my best high school friends and her teenage daughter on a trip this particular weekend, and our Plan A in the National Tahoe Forest had been thwarted by road conditions (mid May is SUPER early to try and get back there, but on a good year I thought we had a chance) and at the last minute I came up with Plan B – Cache creek wilderness. I had seen a disturbing amount of ticks (EEEKKK) and rattlesnakes (meh…) the weekend before while vetting the Cache Creek Ridge Ride but it had lots of advantages. No snow, barely any bears, no reservations, and close to home.
Being a one night casual paced trip, I decided Fig could go along. Here's the lessons learned on a toddler backpacking trip for others that might be contemplating something similar.
The Good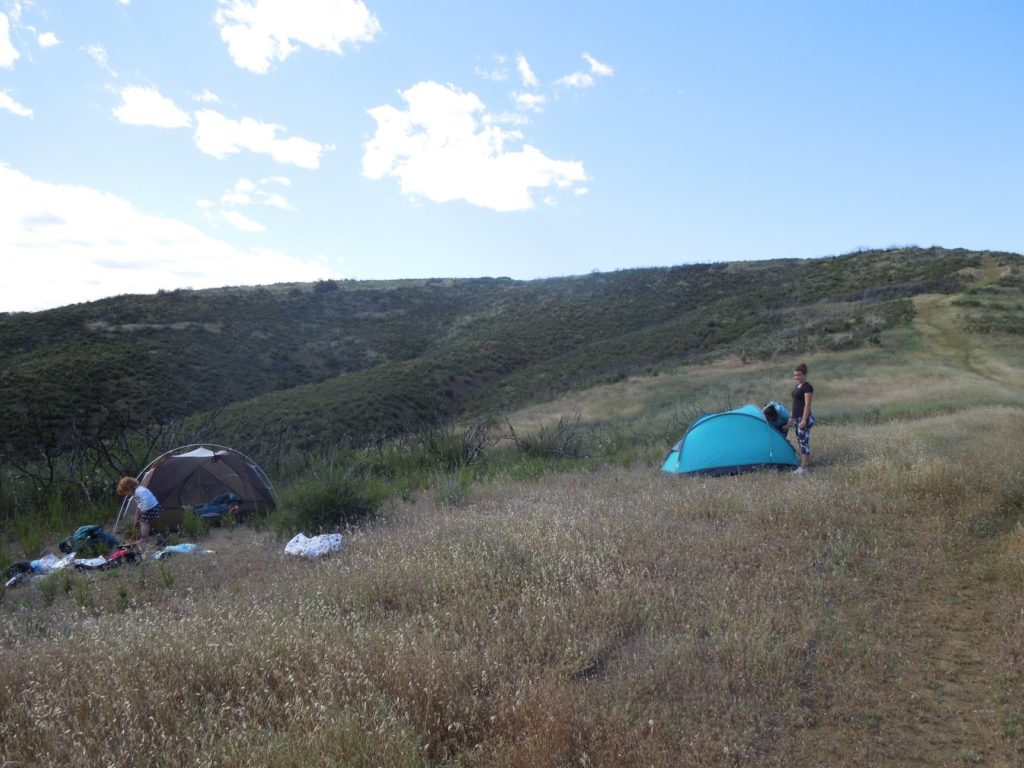 Barely potty trained
I decided to let her hike in a knee length skirt with a bare butt, and took diapers for night time and if there was some sort of disaster during the day. She's sorta potty trained, but it's not reliable for all the time. I wondered whether or not a day or two on the trail with a bare bottom and the instructions of "get to the side of the trail and pee if you need to pee" would help. I'm not sure if it did, but she's a CHAMP at peeing on the trail. Did it perfectly! Being able to pee outside and not having a super shy bladder is a real advantage in the adventures I choose, so I'm going to try and continue to positively reinforce this.  I think bare bottomed in a skirt is going to be our MO for a while when hiking/bakpacking. I did put her in a diaper when we did a pack-less hike out of camp to find water because I carried her on my shoulders a lot, but she also did a lot of her own walking. I noticed she got a rub from the diaper on the inside of one of her thighs. Diapers are not made for hiking!
I had a Rabbit – ie a Fig Friend
My friend's teenage daughter and Fig got along really well. The teenager was often ahead of us, and I credit the hiking Fig did to trying to catch her friend. Even though the teenager was more adult than toddler, I still watched her able to interact and play with Fig in a way that didn't really come naturally to the adults. Fig immediately gravitated towards her. I think it's really nice to invite another kid along – even if they are older (but tolerant). It really helps the toddler out.
She was (mostly) happy all night!

I put her in the tent to settle while I visited and by the time I went to bed she wasn't asleep but had claimed my pillow (no I wasn't allowed to share), and had decided that she wanted to sleep under the sleeping bag (but not inside of it). She had definite opinions of how I was to share the tight space – not all of them functional. We did manage to work out a solution and she lay like a little comma above my head, while I slid down to form my own comma (I'm a side sleeper) facing her, threatening to feed her snack-sized form to some creature if she kicked me in the face. We never quite settled the question of the sleeping bag and exactly how one goes about sharing a mummy bag but she actually slept (Thank Goodness. No repeats of last season where she fussed and screamed all night). So I'm not complaining. This is probably the last time we both share the 1 person tent and I'm going to look into a backpacking quilt we can more easily share in the 2 person tent. I don't want to get her own sleeping bag until she is old enough to carry it herself. I just don't have the space and I don't want to carry the weight (see next point).
The Bad
You have to carry a lot of sh*t for two

I won't lie. I am secretly jealous of all those backpacking dads that go with the backpacking with backpacking mom and toddlers. And somehow between 2 people, the 2 1/2 people's worth of gear isn't so bad?
I refused to carry my 60L bag. That's just ridiculous for an overnight trip. Surely it would all fit into my lighter 46L pack?
Ummm….barely. Just barely. Next time I'll swallow my pride and bring the 60L pack and the two person tent.
For those of you without toddlers you probably don't realize how much they eat. A lot. A HELLA lot. I basically packed as many calorie for her as I packed for myself. She ate ALL OF IT. Add in the diapers, a spare set of her clothes (so she doesn't have to go all weekend looking like a chocolate-smeared bear snack on legs), a set of her own eating dishes (yes, really), and it just adds up.
She's not ready for bear country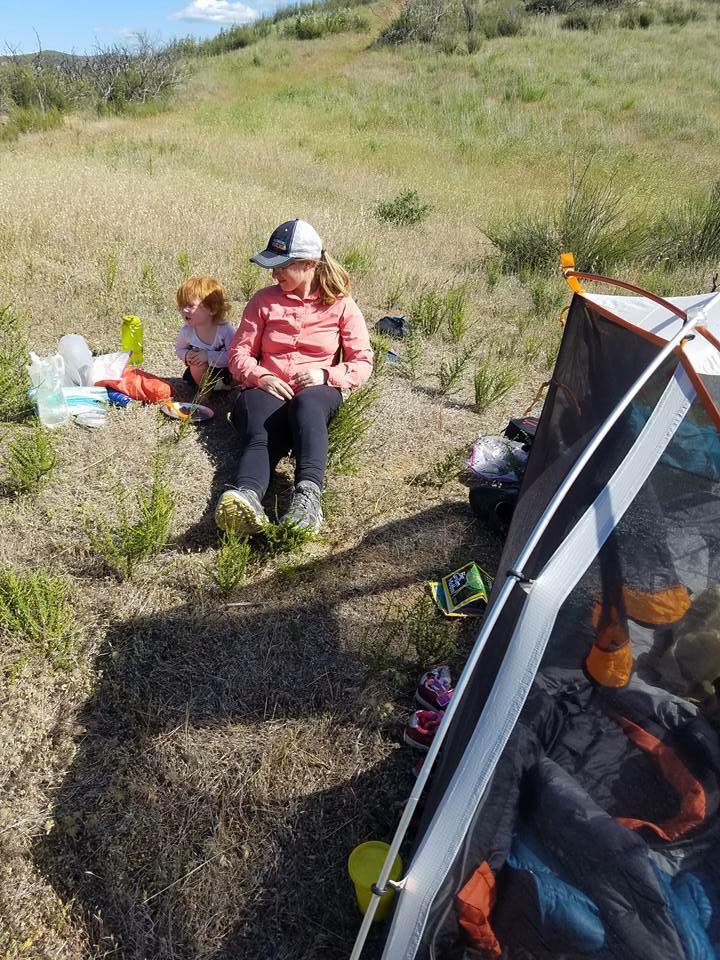 Raise your hand if you want to go parading through bear country with a fun-sized food smeared child. Ok. How about sharing a tent with a snack-sized tender man-child that insists that she needs frosted mini-wheats at 9pm AFTER the bear bag is already hung because she is SO HUNGRY?
I relented. It's awful in principle but she actually was really hungry (thanks to hiking a lot of the miles on her own little legs) and deciding the risk of seeing a bear that night was low, I let her. I know, I KNOW. I don't know what I've turned into either. As I watched flakes of frosted mini wheats float down in my tent, I wondered if the tent was forever ruined for bear country.
It's just too hard to take a constantly eating toddler into the back country and practice good "let's not see a bear" principles, so we will probably stick to valley and bay area trips until she's a little older.
My limit is her+pack

She did an astonishing amount of miles on her own feet. But, she still needed breaks, and we needed to continue forward motion on terrain that was more difficult than I had anticipated when I planned the hike. Which meant carrying her plus my pack some of the time.
I brought my piggyback carrier with me, thinking I could strap it on the back of the pack if I got desperate. Because it's light and doesn't take up space (I actually carried in my hand or under my arm) I also wanted it for hiking out of camp after we set up if we wanted. The whole point of this weekend was gear testing, so why not try?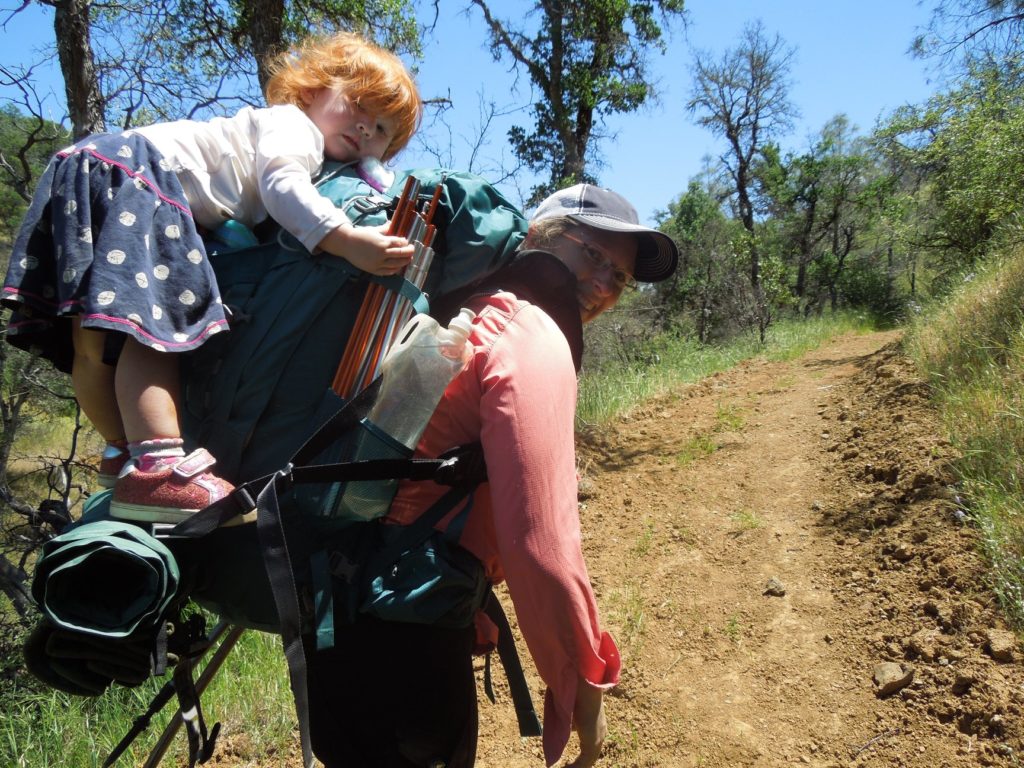 I got it to work on the back of my pack, but boy it was heavy. Really heavy.  With her plus the pack, I estimate the total weight to be somewhere 55-60 pounds. My hips were FATIGUED. Talk about a weight work out. I couldn't really get it to work out in front of me, or on my side for any length of time either. Realistically hauling 55+pounds up a hill is still 55 pounds no matter where it is, and it's just really heavy.
On the second day on the way back when she didn't want to do anything but cuddle for the first 30-45 minutes of hiking I carried her in my arms in front of me. That was just as hard. I took a lot of breaks. I knew that at some point she would just pop out of her clingy fussy mood and that's exactly what happened. The teenager was poking the dirt with her stick and Fig decided she MUST DO THAT TOO and it was SO MUCH FUN and voila – she hiked the rest of the way out on her own. Thank the Good Lord.
She's heavy enough there's just no good way to carry her for any distance while I have my pack on. Another incentive to keep trips short and easy, and plan on hiking from camp if we want to do additional exploring (and bring the piggyback carrier for those hikes after the pack is off).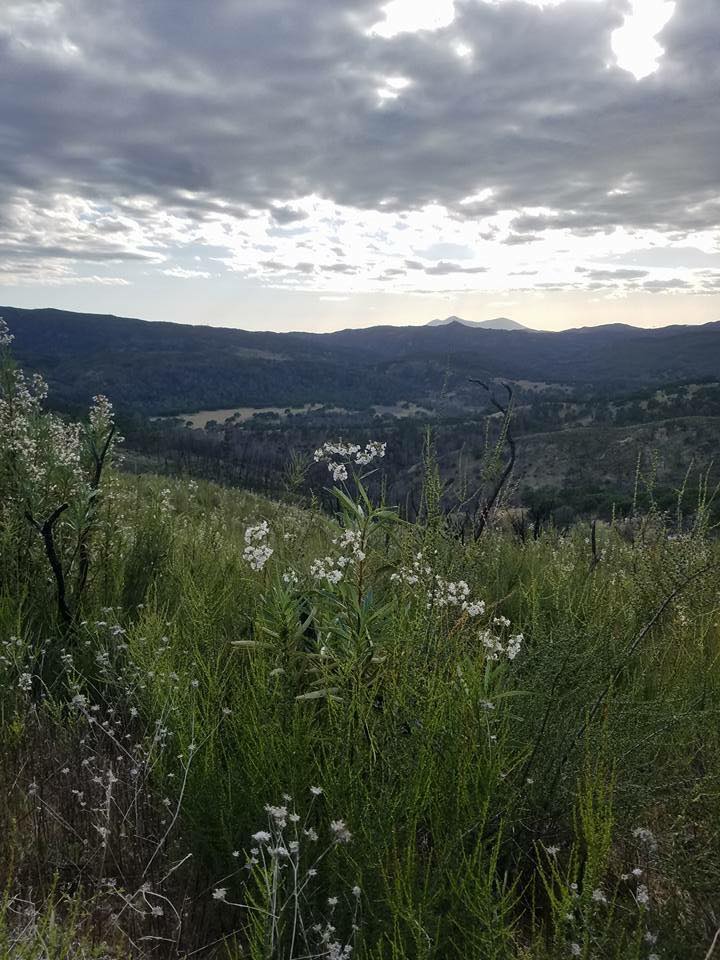 Other stuff
I can't let this recap go without talking about what could have been a serious incident on the trip. We weren't able to refill water and ended up having to ration water fairly severely in order to make it last until we hiked out.
We knew there was no way we were going to make it Cache creek and camp (and hike back out the next day), but I had been told there was a cattle pond that was visible from the ridge trail we could use. When I saw the pond way off the trail and difficult/impossible to get to, I went to plan B. Set up camp and then hike into the creek without the heavy packs (and me carrying Fig in the piggyback carrier, which is very doable without my pack) and get water. We did just that, but after an hour of hiking, we could finally see Cache creek and we were at my "hard line turn around time" considering the fitness of the group, sunset, and the fact I had a toddler with me that may or may not cooperate. It was going to take another 20 minutes to get down to the water, then more time to filter, and then we had to climb back up the steep trail back to the ridge. It was a hard decision.  We did a quick inventory of water and they each had about 2 liters left and I had 1 liter. It was decided we would head back to camp and ration the water we had, knowing we would probably be okay getting to the trail head the next morning, if a bit thirsty.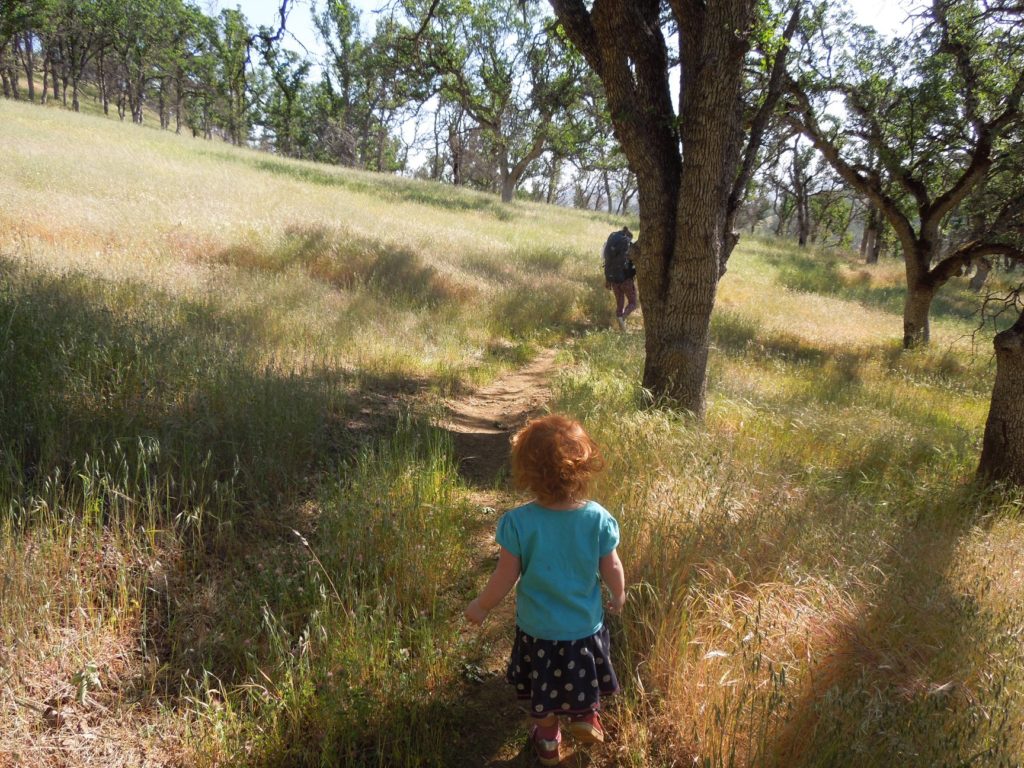 We had enough water to rehydrate our dinners. Afterwards I drank the 4 ounces or so I had left, and each of my camping partners had about 1 liter. Fig got as much milk (dried milk + water) and water as she wanted (everyone chipped in their water to make this happen). I went to bed thirsty, but I also knew that I could probably handle it. We decided collectively the next morning that we would not have coffee or hot breakfast and just eat bars as we wanted (Yes, Fig still got all the milk/water she wanted). I got to wet my mouth a couple times which was AWESOME, and everyone made it to the trail head a bit thirsty but OK.
It sucked. It was one of those close calls that is worth sharing because nothing bad happened, but it could have. There were a lot of factors involved and some really hard grey decisions of what the right thing in the moment. Should we hike down to the water but risk fatiguing members of the party past the point of what was probably safe? I include myself in this statement. I don't think I could have gotten myself + Fig down to the water, and then hiked and carried her out if necessary if she couldn't walk back to camp that night. AND I had to be certain in my ability to carry her out the next day to the trail head if she refused to hike any more (always a possiblity with a two year old…). I was tired from the effort thus far and thought I was pretty close to that safety line where I could carry her out to the car if necessary.  Or, should I drop Fig off with my friends and hike down to the water myself, filter and then hike back up? It would be dark by the time we were half way back to camp (not a great trail to be on at night), and again, it would add to my fatigue that I felt was already borderline for what might be asked of me to get back to the trail head the next day.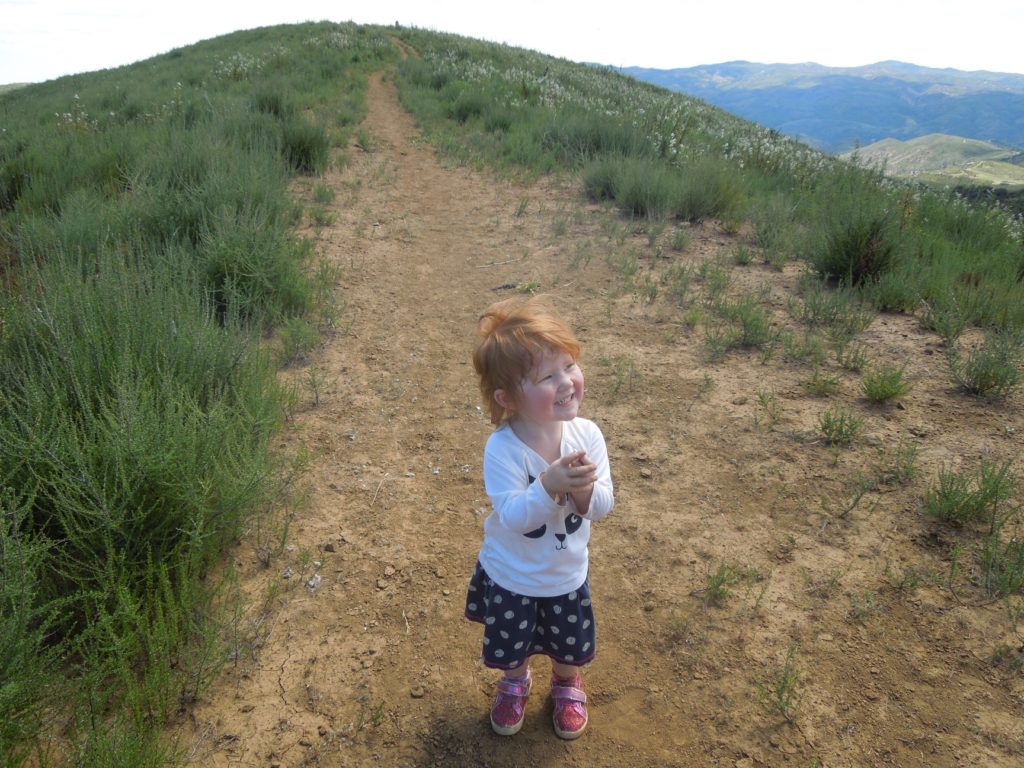 I/We made the decision to turn back to camp, knowing the weather was cooler than expected, we could get an early start and be back to the cars before the heat of the day the next morning, and there would be sufficient water if we were careful. Worst case if we REALLY needed water, our cars with at least a gallon of water were not that far away from camp. Someone could run (probably me without Fig) to return with it if it had to be done. I think we made the right decision.
A hard cut off time of when we needed to turn back to camp helped reduce the possibility that we kept going out of the "sunk cost fallacy" and maybe getting ourselves into more trouble. We were constantly checking in with each other prior to my self imposed "turn around time", and then when that hard time arrived we actually stopped on the trail and had a very honest and serious discussion about the options. It was a good strategy even if it was difficult to turn around, with the water in sight finally (but still not close enough).
While I was busy water rationing myself a very interesting thing happened – I got to experience what happens in an ultra run when I get dehydrated….in slow motion. It didn't take very long for me not to be very thirsty. Just a dry gummy mouth. And then, I wasn't hungry any more, even though I should have been according to my "normal" with the calories I had eaten so far and physical effort I was doing. And then hiking was a little harder than it should be. And then, I felt a tad unwell. Not nauseous, just not right. But instead of this all happening in one to two hours, It happened gradually over 14+ hours. I would have been screwed so fast if I had been moving at ultra speed. In running scenarios I'm used to things going from bad to worse very quickly.  It was a very good reminder of just how important managing hydration is. It affects EVERYTHING whether that is perceived effort, or whether you are hungry or not.  It was also a good reminder that when things go wrong (you get lost and and have minimal supplies, water isn't where it's suppose to be, etc.) conserving effort and being smart pays off better than Herculean and risky efforts that "cost" a lot.
I feel really grateful for my ultra running experience. I drew heavily on the things I've learned about myself to determine just how far I could push my personal water rationing and effort/fatigue level and still be 100% confident that I could fulfill my duty to get the toddler out of the situation safe and sound. Despite being pretty darn dehydrated (as evidenced by a headache later that day at home, and how it took my 24 hours to rehydrate myself) I was still pretty far away from not being able to do that duty. I think that's something to consider if you take others that you are wholly responsible for into the back country, like toddlers. You aren't allowed to "sacrifice" yourself to the point where you can't fulfill your duties towards them, so you better know where that line is within yourself and how far you can push yourself in adverse circumstances.
Just so there's not misunderstandings and I don't get angry comments….the toddler did NOT have to water ration in any way. If it had gotten anywhere near that point…if I had THOUGHT we would get to that point, I would have hiked to the car and gotten water. THE TODDLER GOT TO DRINK ALL THE LIQUID SHE WANTED AT ALL TIMES. Although I did tell her at some point when she was sobbing and clingly in the morning because SHE JUST WANTED TO CUDDLE that if she was going to waste moisture by crying I would lick her tears off her cheeks. But I had also told her all weekend that if she was first or last in the hiking group something would eat her because she was snack-sized and covered in food, so you probably should not take anything I say to that child with any seriousness. She certainly doesn't. And don't worry. After cuddling in my arms in the shade she was good – no more tears. And then she had a sip of her milk cup WHICH SHE GOT AS MUCH AS SHE WANTED. 
FWIW my husband gave Fig a bath when I got home and declared me a competent parent after finding her free of ticks, insect bites, snake bites, or large lacerations. I must admit I didn't go into much detail on the water situation….
Until next time…..see you on the trails!