Not-a-Gift Guide 2016

Instead of scouring the internet for more useful crap to put into a gift guide post, I'm taking a bit of my own advice about keeping it simple and doing something different this year.
This is a list of products I've bought this year either for the first time or as replacements. These are the work horses of my running riding life.
Nothing sponsored here, no affiliate links, just products I use and love and has bought since the beginning of the year. 
Salomon Sense S-lab Ultra pack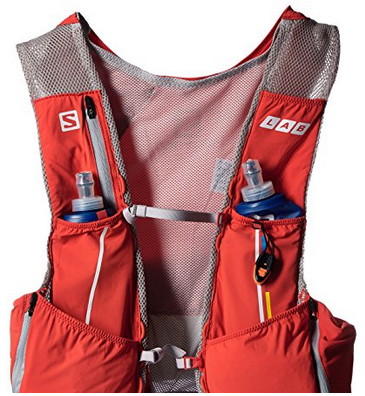 This is a new one to me. Each time I buy a hydration pack I learn something about what works and what doesn't. I sold my Orange Mud Vest pack to buy this Salomon on the advice of a fellow 100 miler rider and runner and I'm IMPRESSED. Maybe this is *the one*? Only time will tell. Early test runs are positive, this minimal pack has plenty of storage room and I should be able to carry 1.5 liters without a problem with it, as well as phone, keys, electrolytes, and food – depending on the run. For reference I'm 5'2″, 130 pounds, and a 32C bra size. I usually wear a size small top, rarely an XS, and sometimes a medium. I bought the XS/S size and it is *almost* too big. With some searching I found it for $109 as long as I wasn't picky about color – if you are a less popular size you can find it even cheaper.
Hammer perpetuem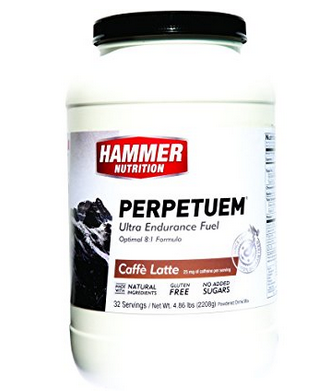 I buy this locally, and the bottle looks a little different – but it's Hammer's Perpetuem powdered product. I've only used the flavor Caffe Latte with caffeine. It is what got me through the 100 mile run. Hands down one of the best things that I've had to get me through bonks and the late hours of the night. I'm really looking foward to trying it for a 100 mile endurance ride. You can mix it at various concentrations. 3 scoops per 500 mL worked well for me, as long as I had extra water to drink. Definitely try a single serving packet or borrow some from a friend before committing to the giant (expensive) bottle. I need to try the other non-caffeinated flavors to see if one will work for me for earlier in the race. There's just so many fruit flavors….I don't like cream of fruit anything that's drinkable….
Balegra socks – Enduro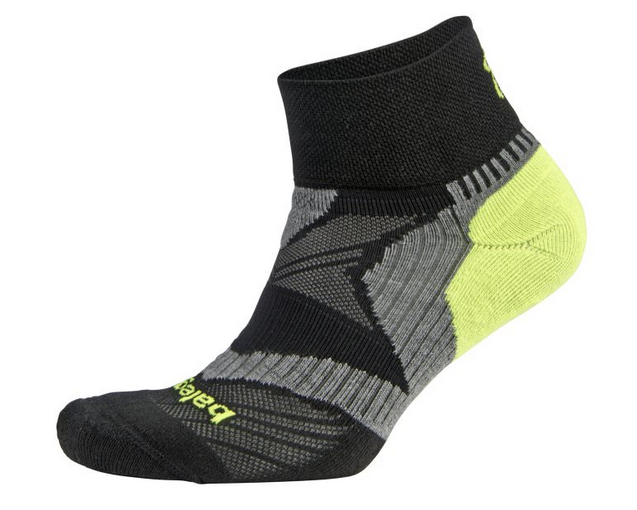 I experimented a lot with shoes and socks training for the 100. Eventually I came back to the brand of sock that has stood the test of time with me – Balegra's. I initally liked the Hidden Comfort model, but eventually concluded that that short open cuff was causing problems and went back to the higher cuff Enduro's. Medium cushion, feels like butter on my feet even at 60 miles and I made the delirious comment to a pacer during the 100 miler that my feet were "singing with comfort". FWIW they are currently advertising an ambassador's program but I just have WAY too much other stuff on my plate to submit an application and beg for free socks.
Spandits Boardie-length shorts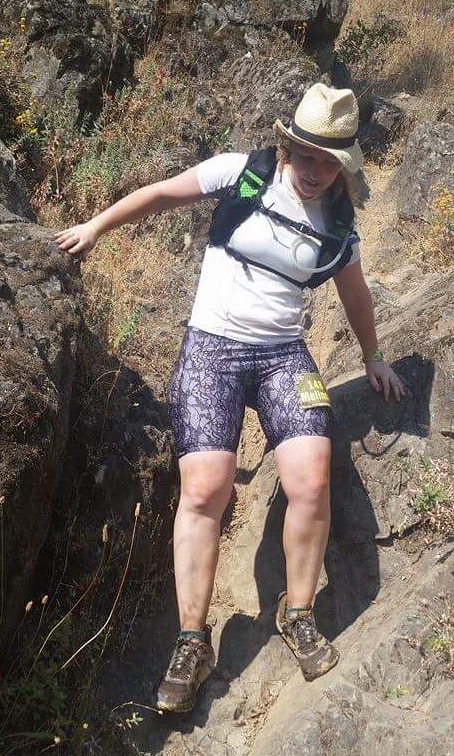 With an added pocket. Hands down STILL the best trail shorts I've ever run in. My first pair continues to be my favorite – best print and best fit. I've bought 2 other products from them – a pair of tights and a pair of regular shorts, but jumped up to a medium for both of them. I'm usually between a small and medium, usually being a medium, for my bottom half, but the mediums are JUST TOO BIG and that causes issues. The shorts won't stay put and ride up and the tights have a saggy crouch problem that is partially remedied when I sweat. The small's are tight and I was worried that in the fumbling hours after dark they would be hard to manage for pee breaks….but they weren't and they stay in place perfectly, and I should have just ordered the smalls for the other 2 products. Lesson learned – if between sizes GO DOWN in these.
"Believe" Training Journal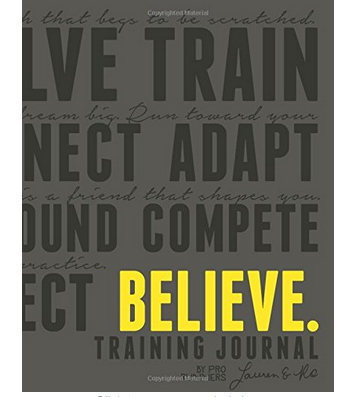 This training journal was what I used for my running journal this year. It was the best training journal I've ever used and I bought their "Compete" journal for next year. It would work in a pinch for horses, but I'd love to do a horse version inspired by their design elements…add it to the project list.
Soft water bottles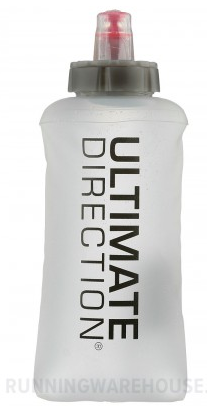 I bought this bottle at a running store out of desperation when I couldn't find a smaller one and the race I was running was cupless. I'm a complete convert now. This is what I kept my Perpetuem in during the 100 in a chest pocket and sipped from. Because the bottle collapses as I drink it acts like a straw, yet it's substantial enough to be used as a handheld (as I tried out on a training run). When it's empty it's easy to stash anywhere. My Salomon vest came with 2 soft flasks that are the same volume, but are longer and skinnier without the wider mouth. The wider mouth was nice when trying to refill with powdered mixtures, but I think time will tell what I end up preferring in the long run.
Fitpacker food containers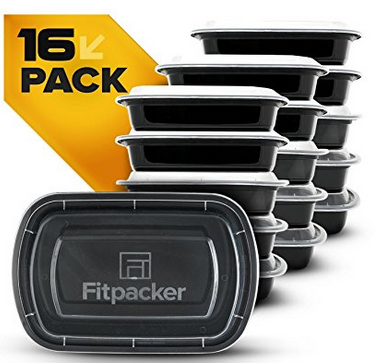 Every since Ziplock discontinued my divided plastic containers, I've been on the hunt for suitable containers not only for every day lunch stuff, but to divide up food during rides and vetchecks. These have several advantages even though they aren't divided. Microwave, dishwasher, freezer safe. And cheap. I end up using cupcake wrappers and ziplocks to divide up food, but the size of the container is good and they stack really nicely so take up minimal cupboard space.
Black and Decker Dustbuster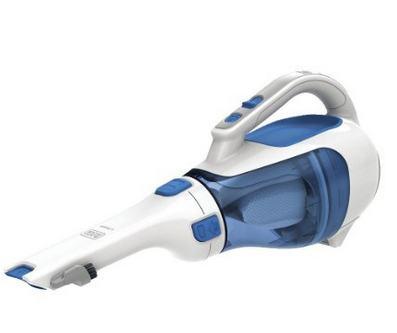 Don't laugh, but next to the roomba that I got many years ago, this is hands down one of the most useful things in the house. We use them in the clinic to vacuum up hair after shaving animals pre surgery. They were SO handy for cleaning up little messes I bought an older model for $35 for the house. I use to to tackle the dust/dog hair bunnies, suck up my dirt piles after sweeping, and vaccuming the trailer tack room, and occasionally one of the dogs. My mom got one and a sister is asking for one for xmas. A friend uses hers to keep her sewing area tidy of thread of small cloth scraps.
Kiinde (or similar) squeeze packs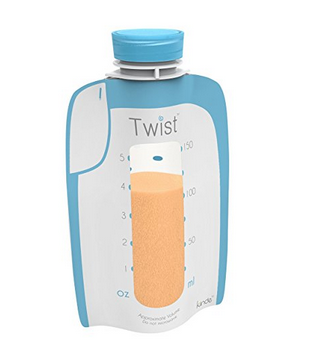 FINALLY found something that I can fill with applesauce or other soft trail foods. I like these better than some of the others because it has a larger mouth which makes filling them a little easier.
Horse glitter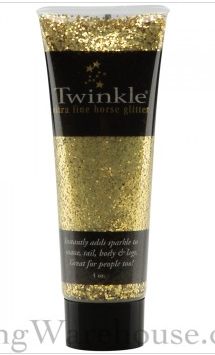 Because you can't be sad when you have glitter to slather on the ponies.
What products would be on your list for 2016 if you limited yourself to only those things you bought or replaced?