The truth about Rider Fit

Endurance Horse Podcast asked me to do a short piece on endurance riding and rider fitness. This blog post is meant as a companion to *my words in the podcast episode "Rider Health – Part 2." Check it out, and if you found your way here through the podcast, welcome. 
*I always always ALWAYS feel so stupid doing a recording. I try to console myself that everyone feels stupid hearing their voice coming back at them, but I can't help feeling that I'm especially bad at it. It's definitely not my normal chosen manner of communication, but if me stepping outside of my comfort zone can help others, I'm willing to do it. This is the third time I've been on the endurance horse podcast. If you are interested, I spoke about my experience doing the ride and tie championships with a mini horse about a year ago, and read an excerpt from my book, "Go Ride Far," in the fall. 
---
Here's the truth about endurance riding.
You don't have to be an athlete to complete 100 or even 50 miles on horseback.
Yes, finishing an endurance ride accomplishment, but it isn't necessarily an athletic accomplishment for the rider.
Before you get all mad at me for saying this and throwing stuff at your computer, let's look at the GOOD side of this.
You DON'T have to be an athlete to get on your horse, train for an endurance ride, have a TON OF FUN, and go out and do COOL SH*T ON YOUR HORSE. YAY!!!!!! So don't put endurance off for some future time when you will "be in better shape" and instead just go out and do the thing.
But let's say you aren't so good at re-framing and are stuck on what I said. You don't have to be an athlete to ride 12 or 24 hours? WHAT CAN YOU POSSIBLY MEAN?
I didn't believe it for a long time either. "The horse does all the work!" people would tell me when I talked about doing equine endurance. I stared daggers at them, wondering if these people, who I doubted could even run around the block, could possibly imagine what it felt like to wrestle and console a 1000 pound animal forward (and sometimes STOP BEING SO FORWARD) for 12+ hours.
I came into this sport as a road marathon runner. I wasn't the fastest runner out there, but I had run to some tough finishes and knew what digging deep felt like out on the marathon course. Endurance riding was hard. I knew what I was talking about. I knew what hard felt like.
But, here's what I finally realized.
Endurance takes determination, resiliency, and mental fortitude. It takes being comfortable with a bit of discomfort and being sleep deprived. It takes the mental space to make good decisions after hours and hours in the saddle. Being up for 24 hours straight is hard no matter who you are. Battling the elements and getting food in your body hour after hour is hard.
It does not take an athlete.
You really can squeak through an endurance ride on a bum knee, your high school cardio, and nothing more than a casual interpretation of exercise (that mostly revolves around getting those 10k steps a day).
Again, this is the good news. You don't have to put off your endurance goals for some future when "you will be in better shape." You can start riding endurance now.
This begs the question: If you can be "reasonably" fit and do an endurance ride successfully, why even bother getting yourself in shape? It's time-consuming, may cost you money, and might even get you injured!
You may not need to be an athlete to do this sport (yay!), but here's some of the reasons you might want to.
The physical part of the ride will get easier
Of course the physical part of the sport gets easier if you are in better shape. I hesitate to use the word "always" but pretty much anything I can think of that involves moving your body gets easier if you practice moving your body and strengthening its systems. Your core will be less fatigued and your riding position will be better. If you ride at altitude or in the heat, your body will adapt better. Everything will hurt just a little less after it's all over.
But don't worry, that endurance ride is still going to be darn hard. Don't be surprised if you've worked hard to be an athletic partner to your horse, and you still feel like a walking zombie after the ride Why? Because endurance riding is one of the most strenuous mental sports I've ever participated in. Never underestimate the toll the mental work load takes on your body. For a long time I mis-interpreted the fatigue and work I was doing in an endurance ride as a strictly physical problem. I told myself I just needed to be in better shape – ie I needed to be an athlete instead of a reasonably fit human.
Yes, being fit makes the overall endurance ride effort easier, but spending 12+ hours taking care of your horse, worrying, rating, calculating, problem solving, and trying not to get lost makes your brain tired. That mental work takes a physical toll on your body. Being in good shape only solves a small piece of why you feel tired and fatigued, but it will allow you to spend more effort on energy on the mental piece of the sport.
Also, like I mentioned earlier, it doesn't matter how good of a shape you are in, staying up for 24+ hours and staying functional is a feat of the mind – not of the body.
Rider self-care
It's extremely hard to take care of yourself on horse back. Hydration, nutrition, electrolytes, and heat management are all more difficult to achieve on horse back then being on your own two feet. Spending some quality time with yourself learning about hydration, fueling, and electrolyte needs without the noisy interference of the horse is invaluable. Figure out what you need to keep moving well as the hours pass and fine tune your self care without the added complication of a horse. Make up a plan based on what you learned. Then, on your next endurance ride when you don't follow the plan and feel crappy at least you can figure out where you went off plan and fix it. If you know, based on your own human training, that you need to drink 500 ml of water every 45 minutes and you've only drank 1/2 of that in 2 hours because you couldn't let go of the reins of your raging beast for even a second…well, start there.
All joking aside, I took me getting off my horse and starting to run ultras before I realized that the severe calf soreness at the endurance rides that I had attributed to being because I was "not in good enough shape" was actually severe muscle cramping of my calves due to insufficient electrolyte consumption. I figured that out in just a couple of long runs over 6 weeks! (in contrast, I had over 1000 miles of endurance length rides over multiple seasons without getting to the underlying cause). Same for my extreme nausea and hallucinations at night at the end of 100 mile rides. Without a horse to worry about I was more in tune with my body and started to learn the early warning of signs of when I needed to take electrolytes, calories, and how much water I needed to consume on an hourly basis to stay on top of my hydration.
Being on horse back doesn't make it easy to do the right thing when it comes to taking care of your own needs. Spend the time to train yourself and become an athlete alongside your horse and figure it out.
Safety Net
You don't need to get off your horse to finish a ride – usually. Plenty of people get off and run with their horses, plenty of people don't, and it's always the obvious thing people want to discuss when the whole subject of "rider fit" comes up. Yes, it's nice to give your horse a break. Yes, you can move forward more quickly (perhaps running instead of walking) if you've been training.
Both of these things are related to the "physical part of the endurance ride will be easier" concept we already discussed when you are an athlete as well as your horse.
Instead, let's talk about when the sh*t hits the fan. The fitter you are, the better equipped you are to help yourself and your horse.
Such as being faced with a 2 mile down hill and an inconsistent lameness on a front foot that may or may not be something, but if you spend 2 miles trotting down that hill mounted, I can practically guarantee you it **will** be something by the end of it.
Or, if it's a hard ride and your horse is borderline in its fitness and you can hop off and give it a break while still moving forward.
Or, when there's a very definite problem with your horse and there's 5 miles to the next vet check, and you are the one that's going to be hoofing it in.
In conclusion, if you aren't an athlete and merely reasonable fit, don't let it hold you back from hitting the endurance trail with your mount. But, if you have the time and ambition, becoming an athletic partner with your horse is well worth the effort.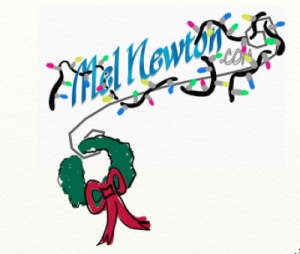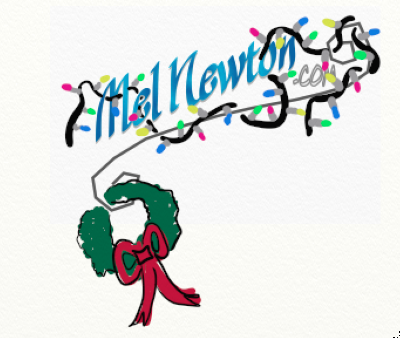 (Yes, it's after Xmas. But I didn't blog much this month so I didn't get to use it. AND it's not the *New Year's yet, so I have a grace period right?)
*Or at least it wasn't when I wrote this post. Now it's February. :). It's OK. Christmas lights and wreaths are always in fashion right?