Off we go to Burning River

I have never felt so unready for a 100 mile race in my life.
When I got to 45.5 miles on my pacing chart I realized I couldn't fathom going further than that.
The rest of the pace chart was truly an exercise in abstract thinking.
I've never done a 100 miler so flat, so many time zones away, and so different from my home weather conditions. I've never done an out-and-back course for a 100 miler or a 100k.
I based my pace chart on actual splits from another local runner in my area that ran a solid 29 hour 100 miler there last year.
This is great because I know it will be pretty accurate for whether I'm behind or ahead of pace.
This is awful because if I drop behind the predicted splits, it will be a huge mental blow and for this race, my mental game will be everything. 
My body is unprepared, but that doesn't mean that my mental game has to be sloppy. In fact, I think that my mental game for this 100 miler might be my secret weapon. Working a lot of overnight ER shifts this ear means that I've learned to take care of my nutrition through the wee hours better. I've also learned some lessons of what are the inevitable consequences of staying up for 30+ hours….and what portion of that discomfort is actually me getting behind on nutrition or hydration.
I'm driving away from my home to drop the 5-year old (a friend suggested I always refer to her by her age so when I look back I know how old she was at this point in time. It's hilarious to me and yet also…genius) and drive to the airport in 20 minutes. What are my thoughts pre race, the most important running event for me this year, my western states 2021 qualifier, my "travel away from home and see a new place" race of 2021?
I'm scared sh*tless. It's not the most unprepared I've ever been for an ultra which is why I have some hope of it going well. On the other hand, there is no reason to think this is going to go well at all. I've failed multiple times in the last 25% of 100 miles, especially ones I travel to.
I historically do better after DNF's. My last 100 mile race was a DNF. I can do this.
I managed to lose 5 pounds instead of gain 5 pounds during this 100 mile training cycle – a first. That either means that I did something right, or I did something wrong.
My food game is more solid at this race than every before. Which is good because this particular race has more problems with fueling options than any of my past races. Now if only my checked bag with said food options makes it to Ohio at the same approximate time I do.
My strategy for convincing myself I can do this is to tell myself over and over that this is a fast shuffle hike from one delicious snack to the next. For 30 hours.
My friends in Ohio found me a local gal to pace me for the last 20 miles. Historically I do better with a pacer and if everything goes to plan (BWHAHAHAAHAHA!) I'll pick her up around 2am which is the start of the really hard hours of the morning. She's done Burning River before and can hopefully keep my emotional crying despondent self moving along at at least 18 min per mile pace for the last 6 or 7 hours.
I'm most concerned about my right leg. It's tired and stiff. I don't know why. On the plus side my feet have felt good post runs.
I think I've improved the most since my last race in learning how to manage myself on all nighters (thank you ER med), and also discovering that I'm under-electrolyting during the afternoon of big runs (thank you western states training camp).
my big goals are to stay in the moment, enjoy meeting my friends who i've never met in real life even though we've been doing virtual races together all year, and not get too caught up in anything except just the joy of running and having the fortune to fly halfway across the country to do something a little crazy.
There's no online tracking for this race. The race uses an app that you have to run on your smart phone during the race in order for people to log on and track you. I've decided that there is too much risk and complication (phone running hot next to my hot body in Ohio July temps, relying on multiple recharges to keep it going, risking the phone being dead if I need to get a text message or call out etc.) so my plan is to find a friend that I can text with progress updates from major aid stations. The plan is to post them on my personal facebook page as public posts so anyone who is interested can follow along. I'll also update here and on my Dr. Mel Facebook page as soon as I can :).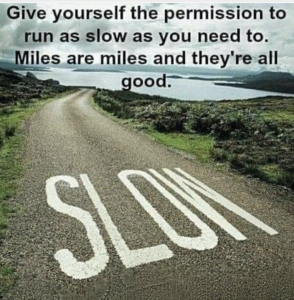 I'm so screwed. But maybe there's a chance?