Reader question

Today we have a response to a reader comment that was way too involved to get a response in the comments!  Would love to hear whether your advice for this reader is different from mine.
I've put her questions in italics and addressed her "sub-questions" one at a time in the non-italicized font…..
First the relevant signalment (that's what we vet peeps call the age/gender/breed/neuter status.  Think of it has a one line history that tells you the relevant history of the animal and gives you a photo in your mind):
Fetti, Haflinger, looking at doing our second LD, first one this year. 
AWESOME – So what we have here is a non-traditional breed that already has one LD under her belt (girth?) and is looking for more.
It's entirely possible we'll never make it to a 50, but I don't think it's unreasonable to aim for some 25s where I don't have to worry the whole time about time/pulsing down at the end.
AMEN!  It's the number one reason I HATE LD's.  I can remember thinking that neither me nor Farley were going to survive the experience of pulsing down at the finish line on the LD's that we did.  She did NOT understand why we were standing outside of camp away from the trailer, food, water, and the comforts of her Spring Tie. Ugh ugh ugh.
However, keep in mind that you have to pulse into vet checks within a certain time, and you DO have to pulse in to the finish at the 50 mile distances and above in a certain time – it just doesn't affect your placing.  That being said, there is just a diffference (for me at least) of sitting at the finish line trying to get my horse to pulse down, versus pulsing in for a vet check.  It's just different.
And don't count yourself out for 50's or even a 100.  If you don't read Funder's blog – you should.  She went from "never going to do endurance" to "maybe I'll do an LD", to "a 50 could be OK" to "I can't WAIT to do a 100!".  And she's doing it on a Tennessee walker!
With our usual riding partners, average speed tends to be 3-4mph. Am I right in thinking that most 4-10 mile rides with them are not going to do an awful lot for Fetti's conditioning/fitness level? We're generally not going above a medium-slow trot, with a fair bit of walking thrown in when the others get tired. Her Big Trot is closer to 7-8mph (on flat ground, but without other horses). 
To increase fitness you need to be pushing the horse in either the speed or distance (or difficulty in trail – such as hills etc.) to a level not previously experienced.  Maintaining fitness is easier and doesn't necessarily mean that you are pushing quite as hard.  My guess is that by doing the 4-10 mile rides at that speed you are maintaining a certain amount of fitness needed to do an endurance paced LD, but you aren't actually adding to that fitness in any significant way.  I feel that 4-10 miles at 2-4 mph is fine for the majority of your rides, as long as you add 1-2 long rides a month, and an interval workout every 7-10 days.
I would do my long rides at that "big trot" speed, with walk and jog breaks as necessary for 2-3 hours – overall speed will end up being slightly greater than the 2-4 mph, and when you work up to the 3 hour mark, your mileage will be increased as well.
Interval workouts would be done by doing short bouts of that big trot speed up a hill, or on the flats with at a speed slightly faster than the big trot speed, with walk/jog breaks.  Perhaps 2-4 minutes doing the fast portion of the interval, followed by 1-2 minutes of slow walk/jog recoveries.  The horse should be close to full recovery (ie close to 60 bpm) before doing the next fast interval.  So if your horse is struggling to feeling "good" after 1-2 minutes of the slow recovery, you need to back off the speed or duration of your fast intervals.
– Note that by "fast" I don't mean gallop your horse all out……the fast portion of the interval is just faster than the normal endurance speed – a fast trot or a slow canter.
Those 4-10 mile rides, and finishing that LD last year means that you probably have the base to start doing the long rides and intervals I've described above.  In fact, for someone that has just started, the slower rides are exactly what I would recommend!  However, you are ready to move your conditioning to the next level, to give you a little more of a "comfort cushion" for your next LD.
We did finish the 25 last year at Ride Bear, but just barely pulsed down in time. As a result, I'm currently erring towards the super-fit side of the spectrum. 
I would encourage you to step back and think of your conditioning to this point as outside of the seesaw between "super rested" and "superfit".
---
This remainder of this post is now available in "Go Ride Far."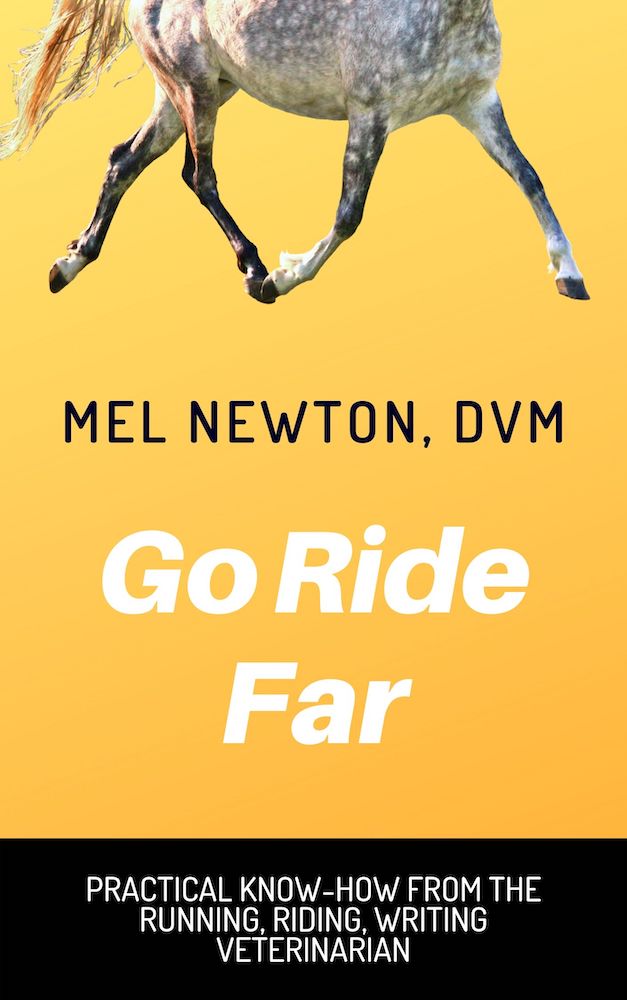 "Go Ride Far" is a collection of revised and updated posts, as well as new content that focuses on what I wish I had known prior to my first endurance ride. (original release details here)
For the price of the fru-fru coffee ($3.99)  the ebook covers:
How to easily and intuitively back a trailer
Take control of your conditioning and training
Recognize and fix a "bonk"
The never before told story of Dr. Mel's first endurance ride
…and more from the running, riding, writing veterinarian and Singletrack Press!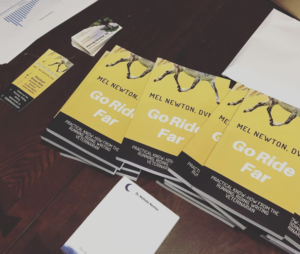 Paperback versions ($9.99) are available from Amazon, or if you are in the US and want a signed copy directly from me ($10+$2 shipping) contact me at [email protected].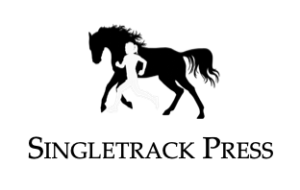 If you REALLY want a copy of this post and you are McDonald's coffee broke (seriously, any size for a $1?) and fru-fru coffee is not in the budget, contact me at [email protected] with the title of this post and I'll send you a pdf copy of the post/chapter. Please consider putting a dollar in my PayPal ([email protected]) or Venmo account, or donating through facebook messenger (facebook.com/drmelnewton) to help cover the cost of this site.
Thanks!