5 unrelated things

I'm completely unmotivated to do anything besides sleep and play with Tess on the floor.  I've ridden….once since the ride and tie event.  And….I've ran…..once. Physically I'm fine, mentally and emotionally I just feel a bit unstable.
It feels like the predictable "post goal event" blahs so I haven't put the thumb tacks in (yet) and I waiting and seeing what happens. Since there's a good possibility that I *won't get to do my Cool Moon 50 mile ultramarathon I'm not really getting excited about, but there's a good enough chance I *will* do it that I should be tapering anyways….
*Clinic scheduling stuff, not lack of interest on my part
Unfortunately that "economy of effort" has infected my blogging as well, so count this rather ADHD post as an effort to make my neurons march in line again.
Of paperwork and "halves" 
I rode Farley for the first time since the ride and tie in a low key walking short trail ride Monday. It was our first ride together since I got her official registration papers in *my* name.
Yesterday I realized that I've owned her exactly half her life. Sometime in the last year or so Farley made the switch from recognizing me as a person that brings her good things and does fun things, to thinking of me as "her" person. I'm not sure when this happened, or why (or why it took so dang long), but I think I'm finally someone she would miss if I left her life.
She's an adaptable little pony and I have no doubt she would integrate herself successfully into a new family – but I get the sense she would always wonder when I was going to come around the corner. And if I showed up after a 5 year absence, she would probably nicker at me in recognition.
It's a good feeling and I don't think finally having her "official" paperwork in order changes anything. It doesn't change how I view her as "mine", even though it's nice not to have any loose ends.
If I'm lucky she has as many years left as she has already lived.  (ie she's lived half her life….)
In contrast to the "eh" feeling about her paperwork, I feel decidedly different about the marriage certificate. Which surprises me. Matt and I have been together for half my life. And yet, unlike Farley's papers, I *do* feel differently about the relationship now that we are going to have "that piece of paper".
(PS. did you find all three "halves" in the above section?)
The Kensington Guarantee
In the summer of 2011 I bought a Kensington fly sheet for Farley. I chose that brand in part because of it's lifetime guarantee (up to and including provisions for replacement). The leg straps needed replacing (old and stretched and weathered, combined with her getting one of them caught and breaking a buckle right before the ride and tie) so I decided to see what the guarantee was worth and emailed them letting them know I needed new leg straps….and they mailed them to me!
Was really pleased by the promptness of customer service and the no fuss replacement straps. So far no regrets – I haven't bought or used fly spray since purchasing the blanket, which is a huge cost savings, and the sheet works a lot better than the fly spray ever did.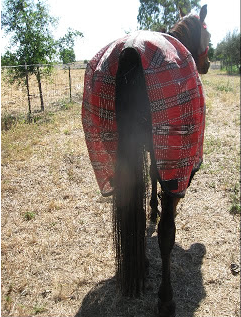 Reducing Clutter and a project
Any time is a good time to go through boxes of "sentimental" stuff and see how much is junk and how much is truly worth keeping.  As many of you know (and have pointed out over the years) I have a hard time with imposter syndrome and finding ways to remind myself of things I have accomplished that I'm particularly proud of is an important way to keep me grounded.
As discussed before, stuffing everything into a tupperware container and shoving it in the darkest corner of the garage doesn't quite cut it.
This was my project over the weekend – a cork board for the top of my dresser that is a collection of horse and running memorabilia that makes me feel good to look at.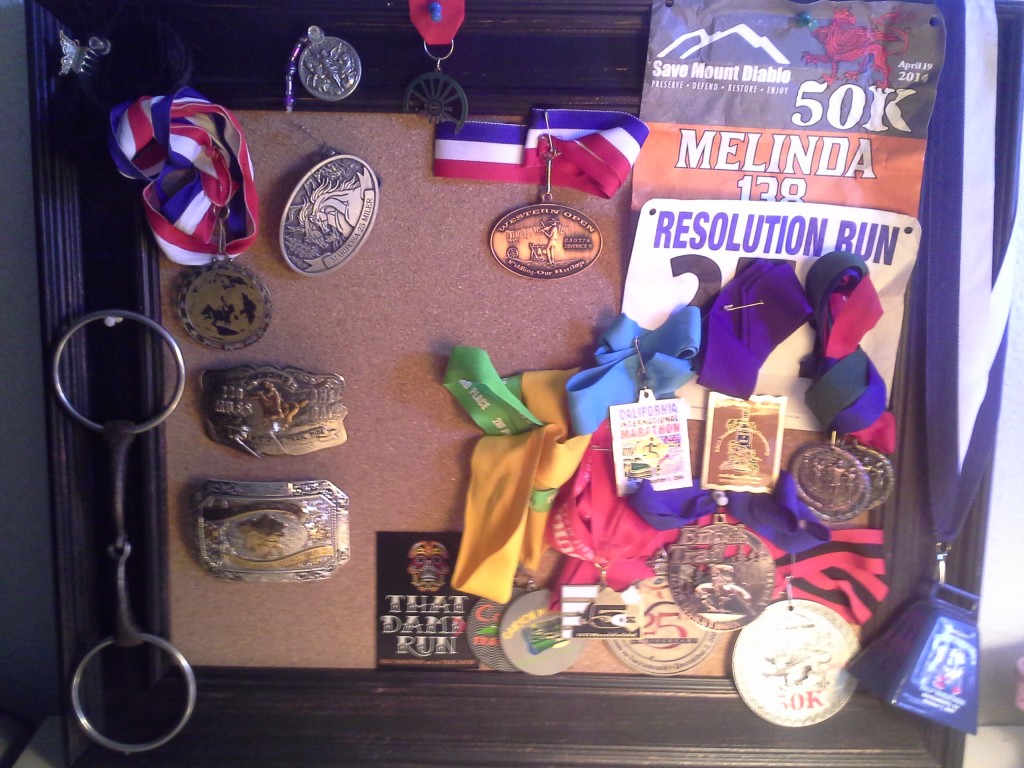 It isn't a complete collection of all my finishers medals etc. Instead  I've plunked items out of the "award" box that mean something special to me.
This was a perfect project for the "post goal event" blahs.
As I reviewed the things I chose to put on the board, versus the things that remained in the box, I noticed a pattern.
Invariably the items chosen to go on the board were events that were done with someone or had a really good story (usually because something went wrong….), not solo events that went off according to plan.
There's a lesson to be learned there.
I anticipate this board being an ever-changing mosaic, with some items remaining always (for example, Tevis buckle) and some occupying space only because of their recent-ness. (looking at you canyon meadows marathon medal!)
Right now, here's what's on the board.
Minx's bit (officially retired after her death)
A lock of Minx's tail (only the silver butterfly holding the hair is visible in the photo)
Farley's 1000 mile medallion
"Tevis angel" given to me by Karen Chaton the year I finished.
Broken limber award – for breaking my toe inside my boot and riding on the artillery team all weekend anyways
3 buckles – Tevis, ride and tie champs, mariposa LD. The mariposa buckle will probably only stay as long as something more pressing doesn't need the space. Mariposa an LD I did with Farley in her first season.
Fiddle contest medallion. Now THERE'S a story for another day.
That damn run magnet because it's such a cool logo.
All the auburn resolution run age group medals I've earned – 3 total. One first, one second, one third. The third place one I earned when I ran the race with Funder is the only one I eared when there was more than just 1 or 2 people in my age group present…..
All my marathon completion medals, and my ultramarathon completion medal
Select "less than marathon distance" medals – like the fourmidable 35k (the race I did at a whim and decided YOLO why *not* do the 35k?), End of the trail half marathon (by far the prettiest finishers medal I have – and another more planned YOLO race I did with an aunt that didn't go nearly as well as 4midable, AND represents the last time I ran in real shoes), and the cowtown 1/2 marathon because the medal is a COW BELL!!!!!!  Really, how could I resist?
In related news….I also wore my ride and tie buckle for the first time!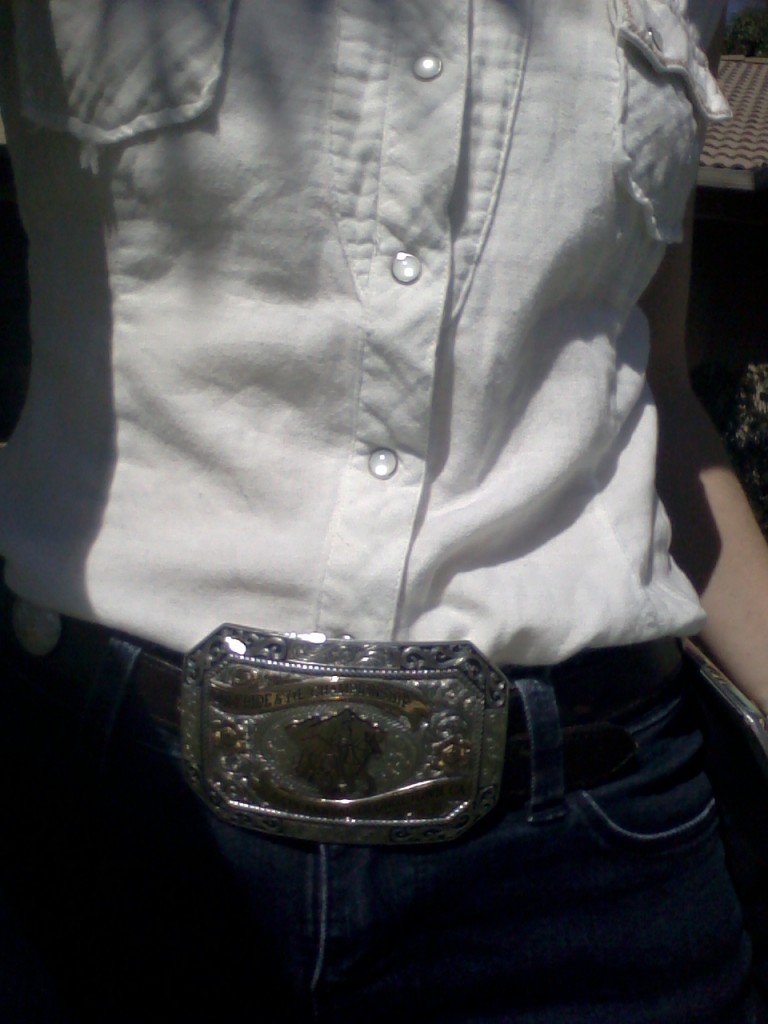 Snazzy.
InLinkz
In the 5 questions post, I (eventually) created a blog hop!  A *real* blog hop that allowed people to link their posts as picture icons within my post, and a link to the blog hop code that allowed them to repost the blog hop on *their* post.
It's easier to show an example than to explain it, so to see what I'm talking about….go to my post here. 
Scroll to the bottom and click Saiph's link (she's number "4" in that blog roll and her blog name is "Wait for the Jump").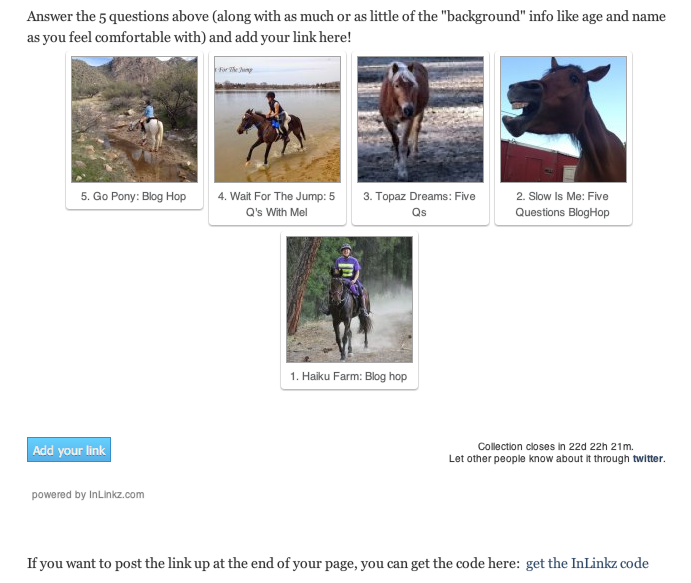 That takes you directly to her post that is related to my post.
You see a duplicate of the blog icons at the bottom of her post because she went to the "get InLinkz code" link at the bottom of my post and copied the html code into her post.
To participate in the blog hop, all you have to do is click the "add your link" button in the original post, copy and paste the URL of your related blog post into the form that pops up, and your blog will be added to the rest of the links within the original post.
You can chose to go the extra step and add the html code into your post like Staiph did, or not. Either way your blog will show up in the "blog hop" on the original post.
The end result is that people who are reading a post have a list of other blogs that wrote about the same topic (or ride or event).
I think blog hops using InLinkz would be especially fun because so many of us go to the same events, or get topic ideas from eachother.

If you want to create a blog hop (instead of just participating in others) go to inlinkz.com and create an account. Then chose the "link up tool" and the wizard will walk you through how to create the little piece of HTML code that when pasted into your blog post will allow others to link their related posts to yours.
My bucket list
My bucket list is full of things you might expect:
Do a 100 mile ultramarathon
Decade team with Farley
Visit the Grand Canyon, Yellow stone, and pretty much all of Utah's fabulous landscapes.
Do a really long through hike trip….like John Muir or PCT
but recently I've added another item
Do a glam shoot. On horse back.
The premise is simple. Go to the thrift store and buy a formal dress. Drape myself on horse back. Get photos taken.
Dom did it and it looked like so much FUN.
It's not really Farley's personality – but I'm getting an inkling that it's just MerryLeg's style…..
Just a taste…..