Imposter Syndrome

I had never heard about imposter syndrome until I got to vet school. Apparently it's REALLY common among vet students (and when you first graduate and beyond). Its a feeling that you aren't really good enough to be there. That any moment someone is going to find out you are a totally fraud, de-mask you and exile you to the fringes as you deserve. It's not necessarily low self-esteem, or even a well developed sense of humility.  It goes along with the other spectrum of traits that the vet school application process seems to select for: type A, anxious, relatively introverted, driven.
Off and on I have lesser or greater degrees of this feeling.  I don't have a problem taking credit for my accomplishments (COME ON – I have a BLOG that is DEVOTED to things *I* do and *I* accomplish). However, I have a strong sense that the accomplishments have a shelf life and then they are to be set aside. You are not defined by your past – only what you are currently doing and planning to do.
It wasn't more than 3 or 4 days post run before I looked at the 35K medal vainly hanging off my rear view mirror started calculating what day it had to be taken down and hidden away in the big tupperware container in the garage with the rest of my trophies.
I posted this picture on facebook and asked your opinions.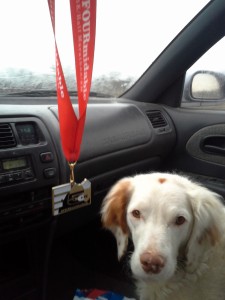 (I want you notice how Tess manages to photobomb almost every.single.picture.)
About the same time I started using the words "fraud", "failure", and "former" in conversations again with friends. Jokingly, but also seriously.  I hadn't been on a run for 4 days. I feel like I study a lot less than other people in my class for upcoming tests. It was obvious some of my goals for the month of February weren't going to happen.
And then my friends told me something I really needed to hear.
I need to banish those four words from my vocabulary.  I am none of these.
I was told to leave my race and ride momentos up for the season and NOT take them down, because obviously I need visual reminders.
They were appalled when I told them I didn't have a single completion award or ride picture displayed.
See that brown album leaning up on the left hand side? There's my ride photos…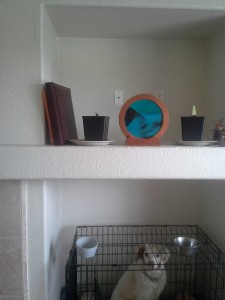 What about the Tevis picture blow ups I bought? Ummm…In the closet still in the cardboard tube along with my diploma.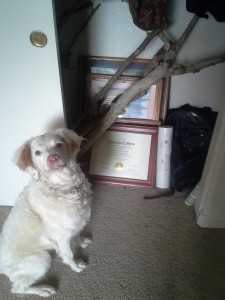 We talked about ride and run t-shirts and I realize that when I'm having a bad week I wear a LOT of ride and run shirts. Subconsciously I know they make me feel better and more confident.
It's impossible to feel like a former runner when you are wearing the tshirt you PR'ed the 10 miler on 2 months ago.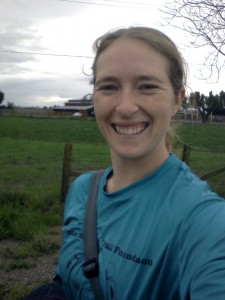 So, I was given specific directions.
Dig up my awards so far this year. Hang them somewhere visible and keep them there until the end of the year. That silly little medal I got for the 35K that I didn't feel like I deserved at the time? It makes me feel happy and content now that I'm not in a rush to take it down.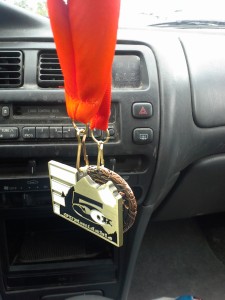 Get those pictures out of the closet, buy frames and mattes and display them somewhere.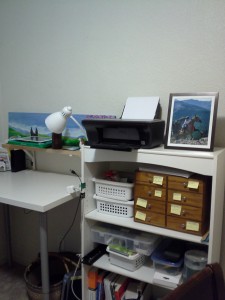 When I got the yearbook in the mail and Farley was listed for her *1000 mile accomplishment we earned last year I took a picture of it and facebook shared it, even though it had happened back in May and I had already shown off the medal that AERC sent me.
*A friend asked me today whether the mileage was self reported or competition miles etc? The only miles that count as AERC endurance miles are miles completed as part of rides 50 miles in length and longer, and the horse COMPLETED a ride. Pulls don't count (even if you finished 91….85….65miles of a 100 etc.).
I had a white board in my office that listed goals, events and PR. I created an image on the computer, added pictures of significant accomplishments since the beginning of the year, and then set as a wallpaper image on my computer.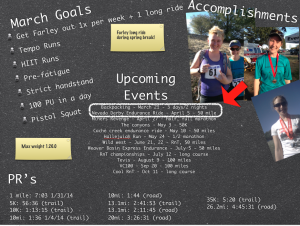 I tell you what – it was a lot of fun to add visible reminders of the things I am most proud of back into my daily life. A lot more fun than systematically removing them from sight as soon as I could bear it.
As for the "F" words? I haven't used them since. Not even jokingly. And when I do find myself wanting to fall into the routine I can look up and see a ride photo or touch my medals. Anytime I want to look my goals for the month, the pictures of my recent accomplishments are right there starting back at me.
And now for some randomness – did you notice Tess wasn't photobombing the last 2 images taken in the house? That's because she was busy trying to convince me to give her stuffed monkey so she could tear it to little bits.
She's learned that by staring at an object, sitting and then looking back and forth between me and the object she can very effectively communicate what she wants, and have a good chance of it being given to her (as opposed to her being…..creative…and arranging for possession on her own).
I was so not giving her Matt's stuffed Christmas monkey, but I'm not sure I actually convinced her so I had to remove the monkey for safe keeping out of her eyesight (and nose!).