9/16/14 Digest

The day started so promising!
I woke up and got up at 5am so that I could see my ponies before school and feed them left over baby carrots from my lunches.
To increase the chances that I would get to touch my ponies for the first time in 10 days I made gloriously delicious lunches and dinners for my upcoming on call shifts in Davis, and meticulously packed in tote ice chests the night before.
I'm on a medicine rotation right now (9 days into a 14 day rotation) which are notorious for being the most intrusive into private life. While I've found the hours and patient care very doable – the specific responsibilities and schedule means that everything beyond clinics gets put on hold for 2 weeks. It's only 2 weeks…which is very doable – but I miss my ponies terribly.
My preparations worked! Ponies got scratched, MerryLegs did the sweetest thing where she buried her head in the front of my shirt and just stood there, and none of my carrots went to waste.
It wasn't until I got to Davis afterwards that I realized I had forgotten my entire running bag.
After some frantic calculations of whether I could make it home and back before treatments (I couldn't) or in the evening while being on call (I can't) or if I could bike to the school gym and buy a sports bra and shorts and then go running barefoot down the bike paths, caution thrown to the wind (that's stupid)…..I resigned myself to sitting at my computer and pouting instead of doing some glorious tempo run this evening. Three and half weeks before a 50 mile ultramarathon is NOT the time to get a stone bruise or cut because I couldn't *stand* to not run today.
The most productive thing I could do tonight (beyond, you know, studying for boards which I will be taking in exactly 80 days) is to clear the queue of all those blog topics I'll never have time to do an *actual* post on.
Forta
I've noticed something over the years. It seems like most horse people who proclaim they are interested in horse breeding are actually interested only in talking about their own horse's breeding and rattling off names and pedigrees. I find this immensely boring most of the time, so I try not to bore you, My Dear Reader, with these things. That being said, I'm going to break my own rule and share with you an article about Forta.
Never heard of Forta? She's a kick ass arab broodmare that produced offspring that went out and kicked ass in spades.
She is described as "plain".
But sometimes that reference is hard to find among all the other adjectives describing her and her offspring and their talent.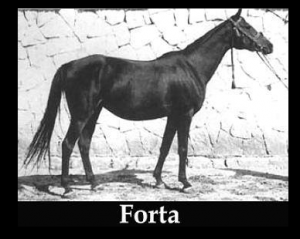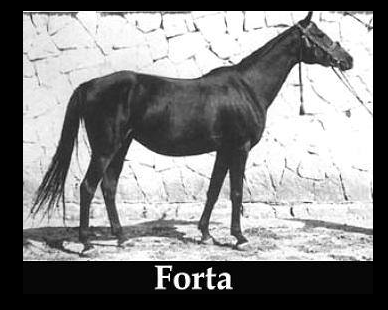 Besides the fact that most of the adjectives I hear applied to Forta and characteristics of her line describe Farley to a "T", I think I like Forta because she was a MARE.
A mare that made a significant mark on the arab breed for the better. A plain horse that DID and then passed that on to her offspring.
It's a fact of life that (embryo flushing and superovulating aside) mares don't get the chance to contribute to a breed like stallions. But Forta did – and people are still talking about her today, 80 years after she was born.
We still talk about some of the stallions of Forta's generation and their influence on the breed – Bask, Wielki Szlem – but seldom are mares highlighted in the same way.
Forta is the exception.
Farley has 3 Forta lines in her bloodline.
Czort – first foal of Forta. And maybe one of the best known.
Finisz – successful race horse
Formoza  – full sister to Finisz. Race winner.
Side note: I didn't realize until I looked just now that Wielki Szlem appears four times in Farley's pedigree. Apparently Wielki Szlem was bred to Forta a lot, and  Forta was bred to his sons etc. Wielki Szlem somewhat related to Bask but I lack the vocabulary…..but I'm convinced that all arabs are related somehow.
Final note about MerryLegs
Finisz is the Forta line on Farley's sire side, so that is the Forta breeding that MerryLegs and Farley share. Finisz appears again on MerryLegs Dam side, but much further back.
BTW if you are into this sort of thing, you can find ML's and Farley's pedigrees here and here
Moving on – more random links
Light Reading
I thoroughly enjoyed Running John's ultramarathon report on doing a 200 mile race at Tahoe. Family members and friends should be totally reassured that I think running 200 miles is CRAZY and I cannot ever picture myself doing that. Just say no. On the other hand, I think him running 200 miles is going to look a lot like me running my first 100. Except the part where he was actually winning for a while. I'll be chasing the cutoffs and volunteering at aid stations when I'm pulled.
Recovery rules
While I'm loving my new found flexibility and freedom,  I NEED rules – hard and fast guidelines that are black and white so that I do what I need to do when I don't feel like doing it. Like Recovery. And Tapering. Without guidelines I often start to fudge and justify.  Happens with my riding too BTW.  Which rule am I most likely to break with my horses? Number 2. And why am I likely to break it? Rule number 1.
Back then it would have sounded like this: "I ride my horse 1 week after a 100 – just easy – because they are in a small paddock and can't move around" (I could have jogged in hand, sat and watched them during turn out, or done a number of things besides riding).
Nowadays it would sound like this: "It was just a fifty….that's practically a conditioning ride for our 100″. But a fifty is still a fifty and you and your horse will go harder on a ride than a conditioning ride whether you intend it or not.
Even when running when theoretically I have complete control over myself and a horse isn't in the equation, a 20 mile trail race is still physically different than a 20 mile solo trail conditioning run – even if I'm using the run as a conditioning run. I'm completely in favor or using races for training longer distances (in both humans and horses) but I always build more rest days after a long run if those miles took place during a race.
Step 1: realize the rules of recovery and taper *do* apply to you. Yes, even with all those mitigating circumstances. 50 miles is 50 miles is 50 miles. And yes, you might need to be creative to work with the individual situation – but it likely won't involve fudging the very basic nature of the rule.
Some of the running "rules of thumb" I liked and to my surprise were actually spot on even for little slow me were:
A day off for every 10 miles
If it was a really vertical race (ie more than 150 feet of elevation change per mile) a day off for every 10 K. (Have no idea how these days per mileage apply to horses, but they seem about right)
An extra hour of sleep (Instead of running…..sleep in!)
Eat according to cravings (like an endurance horse!)
Diversify – use the time to spend time with family or do that other hobby that you have that you never have time for….because you are running or riding.
Making New Friends
I really liked this post. It reminded me of when I got MerryLegs. Is she going to like me? What are we going to talk about?
Getting a new horse is like showing up to the first day of school, picking out your new best friend from across the room, having stalked them a bit on Facebook, and then hoping for the best.
But then you don't know what to say, so you chatter on about inane stuff or don't say something at all.
But fortunately, every time – the horse saves me.
The horse starts the conversation, is the polite one, and cuts through the inane chit chat.
Friends.
Letting go of control
I started reading this blog a few months ago, and wanted to share this particular post.
Long story short, Sweaty Emily loses her key to her car in the bum-f*ck of nowhere, and strands herself and her best running buddies.
What's remarkable about this story is the lessons learned. Lessons that are not only applicable to the 100 miler that she was running in a couple of weeks (last Saturday actually!), but also to endurance, and to riding, and (in my case) to veterinary medicine.
They lessons she discusses aren't new lessons, but for some reason, the story behind the lessons learned made them stick in a way that I've actually been able to apply the lessons more consistently.
Let go of the things you can't control
Don't fixate on why something went wrong, work on a solution
It's all about problem solving
Remind yourself of all the reasons it could be worse
Laugh at yourself
A positive attitude is everything
Can I have this tatooed to the inside of my eyeballs please?
I'll add 2 more concepts that I've tried really really REALLY hard to keep in mind as I go through clinics.
Stay in the zone. In endurance its all about staying in that zone where it's not too easy and not too hard and you are making forward progress. Having something be too hard or difficult or painful at the wrong time is a sign to change something.  Keeping myself "in the zone" at clinics and not allowing myself to get too stressed or too worked up and taking steps to return to the zone if I get out of it is helping me maximize my learning.
Don't expect more of people than they can give. Doing so just sets you (and them) up for failure.
100 miles?
I need to stop reading articles like this one that make me think I pretty close to being ready to run a 100….I might get myself into trouble have an excellent story for the blog someday if I do…
Pain tolerance
A good article on the difference between elite and amateur runner pain tolerance and impacts on performance.
Does it apply to horses? Anecdotally I'm inclined to say yes. The downside to being able to ignore pain missing the micro injuries that turn into something more. Personally I prefer my horses to be on the wimpy side and tell me what's hurting so I can fix it – but it seems like many of the top performers in equine sports/endurance are the types to grit their teeth and win until they have a catastrophic injury and can't hide it any more.
No bueno.
At least from a "catch it early and treat it" standpoint.
Makes me suspect that enforced rest/recovery periods discussed earlier are are even more important for equines than humans. Just because your horse can work through the pain doesn't mean he should….
(BTW – Minx was one of those horses that could have an awful injury and you would never know it because she was extremely stoic. Eventually ended her endurance career and probably was a factor in her death. She curbed any desire I had to wish for my future endurance horses to be extremely stoic)
50K>marathon
As someone that has run about an equal number of trail ultras and road marathons, I can say that IMO this article is spot on.
One liners
Interesting. This article has a bunch of "one liners" about advice in running and about 75% of them I came up with on my own over the years that have been key to both my running and equine endurance training – including the run by time not by distance, run by effort not pace, and thinking of my different workouts in terms of "color" for what efforts I should be putting in when. This means either:
I'm a genius (I like this option)
It took me 10 years to learn what I could have learned in 10 minutes by reading the article 10 years ago
I did read this advice somewhere, forgot about it, and then adopted it as my own later.
Gordy
Gordy has a foot in both worlds – both the world of 100 mile horse endurance, and 100 mile ultramarathoning. For those of you not familiar with his name, he's the guy that started Tevis without a horse one year…and thus started the running version of the Western States 100.
I found this interview a very honest and moving article on aging, athletic ability, and perspective.
Fluid intake and muscle cramping
Completely awesome series that I've had in my blog post queue for a while….and I will never ever have the time to do the write up I wanted. So I present it here for your own reading pleasure:
An excerpt: "For those of you who have read Part II and Part III, this should be no surprise, since in those articles we introduced the concept that weight is not the regulated variable, and therefore your body does not care how much weight you lose during exercise. This "thirst is bad" guide stuck, however, and some time later you were introduced to the mantra above: "If you wait until you are thirsty, it is too late."
What is it too late for?
The argument is that by waiting until you are thirsty, you are already dehydrated. This argument has been perpetuated because you have been led to believe that weight losses equal body water losses. However, even in a class lab we performed recently, our volunteer cycled for just over two hours. During that time he burned nearly 300 g of carbohydrate and fat while ingesting water ad libitum. His weight losses, or "dehydration," were 1 kg. Yet a whole 30% of that "dehydration" was not water at all and instead represented fuel that he burned. Let us say that again—-the weight loss method overestimated his "dehydration" by 30%. So the take home message here is that the body weight losses grossly overestimate the fluid losses, and when someone is said to have lost 4% of his or her body weight, at least 10% of that or more will be fuel that has been burned during the exercise. "
A second article by the same folks on muscle cramps
A caveat to the second article – I don't completely agree with their conclusion that salt intake/elyte tabs don't work and I've done some recent reading where a theory has been thrown out that some people just don't converse their elytes as well or something along those lines? I absolutely cramp if I'm not careful to take some sort of Scap or similar elyte tablet regularly during long run – I would be surprised if it was a placebo effect. It will be really interesting to see what comes out over the next couple years on both the humans and the horse side of this subject.
Blog title
I'm not so seriously considering rewording my blog title. I just renewed the domain and hosting for another 2 years (note to self: have got to put ads back into the blog to try and offset some of the cost….UGH) so the URL wouldn't change but I don't feel like the title of the blog adequate describes what we talk about here, is rather forgettable, and was probably ill-chosen from the beginning. Dunno. If there are any bright ideas out there, I'm listening.
The rest of the drafts in my blog queue look like too much work to write up tonight, so that's it for now!