A story with a happy ending

Meet Cowboy.
A local family introduced me to dairy cattle when I was in elementary school through the 4-H program and became my second family for many many summers. The Grandpa of the family drove and bred Belgian draft horses and they were kept right by the dairy.
I was horse crazy even then, and I had schemed my way into the dairy cow project group as a "get comfortable with large animals so I'm less scared of horses so I can ride someday" move (hey, it made sense to my 9 or 10 year old brain. I actually can't remember the justification that I gave my parents for joining the dairy cow group, but I don't think it was the actual truth of my ulterior motives…).
Knowing I was horse crazy, Deb, the "mom" of the family included me in her horsey errands and events in between clipping, grooming, and washing heifers.
I either actually remember Cowboy as a little girl from one of those excusions, or he was sold shortly before I came on the scene and I'm confusing the stories told about him and the other Belgians that were still on the property, with actually meeting him.
Either way, he was sold a very long time ago – decades ago. The picture above of Cowboy and "grandpa" was dated as "24+ years ago" because they can tell that it was "before we redid the hay barn".
And that could have been the end of it. Had a horse, sold a horse, and life moves on. Except…
Here's the rest of the story in Deb's words:
Just after Draft Horse Classic through the miracle of Facebook, I saw a post about a "rescue" horse named Cowboy.
I recognized him as a horse my father in law sold many many years ago. The horse, who is now 35 years old, was a stallion when (the grandpa/father-in-law) owned him. He was a carriage horse for some years and was found in very poor condition.
We were able to get him back and thanks to the awesome care of (Deb's daughter), he has gained probably 200 pounds since we picked him up on October 9th. Finally he looked good enough for the long awaited surprise reunion with his old partner!
I love the expression on their faces. It's been hard to keep it a secret! How do you hide a Belgian? THANKS to my family for helping me make this happen!!! I love you all!! Video to follow when I figure out how to do it.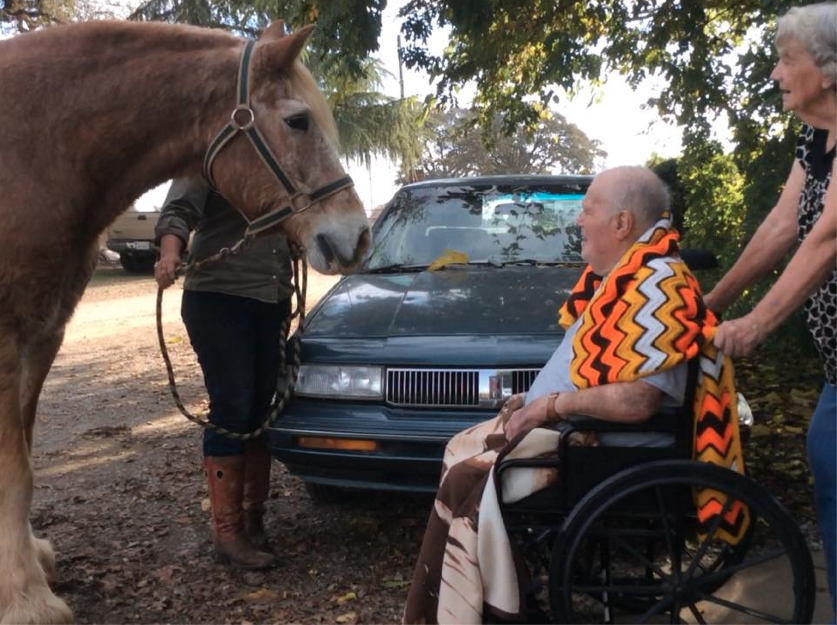 What an incredibly sweet story.  ….sometimes real life really does give you story book endings.
BTW: I made my study goal today. :). I feel well prepared and will spend this week relaxing, doing a bit of studying as I feel like, and getting plenty of sleep.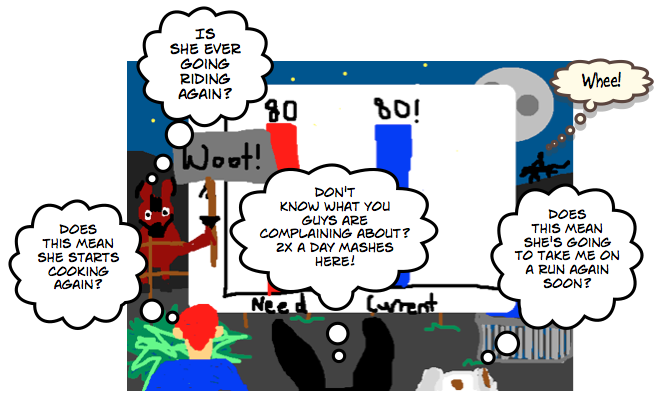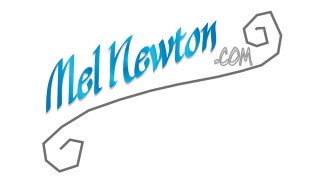 Two years ago: Hi!
Four years ago: A question of ethics
(apparently I don't write a lot of posts on the Dec 1 date!)