Wedding stuff – now no password

Today is about the accessories.  I'm finding that a LOT harder than the dress, so if anyone wants to chime in, I would appreciate the advice.
Let's start with what we have.
First, the dress. It came this week (yeah!) but needed to be hemmed (bummer). Dropped it off this morning but took a couple of selfies of the neck line so you guys could see what I'm working with.
I borrowed some jewelry from a friend and found out very quickly that because the neck line is mostly small cultured pearls, with some silver sequins mixed in, I need to stick with pieces that are silver metal colored (not yellow gold), and wearing pieces that are 100% rhinestones look a little weird. It works better if there is some pearl motif with the crystals.
Based on a friend's recommendation to check out the 1928 jewelry company, and having tried on a pair of earrings that were perfect except they needed pearls, I bought these earrings:
And, I bought this bracelet in town today. Was looking at a "chunkier" bracelet but some gals at the counter gave me some advice and said this one was a better choice for an overall presentation and balance of jewelry.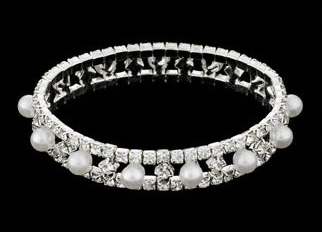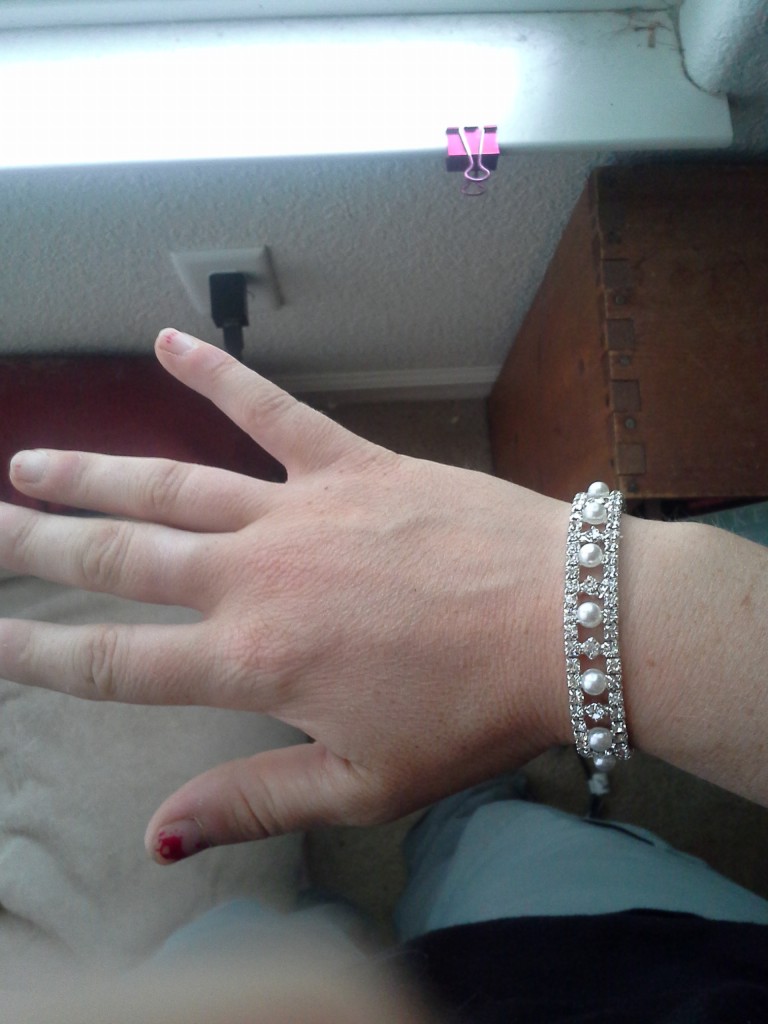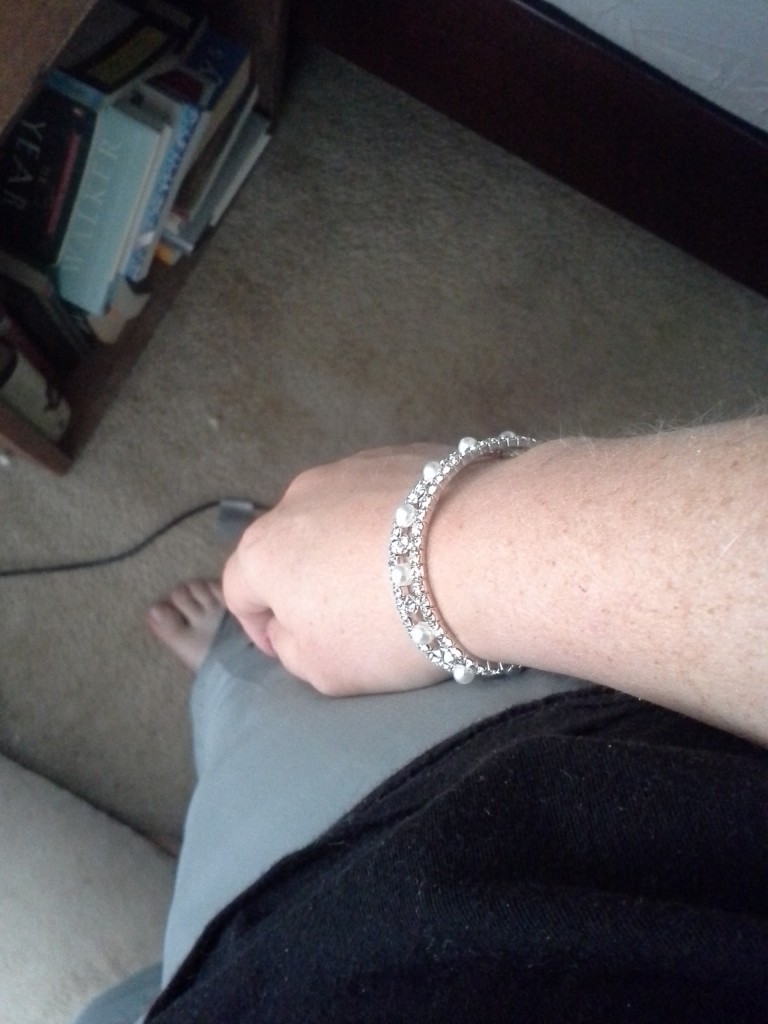 I have 2 more things I'm struggling with – shoes and hair.
The shoes are an easier choice. I have three – all similar heights and price range. Is there one that you like better?
Product links for the shoes:
http://www.amazon.com/gp/product/B00JFHJWV2/ref=ox_sc_sfl_title_1?ie=UTF8&psc=1&smid=A3JK6UKCM8FWY5
http://www.amazon.com/gp/product/B00JSA4QT4/ref=ox_sc_sfl_title_2?ie=UTF8&psc=1&smid=A1QO6EWL3Z4JA1
http://www.amazon.com/gp/product/B008DMC0U0/ref=ox_sc_sfl_title_3?ie=UTF8&psc=1&smid=A15MDCTZU8FRDU
Shoe number 3 was reported to not be comfortable for one user and her foot kept slipping forward which makes me a bit leery? but I like how relatively simple it is. Does the zipper in the back of the shoe make it look stupid?
Thoughts?
And now we move to my bigger problem.
My hair.
I don't have a clue what to do with it.
I don't particularly want it down.
I'm most comfortable and think it looks cute in a low pony tail. Especially with an extreme side part.
I tried a bunch of pinterest hair styles and took pics and the pulled back with a side part was the one that looked the best.
But I just don't know what to do with it. It's shorter than it usually is. I want something relatively simple.
I've thought about a now pony tail with a silver colored "pony tail cuff". Or maybe a large hair barrette? Or something else I'm not thinking of? Could I get away with something blue colored? Do I accept my fate and wear my hair down with a side clip? Can I have my low ponytail and and made it look OK?
I tried some headbands and thought they were cute….but I feel like there's just too much sparkly crap on me with it on. So I nixed it.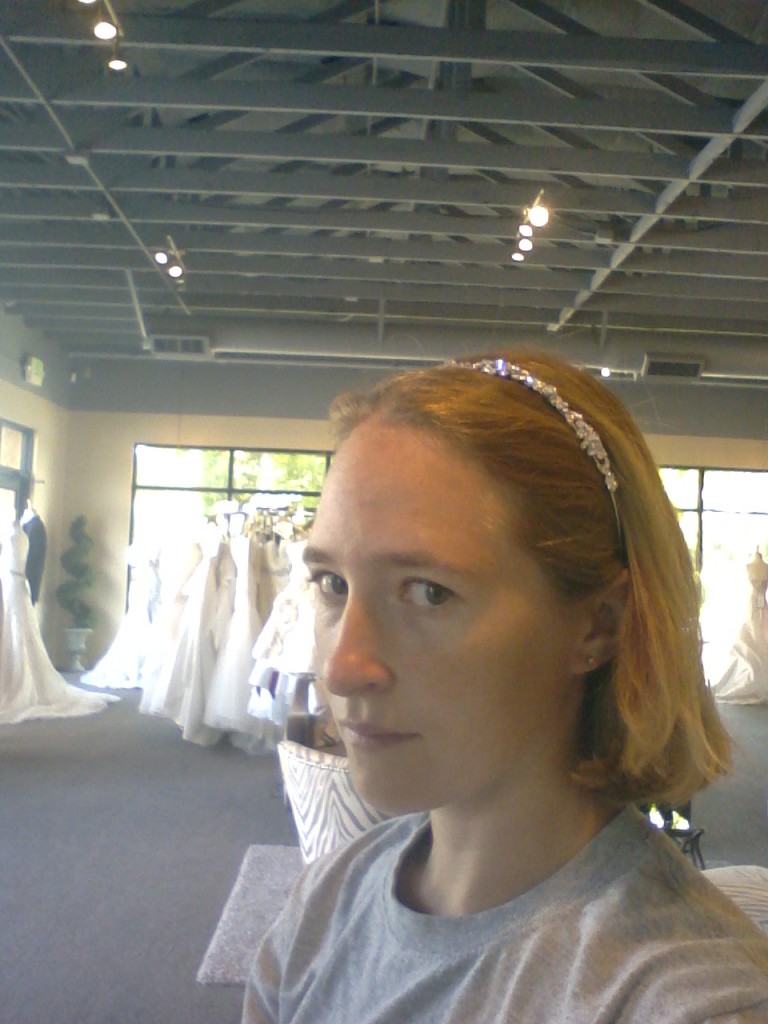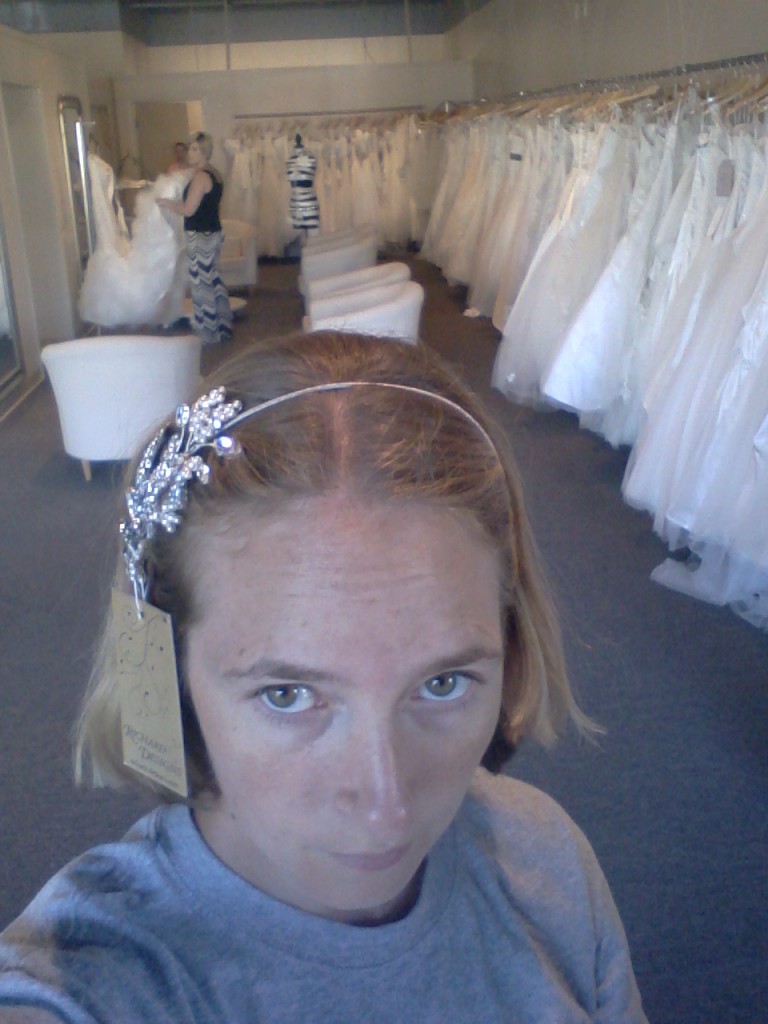 So. Any thoughts on what to do with my hair? I thought about a pin on veil so I could just hind my pulled back hair under it but they are all so LONG. At least down to my elbows. I would be fine with a simple one that came just to the base of my neck or shoulders or something but apparently those don't exist.
These are the finishing touches, so hopefully everything will be set by the end of this week. I get my dress back next weekend and Matt picks up his suit a week from Monday (he got it tailored).
Whoo hoo for getting crap done!