A look at the numbers: Older endurance horses

In the Oct Link Luv post I shared some data that Mike Maul posted on the AERC facebook page….now, instead of relying on your *squirrel-shiny-object-syndrome brains to go click on that link and then come back in some sort of orderly and reliable fashion (this is the modern age after all), I'll just **reiterate everything here.
*Oh, maybe that's just me? So says the bad blogger who felt the need to perfect a maple syrup and cinnamon roasted almond recipe prior to actually settling down and writing this post.
**As a side benefit I will have added several hundred words to this post and thus towards my "write a thousand words a day" resolution without having actually applied myself to my book that surely won't write itself over in that corner. 
Here's what I had to say in October:
On the surface it looks like the mode has shifted "older" about 3 years – from around 8 years of age to around 11 years old. The mean (average) is probably even a couple years above those numbers, meaning that right now your "average" endurance horse is in its teens.
Over the years there has been some changes in the age requirements for horses starting various endurance distances which probably explains the drop off in 4 year olds competing.
As someone with a horse that's staring late teens in the face and shows no signs of slowing down, I'm much more interested in the right hand side of the graph.
And here's the thought I had that sent me down this rabbit (squirrel?) hole: 
It's still a fact that in both 2004 and 2014 a horse in its late teens and in its 20's makes up a very small part of the population. Whether that is because most of these horses are started in the sport as the average horse as an 8-11 year old and that's just a really long time to stay accident free and genetically lucky, or whether it represents a few folks brave enough to start their older horses in the sport and these horses are relative newcomers, I can't tell from this data. It would be really interesting to look at each age group and see what their average number of previous seasons was.
Back to the present.
Mike very graciously ran a database query and sent me the data for all horses finishing rides in 2004 and 2014, their ages at that time, and how many seasons they had completed to date.
Unfortunately the 2004 data wasn't usable. But even though we can't compare to see how things may have changed in the last 10 years, just looking at 2014 was interesting.
~~~~~~~~~~~~~~~~~~~~~~~~~~~~~~~~~~~~~~~~~~~~~~~~~~~~~~~~~~~~
Some notes about the data before we get started
A "season" means at least one ride completed – which includes LD's and seasons with only LD miles.
The number of seasons can be non-consecutive and is cumulative.
This is the biggest irregularity in the data: ages of horses are as of 2014. HOWEVER, if that horse had completed a ride in 2015, then 2015 was counted as part of that horse's cumulative seasons under their 2014 age. This is why there are 5 year olds in this data set with "three seasons" completed. A 2013 season as a 4 year old, a 2014 season as a 5 year old, and at least one ride completed already in the 2015 season as a 6 year old (but counted as a 5 year old in the graphs etc.)
I spot checked the outliers in the data just to make sure there wasn't funky going on (this is where the 2004 data failed the test, and how I found out about the 5 year olds in the previous bullet point). That 25 year old horse with 21 seasons? That's Remington. The 25 ear old with 20 seasons? Robin Hood. Not errors, actual horses with impressive records.
Everyone likes a good graph so let's start there, even though I think a graph in this case is actually less helpful then looking at the pattern of the raw numbers in the data table.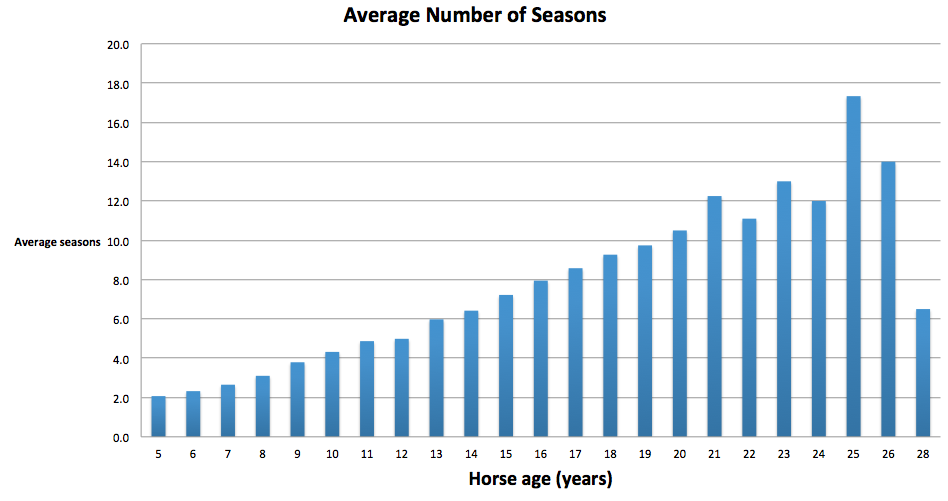 The older horses in our sport are not newcomers. That relatively small population of individuals on the right hand side of Mike's graphs are experienced.
More compelling is looking at the data in this format: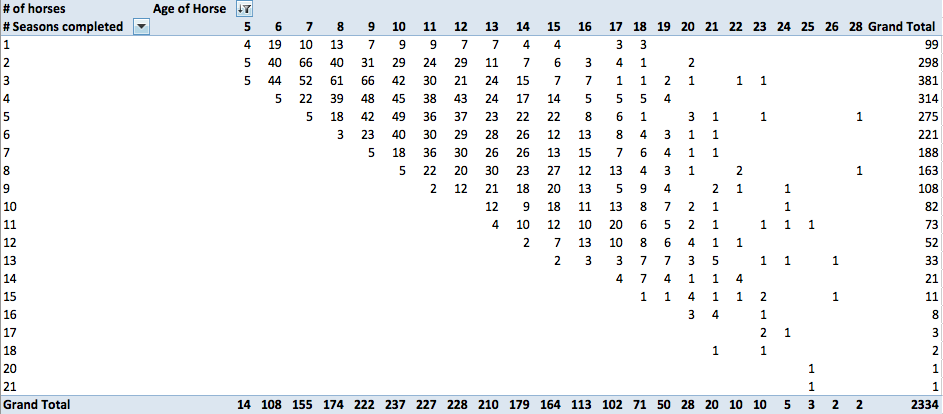 Here's the deal. If I had taken the time to look up which statistics I needed to run in order to actually come to definite conclusions, you would still be waiting for this post for the next 10 years. So consider all my commentary as  "Overall impressions" and not scientific fact please. 
Impression: The attrition rate at age 20 is really high. In fact the number of horses drops to such a small number at age 20 the "average season" probably doesn't mean much at that point and beyond. There just isn't a big enough sample size. (Number of horses in each age group can be seen in the bottom row of the data table).
Impression: There aren't any horses older then 18 starting endurance for the first time in this data set. In fact, once you hit the mid-teens, most horses tend to have at least one season under their belts (girths?).  (Look at the blank cells in the top row).
Bottom line? Horses can be successful into their 20's (and definitely their teens), but if they aren't already in the sport by their mid-teens, odds are they won't be doing the sport at all. Considering that these numbers include LD's and don't differentiate between Ld's and endurance distances (50 miles and beyond) makes this even more striking.  Those mid-teen horses aren't even starting LD careers.
Of course I couldn't stop there.
The grey area is the seasons that are not possible for that age group to achieve.
Impression: Starting in the mid-teens, horses no longer are achieving "maximum number of seasons possible" based on their age (represented by blank cells in the above table that border the grey area). It's hard to know whether it's because they started the sport later then 4 or 5, or whether it's because the horses are skipping seasons later on.  Probably a combination of both.
The light green cells represent how many "seasons completed"  the majority of the age group aligns with. I admit that I eyeballed it, but I went back and checked averages and standard deviations – my guesses represented by the green cells are pretty close. This confirms what the first graph showed us – that average number of seasons increases with age. However what's remarkable is how tight that distribution center remains all the way through.
Impression: If a horse hasn't started completing seasons by the time it's 9 or 10, it remains in the minority for it's age class, even it continues to complete rides every year until it's 20.  I have a hard time wrapping my head around what this means. It seems to suggest that if you want to be doing endurance on your horse when it's 19 or 20, the best way to make that happen is to start this sport when that horse is between the ages of 8-11 years old, NOT older (like 13 or 15 years old). Wear and tear may matter less then the superior physiological adaption of younger horses compared to older horses experiencing the same stresses for the first time.
I of course couldn't help compare where Farley fits into this data – Rather predictably Farley started this sport as a younger horse (8 or 9), continues to be successful into her teens, AND I already had a gut feeling that endurance after 20 years of age was a step into the great unknown – something confirmed in this data IMO. In fact, she is firmly in a green cell based on years of age and seasons, indicating that we are indeed quite *average.
*I guess it says something that she certainly doesn't feel average. She feels exceptional. Which is probably more a function of starting this sport on a non-arab which was SO HARD, and because Farley is a fun, safe, little packer who showed a knack for 100's and let me achieve my Tevis dream. So in the details she is special, but not so much in the big picture. 
So let's talk about decade team.
The problem with this data set is that it counts seasons made up entirely of LD miles as a completed season, which does not count towards the official decade team designation. And it's impossible to tell whether the miles and seasons are being completed by the same rider. But let's ignore that and see what the data says about horses completing 10 seasons anyways!
Impression: While there was a pretty clear drop off of horses over the age of 19 in the sport, it's less clear where the "maximum" number of seasons is, probably because age of the horse is a more important factor then the number of seasons. Possibly 14 seasons? Which would correlate to a 19 year old horse that started this sport around 5 years old.
Impression: 15 year olds are the biggest contributor to "decade team" and there is a significant drop in horses achieving 10 seasons after 17 years of age. This again suggests that a large number of seasons are achieved by horses that start out in this sport relatively early.
What do you think? I think it would be AWESOME to have the time and knowledge to be able to calculate how likely a horse is still be doing endurance at age 20 depending on what age they start in endurance (probably some sort of odds or risk ratio), but that would require a far more complicated data set then this one, and more time and brain power then I currently possess.  Sigh. That's the problem. Satisfying one curiosity only leads to more questions!