Dear Greenbean

Hey you, trying to get your horse up to a trail ride of double digits for the first time. Yes, you in the corner who did a long ride last weekend in the stunning time of…3 mph. Do you feel an eternity away from the miles and pace of an endurance ride?
I'm here to reassure you that you are on the right track. I'm writing this to remind myself that *I'm* on the right track too.
You see, it's been a long long LONG time since I brought along a newbie horse in this sport.
I forgot just how "baby" those baby steps are in the beginning.
I did a ten mile loop on MerryLegs last week. It was a moderate difficulty single track loop. It took FOREVER.
I understand why people make an LD a two or three year plan because OMG, at this point that's how long I feel like it's going to take me to get this horse past ten miles at 3 mph.
I've taken myself to the marathon distance and beyond, I've helped other people do the same, and I've taken at least 5 horses from zero to endurance paced rides of 25 plus miles (not all made it to endurance rides). It's just been a while. A LONG while. I forgot just how slow it is the beginning. Itty bitty teensy tiny imperceptible steps towards someday doing an endurance ride.
The amazing thing is that sooner than could possibly be predicted at this moment of "10 miles in 3 mph maximum effort",  *something* happens and *suddenly* you are floating down the trail at 5 or 7 mph and the miles and hours are flying by. You realize that the LD goal isn't two years away, it's a "this year goal" and fifty miles isn't that far behind.
It's not a straight line of work and effort that gradually leads you fifty or 100 miles. It's a roller coaster, a logarithmic curve. It's *magic.
*Yes, literally magic. I still can't quite fathom how I'm able to run or ride 100 miles. Or how the training that we do adds up to 50 or 100 miles? Even now – having done it multiple times – it's still magic every single time it all comes together. 
I'm trying to savor these early rides. Once a horse has done endurance it doesn't matter if it has time off – it's never quite like starting from scratch. Right now the thought we will be doing endurance is hilarious. 100 miles in 24 hours? HYSTERICAL notion. We are spooking at pee rivers. Giving culverts a hard eye. Bonking at least once per hour. Declaring ourselves starving at mile 3.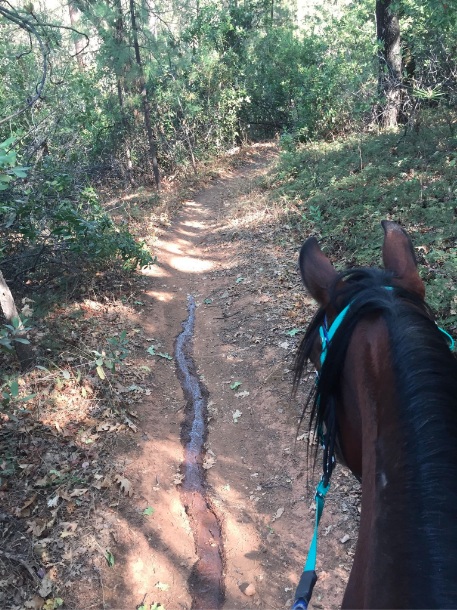 I'm building myself an endurance partner one ride, lead line run, arena session, carrot, trailer ride at a time. At the same time, I'm putting faith in the culmination of small steps leading somewhere worth going. Right now we are getting there at….3mph.
***PS. Starting Farley in endurance was prior to this blog, but I had significant concerns whether this was the sport for her since she was so pokey and boring on our conditioning rides. We trained and conditioned and entered our first LD. Which she won. It was completely by accident. She flew through it with a fire I did not know existed in that little brown mare. I had no idea we were in the front and was opening gates and letting people ride on ahead since the ride was all about training and having fun. In retrospect my training had prepared us very well for that ride and that day. But in the moment of the every day training it was hard to see how far we had progressed. It took going to a ride to see how my hard work and small steps had added up to something bigger. It was a good lesson.