Rio 100 mile 2018

Well. Do you want the good news or the bad news?
The Rio Del Lago 100 miler was more like…83.5 miles.
No 2018 qualifier for Western States.
Even more depressing, it means that I don't have a single successful race in 2018. Two 100 mile DNF's. My single finish I do have is Loco100k…which was technically an overtime finish that they were kind enough to honor as a finish.
It's been a season that makes me question whether the last 3 seasons of ultra running has been a complete fluke. Before this year I had never finished overtime and rarely chased cutoffs. My single DNF was a mental cop out in my first season.
Now for the good news.
This is probably going to get kind of technical into the workings of an ultra lottery that many (most? all?) of you won't care about so I'll summarize it in one sentence and then you can skip on down to the next paragraph. The good news is due to a rule change, I will not lose my accumulated lottery tickets for Western States despite not qualifying this year, and not being entered into the lottery for the 2019 race. Western States lottery for the first time is allowing a once in a life time "bye". This means that ONLY once, I can skip a year for any reason and retain my accumulated tickets (I currently have two years worth) for the next year. After a lot of consideration I've decided to take the bye this year. Two years of tickets doesn't seem like that many, but with the lottery gaining popularity it will only get harder to get in as the years go bye. I think with the "bye" system there will be more and more high number of ticket holders which means the chances of getting picked the the first couple of years in the lottery are non-existant. With the popularity explosion and my unknown health future (which actually describes all of you, even if you don't know it yet! Life is uncertain!) I feel like I need to bank the tickets I have. I may only get to run it once in my life. It seems like the bye was designed for people like me who have had seasons like this – injuries, multiple attempts, and a cancer diagnosis.
So let's talk about my second attempt at a qualifier this year.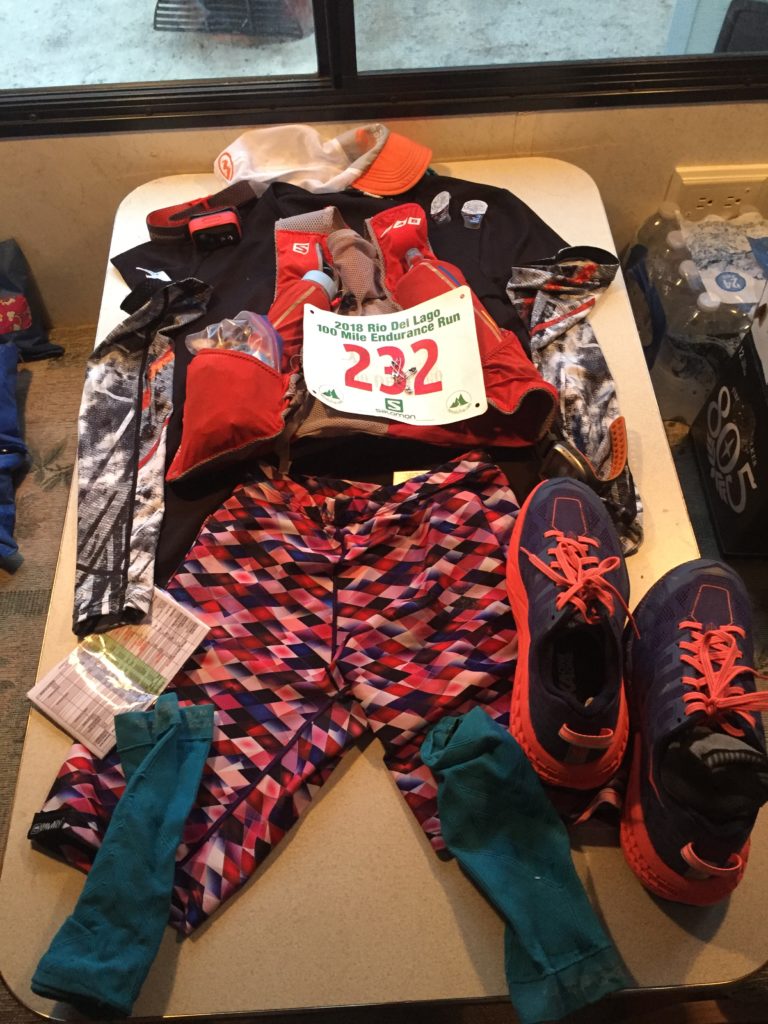 Once my achilles was runnable again after Tahoe (September?), I decided to sign up for Rio. Why not try? I had a really good race there in 2016, I knew the course, and it's only an hour from my house. I had time for two more long runs (about 20 miles each), which I got done despite a plethora of other things on my plate.
It was going to be a fight to finish, but I thought I had a chance.
Up to mile 45 the whole race was a 2016 de ju vu. Without even really trying I was hitting the same splits within 1 min of 2016. The body parts hurt at the same time and in the same spots as two years ago. I bonked at the same time. Again my crew was the fantastic Aurora who has crewing for me down to a science.
But there was one really big difference from 2016.
The effort to maintain this very moderate, conservative pace was just a touch harder. Not super hard….but a flickering "yellow" light effort at a time when everything should be "green" light effort. No matter what I tried I couldn't settle down into an effortless rhythm where I could just tick early miles away without thinking. *At Tahoe I had noticed I didn't have the leg speed I was used to on the flats, although I was climbing just fine (really even better than ever). The same was holding true for Rio. In fact, it was even more noticeable at Rio because there is so much more flat runnable trail and less climbing.
*I'll probably discuss this more in my next post ("What the Eff Went Wrong") but the short story is with 2 major injuries this year I simply didn't have enough time to train. I did the best I could with the time I had and I prioritized getting my long runs in over speed work. It was a reasonable trade off considering I was planning on doing Tahoe with it's 36 hour cut off and monster climbing. I noticed the lack of speed at Tahoe and it was annoying….but it wasn't going to break my race. Rio was a different story. 
For Rio's 30 hour finish I couldn't slow down too much and still hit cut offs in the second half of the race. So, I just held on to the slowest pace I dared and hoped that the mental experience from having done 100 miles previously would allow me to ride the edge a little closer than ideal.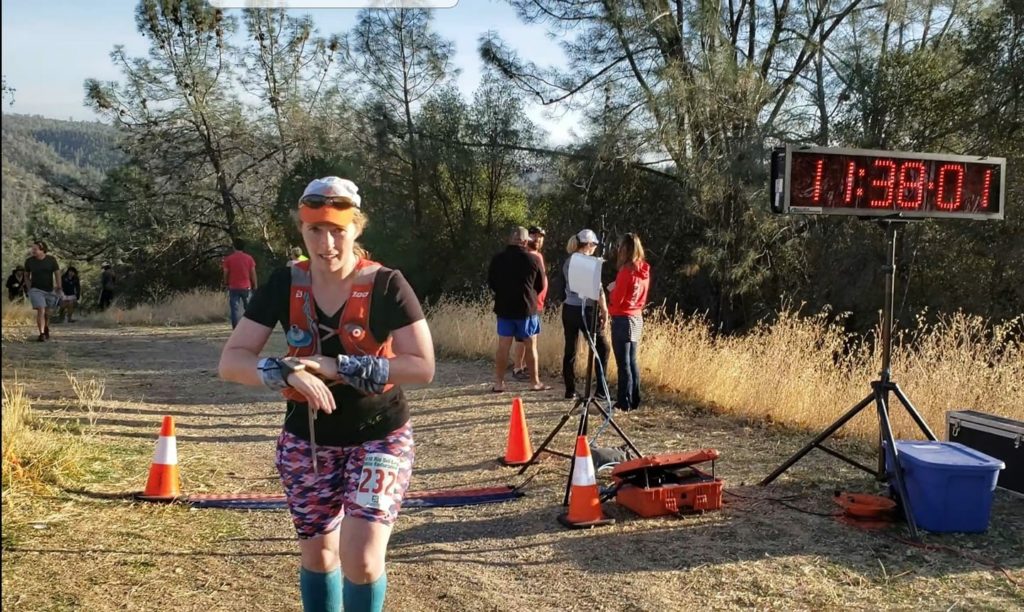 Coming into mile 45 (Auburn Overlook) I was still optimistic about finishing. I was hiking up the hill much stronger than 2 years ago and the massive bonk I had experienced at this point 2 years ago had only made a brief appearance. I took this as a sign that my gamble was going to pay off.
That optimism was quickly squashed.
I knew I was screwed leaving Overlook. In 2016 I felt refreshed and was able to do quite a bit of good running down to No Hands. Not so this year. I sorta speed shuffled into No Hands and realized my legs were not making an appearance anytime soon.
If you can't run, you hike. Very quickly. So that's what I did for the entire 30 mile loop (45-75 miles). Every once in awhile I would try to run for a little bit – because every little bit helps the overall pace – but I will not bullsh*t you and pretend that I did any substantial running. I cruised into the Auburn Lakes Trail aid station at 9:25p, about half way through the e loop. My reward for an excellent effort at unrelenting forward motion for the last 5 hours was to sit down for five minutes. I was still in good spirits. I had an an awful rutted out technical trail section and then a nice long down hill after the HWY 49 crossing into No Hands…and maybe my legs would decide to join the party again!
Except…you guessed it. Still couldn't run. I *should* have been able to run and I just couldn't. Mentally I was doing just fine, I just couldn't…make…my…legs…run.
Managed to speed shuffle/hike my way down the not so glorious long down hill to No Hands where I made a critical error. I glanced at my pace chart and thought it would take me an hour to make it back up to Overlook at an ~18-20 min/mile pace.
Nope.
It was more like 4.5 miles, not 3 miles up to the Overlook. (Yes, I train on that trail all the time. In my defense it was like 2am….).
An error I realized when I was approximately half way up to the Overlook and I realized I was NOT GOING TO MAKE CUT OFF.
So I proceeded to sprint. Up the hill. To the Overlook. After running more than 73 miles I FUCKING SPRINTED UP THAT HILL.
I can't even do that in training.
In 2016 it took me 10 hours to do the 30 mile loop (including time spent in aid stations). This year it took me 10 1/2 hours. It was the difference between having 40 minutes of cushion between me and the cut off and a paltry ten minutes.
The real story behind those numbers is even more dismal. I had done that loop in 2016 in 10 hours but considering time spent in aid stations, it was around 9.25 hours of running. This year I wasn't moving well enough between aid stations to be able to *rest as long. My overall time was only 30 minutes longer for the loop, but the actual time spent running was probably almost an hour longer.
*Another "what if?" dilemma of whether I should have spent more time in the aid stations in hopes that I could then go faster on the trail. It's a gamble either way, and during the race I felt like I hadn't had any legs from the beginning so resting was not likely to change that, so better to try and keep going forward.
I got into the aid station wanting all sorts of things – a change of socks, taping the many MANY blisters that came from speed hiking for 30 miles, my special food (like my Gata Bread….sob) out of my crew bag, a can of cold brew coffee, and probably four other things that a week later and many many hours of sleep later no longer seem important.
The hard cold reality was that I got to the aid station 15 minutes before cut off. I absolutely needed to get out of that aid station as fast as possible, because there was 7 hours and 45 minutes left on the race clock…which meant I was now going to have to run the last 25 miles faster than I had in 2016. Something I had yet to do all day on any section of this race.
But, even as I did the panic math, I wasn't counting myself out yet! I figured that desperate legs can be motivated legs!!!!!! I had felt pretty damn good running up to the Overlook and there was some easy running coming up that I could make up some time on.
I shouted at Aurora that there was ZERO time to do anything but fill water bottles and tried to not think about those lovely clean socks I was giving up while throwing random aid station food into a ziplock baggie. OUT in 5 min with 10 minutes left before the cut off.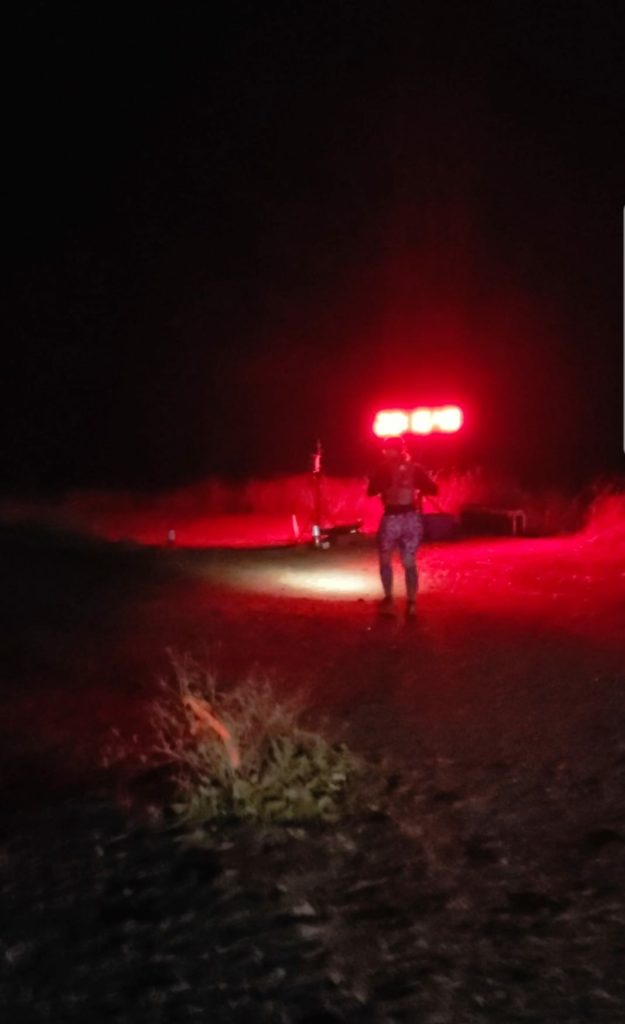 RUNNING down the trail. Adrenaline is a wonderful thing. I tried to go easy, maintaining a good pace while knowing that the piper would be paid. Miles run with adrenaline are not free.
Here was what my panic math was telling me.
I had 7 hours and 45 minutes to get to the finish line. In 2016 it took me 8 hours.
I needed to do the rest of the race in average 18 min/mile. In 2016 I averaged 19.2 min/mile
In 2016 I was able to run this section to Rattlesnake (83.5 miles, about 9 miles away) moderately well. After Rattlesnake I basically speed hiked the rest of the way in with very little running. So, it wouldn't take THAT much running to improve my overall pace.
The trail between here and the finish was basically flat to slightly rolling with 2 exceptions. The section that I was on now which was 2-3 miles of non-technical down hill, and a 5ish mile section called the meatgrinder that if I pushed myself to the absolute limit on 90 mile legs, I could probably get done in 19 min/mile (figured sheer desperation would be able to give me wings). If the flat rolling sections could be done in 18 min/mile, and the 5 mile meatgrinder was going to be done in 19 min/mile….I needed to make up 5 minutes. If I was able to do 15 min/miles on this down hill section for two miles….there was my 5 minutes to get through the meatgrinder slower than 18 min/mile.
I checked my GPS as I jogged down the hill. 15 min/mile. Perfect. Right on track.
I won't lie. Although I had worked out that a finish was still possible, I knew it was long odds. YES, things can change on a 100 miler and suddenly you have legs. NO, things don't always get worse in a 100. BUT I HAD BEEN WAITING 75 MILES FOR LEGS AND IT HADN'T HAPPENED. The odds that I would magically have legs after having to push for 75 miles was not good. Not only was I lacking the leg speed due to my compromised training, I also lacked a reserve to pull from when the race got tough and I had to do something drastic….like sprint up hill.
The piper was paid about 1 mile from the bottom of the hill.
I was done. If by some miracle I made it to Rattlesnake before the cut off there, I wouldn't be able to maintain *18 min/mile for the rest of the course. Something that was painfully apparent as my max speed down the not-steep-road was a whopping 20 min/mile. I thanked my body for its excellent effort up to Overlook and marched into the Cardiac aid station to lay out my situation.
*Another "what if" moment….what if I hadn't worried about my grand plan to finish and just ran to the next aid station? I honestly don't know. Did I create some sort of self-fulfilling prophecy? Maybe. If I had a super experienced pacer, like Martin from 2016, could they have managed me through this moment where I seem to be teetering between disaster and narrow success? Dunno. On the other hand, I've probably "red-lined" it and dug deep in challenging circumstances more often than most. That means I have a very good handle on when I have untapped reserves and when I don't. 
Here's something you should know about me. I'm bright and cheery and logical – even at mile 78.5 when my body no longer works. I had a similar chirpy attitude during childbirth too. The aid station volunteer's job is to make bright cheery people who want to drop get back out on the trail and keep trying. They probably thought I wasn't trying hard enough when I announced that I was dropping. No seriously people. I'm very good at faking it. At ignoring all sorts of important pain and suffering signals. It's how I made it this far. I will look exactly like that until I am unconscious and hypothermic, laying on the trail waiting to be a mountain lion breakfast. I smiled brightly at them and told them I could either drop there, or take 3 hours to go the 5.5 miles to the next aid station, miss the cut off, and drop there. I was likely to by quite hypothermic by that point, but probably would not get lost or die on the way there, being a local and familiar with the trail.
After insisting I *must* go on (they gave all sorts of excuses but the gist of it was that it is their job to push able bodied people out into the darkness and perhaps save someone's race, and as I thought it was unlikely I would suffer lasting bodily harm by doing so), I requested one of their emergency blankets so I could keep warm on what I knew was going to be a very long 5.5 mile hike.
With a combination of walk and shuffle I was able to maintain about 20 min/mile. Despite my dire predictions, I wasn't just going to give up. Yes, I'm pragmatic. I wasn't going to make it. But it ain't over until it's over and despite everything, I would absolutely give it my best effort.
Which was…exactly what I predicted…about 3 hours.
Three very long, and at the end – painful – hours.
At first if I sat down for a couple minutes every time my food timer went off (every 30 minutes) I could actually run when I started moving again. Yay! Mentally I was fine. I was not bonking. I was truly just physical done in a way I have not experienced at a race before (with the exception perhaps being my first marathon 15 years ago, but considering that entire experience was only 5 1/2 hours and only the last hour or two was carnage and suffering, it's safe to assume last weekend was worse?).
Soon even 20 min/mile became a distant memory as I struggled to maintain a 2 mph pace…and sometimes even slower.
I watched the second sunrise of the race and walked into Rattlesnake, after 26 1/2 hours of running. I was done.
My incredible (generous, long suffering, amazing) crew Aurora drove me back to my motorhome at the start/finish of the race as she gave me a rapid fire debrief. She stayed long enough watch me unweld my skin from the inside of my shoes where it had seeped through my socks and then took off for home, probably expecting me to do something reasonable like shower, nap, and then drive home.
I swear that was the plan. But then I realized I didn't think I could safely take a shower. Standing up for any length of time was dicey and I legit thought I might fall down in the shower and not be able to get up. I also had about 45 minutes until the adrenaline wore off enough for me to sleep.
So I changed clothes and padded around in socks (having failed to bring footwear I could actually put on after a 100 when my feet were swollen and covered in blisters) to unhook the motor home and headed home.
It's a 1 hour drive.
At least it is if you can take the familiar highway route home. Or if your GPS is working on your phone (mine isn't). After taking a rather long roundabout way to get to the Interstate (15 minutes gone from my 45 minute awake window), I found to my HORROR that the HWY 65 exit was unexpectedly CLOSED off of I-80. Which instructions to take the next exit (Atlantic street) instead. Which is FINE and DANDY if you know how to get BACK ON 65 FROM ATLANTIC STREET, which I didn't. And see above comment about GPS not working. And also no more helpful "detour this way" signs after the sign telling me to take Atlantic street exit. And also, remember my brain has been up and running (LOL…running…) for like 27 or 28 hours now. So, I wandered the f*cking streets of downtown Roseville in my 30 foot motorhome trying to get my way back over towards the west…..another 20 minutes off my window for being functional.
Finally I was on my way home on a back country road when I was suddenly reminded why in 2016 when I also drove myself home, I promised myself I would never ever do anything as stupid as that again.
When you are sleepy on the road while driving it's usually predictable. A yawn, a thought of "mm…I'm sleepy". Maybe some difficulty in keeping your eyes open. If you are paying attention, plenty of time to pull over and get some shut eye.
Not when you've run 100 miles 83.5 miles.
You just f*cking black out.
Literally one minute I was driving down the road, and the next I was over the center line….or almost off the side of the road. No warning, no transition between awake and asleep. No gradual drifting into the grey twilight of sleep.
*I understand it's probably really hard to read this. You'all are probably furious I did this. Terrified that this could have easily had a different ending. I know, I KNOW. The reason I am even including this in my story instead of conveniently skipping over it is because when I write about stuff like this – admit to every stupid detail – it becomes FAR less likely that I do this in the future. This was an absolutely stupid thing that I will NOT repeat in the future. If you are even contemplating doing this yourself, I hope this provides enough details to dissuade you. 
I'm barely half way home without anywhere to pull over (narrow country road without a shoulder) because of all the delays trying to get out of town. By some miracle I made it to an elementary school, pulled over, glanced at the clock, and walked to the couch. I laid down and was literally OUT before my head hit the pillow. I don't think anything in the world could have roused me until I opened my eyes and it was an hour later.
Tired but without any of that scary black out nonsense I drove the rest of the way home and collapsed in the living room.
Walking into my living room was the last unassisted walking I did for the next 18 hours.
I had to get up and be functional by 5am on Monday because I had a full surgery shift (not ideal, but with 2 months of missed work coming up Jan/Feb for radiation treatment, and a bunch of unpaid time off because of the upcoming holidays, I just can't afford to miss any shifts 🙁 ), which meant I had to bathe.
My long-suffering husband helped me to the bathroom where we discovered I could not sit or stand for longer than 15 seconds without becoming nauseous and almost blacking out. Which is how it came to be that I had to lay flat on the bathroom floor while he helped remove various pieces of clothing off while inquiring whether it could be burned. (No, I didn't even run in that and THOSE ARE MY BEST PAIR OF SMART WOOL SOCKS). Fig stood by and supervised, learning all sorts of new swear words and learning important life lessons. Although I'm not sure which ones yet.
We decided a shower was out and I should take a bath, and he left me to it, saying "For God's sake if you start to pass out, YELL or something."
It was a tough week. The husband and child both got a cold (something that happened last year too post Rio, as I remembered when I read through my 2016 race report this week), and I spent every spare moment I had sleeping. Monday ended up being 8 hours of surgery with a couple of curve balls, and I was in too much pain to sleep soundly until Wednesday night. Despite this, I could feel that I was dealing with simple fatigue and muscle soreness from the physical effort. I wasn't injured!!!!!!! I might  not have had enough time to get the training in to get a 100 miler done this season, but I ended it on an excellent 83.5 mile training run that I completed without injury. A nice springboard to jump start next season. Some enforced rest (1 day for every 10k-10miler depending on when the last aches and pains go away), but honestly I can't/couldn't wait to get back out there and start training again – some intervals and speedwork to build on my awesome long run base I've been building all this year.
Thursday I set my alarm for 11:57pm in an attempt to register for the Quicksilver 100k in the mad dash of first come first served entries for this popular race. My fingers were a little faster than some other people's, and so my first 2019 WS qualifier is officially on the calendar for May!
Perhaps the thing that brings me the most peace at the end of my season is ironically my race photographs.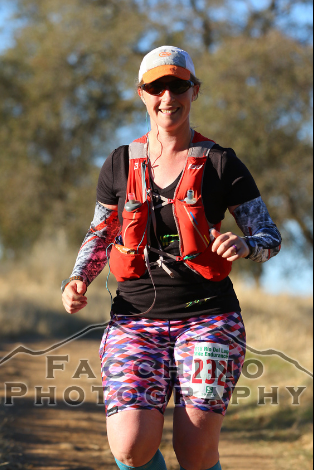 I'm not your typical looking ultra runner. Most of the time I look at my race pics and wince. As much as I really try to practice self acceptance there's always a huge measure of self doubt that any success I've had is a fluke. Especially in a season filled with overtime and DNF's, I haven't had a lot of outside validation.
But here's the things….for one of the first times ever when I look at these photos I actually see an ultra runner. I don't even have to squint. It actually looks like I belong on the trail, running this event. It's like looking at your endurance horse and realizing they are ready to jump up a distance. There's just something in their muscling and they way they move. I can SEE that in these pics. After four seasons of doing ultras (five years, but one of those was spent pregnant) it's starting to show. An unfortunate season of DNFs and injuries can't take that away. It's a blip, not a statement about the validity of me doing ultras.