No words needed

But of course I'll use too many anyways.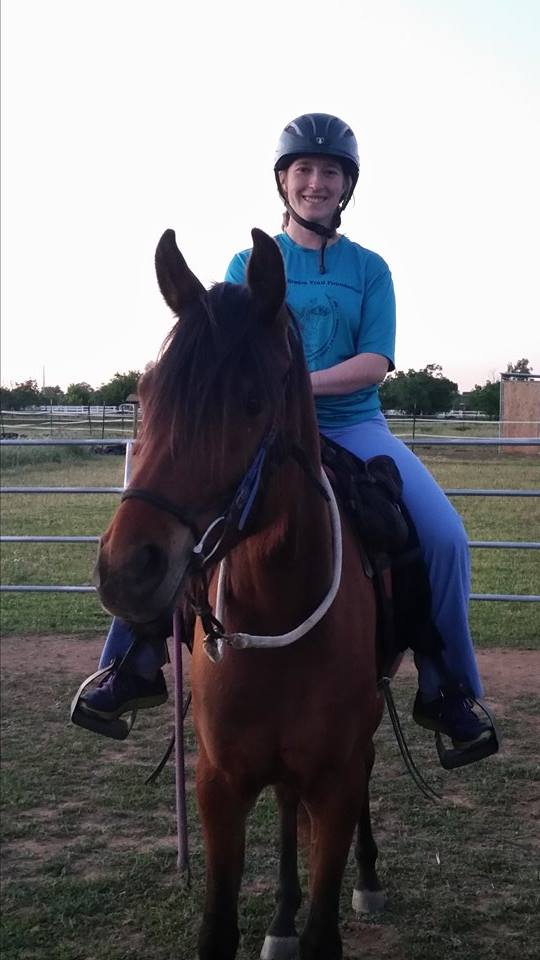 Oh yeah. We did that.
Admittedly scrub pants and running shoes weren't ideal for a first ride. But. When Amber suggested I get on what came out of my mouth of "YES", instead of "YES, in fact I have almost-tights-stretchy-pants-in-my-car".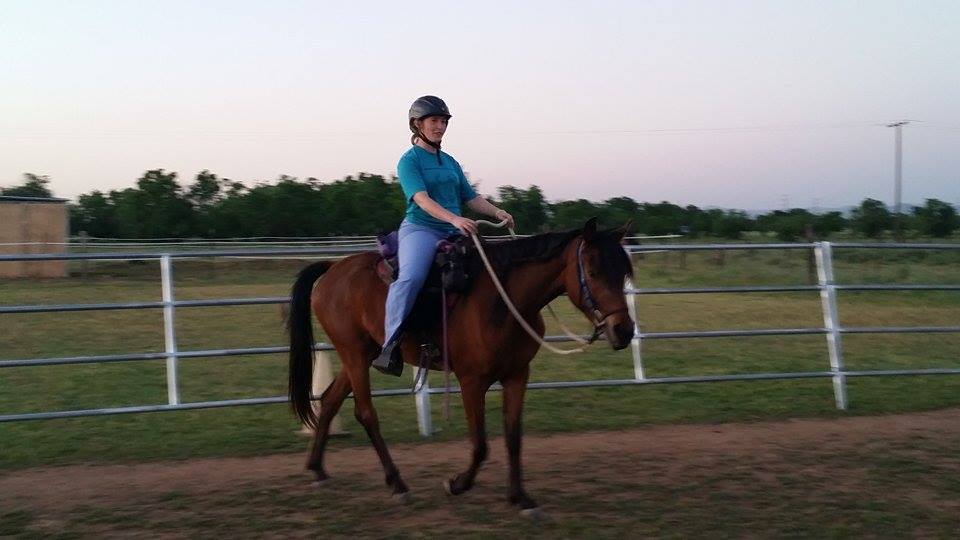 And really. I can't complain about the symbolism of a tevis logo t-shirt for that first ride!

There is an EXCELLENT reason for the glitter hand print on her butt. We'll talk about it later.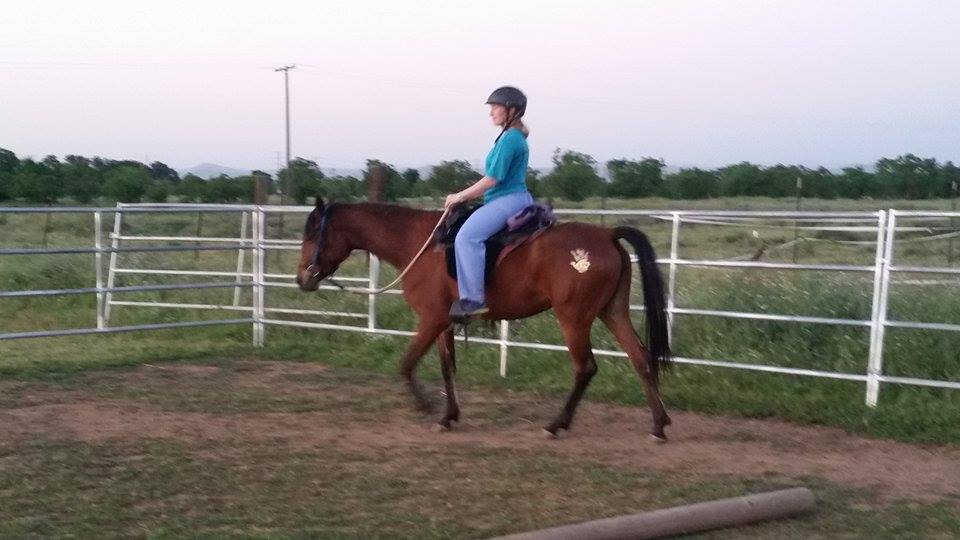 I think we make a rather good pair together.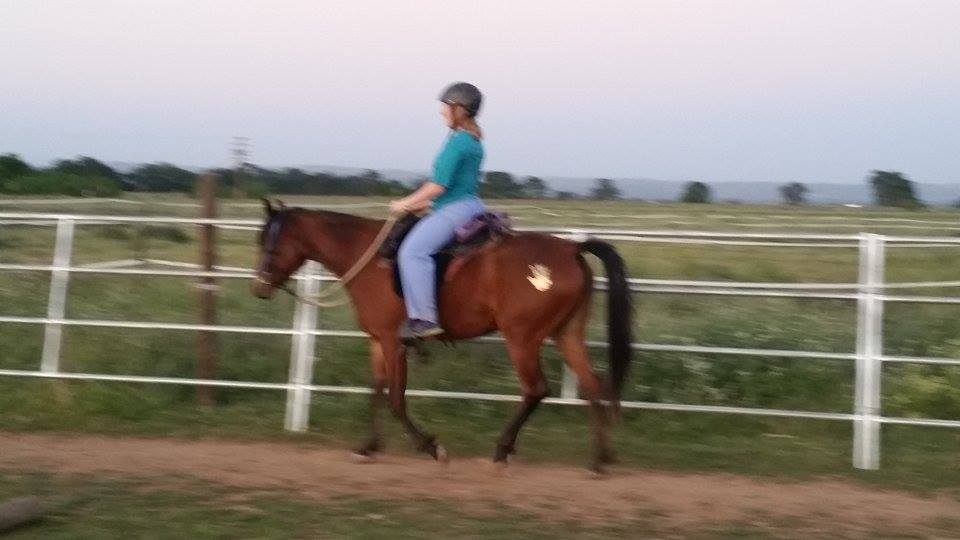 My mind is a bit blown right now – in a good way. This was a very different first ride then I have ever done on any other green horse.  Amber saddled up and turned ML loose in the arena. It wasn't structured roundpen work. Every 15-20 seconds ML would trot up to us to get her girth tightened and then casually get sent out again. After 3 or 4 times of that, the reins were snapped onto the halter and we moved to the mounting block.
For the first 5 minutes or so ML got to walk around the arena with the rider being a good passenger. She was free to walk, stop, sniff, explore on a loose rein. No micromanaging allowed. Some suggestions allowed, but it was a far cry from the ultra structured management I've done in the past with green horses, where the philosophy was to teach the horse that every single movement made under saddle was done only by permission.
The rest of the session was working on steering (reins on hooked to the halter only right now, even though she's carrying a bit), stopping, backing, and lateral. The stopping is not drilled – rather it's persistently and patiently requested until she relaxes and sighs and then we move again immediately. Unlike philosophies I've ridden under in the past, the focus is NOT "putting her back into the original place that she moved from" when she's antsy and we are insisting on a halt. The attitude and relaxation during the halt is the point – not the location at this stage.
I'm still processing the ride I had on ML – it was so different from past rides on green horses. She was 100% relaxed and not worried or tense or stressed. A lot of times when I ride a green horse I feel like they are rapidly using up their "good will" by choosing not to do a bunch of naughty things they want to do. They can only hold it together for so long before the stress of being good and obedient takes its toll.
In this case, ML seemed to enjoy the freedom and permission to explore the world with someone on her back. She wasn't "trying to be obedient" or exercising self-control….she was just…being. It's hard to describe. Here's a simple example. There wasn't a need to snatch the reins to lean down to smell poop piles because if she wanted to smell poop, she casually stopped and smelled poop for a sec. Curiosity satisfied, we moved on. Thus there was no stress associated with either getting a correction for something she wanted to do, or stress associated with her exercising self control NOT doing something she really did want to do.
No, we did not cling like monkeys' to her back for the entire ride. When she offered a trot, she was told "thank you but not right now" gently. When she didn't feel like halting and relaxing, the request was repeated until she relaxed. The point was made but a battle was not fought.
I think to ride a green horse like this  takes a lot of trust in the preparation done up until that point.  You really can't get on the horse before it's ready and just manage the problem when you are committed to being a good passenger for the first minutes of the ride. I'm getting an inkling that this sort of riding really helps preserve a young horse's desire to work and to please. ML wants to be ridden because she gets something out of it, and much like Tess resented being micromanaged, I think both my horses appreciate the respect and trust of a little less micromanagement and a little more preparation to set them up for success.
Could I have ridden Farley the way I rode ML tonight? Maybe. A big maybe. I'm not sure Farley would have kept coming over to me for her girth to be tightened and to be mounted. In fact, there's a fairly low probability. Would she have eagerly side stepped over to the mounting block? Umm…no. Would she have dashed off to oblivion the moment I was mounted and behaved soley as a passenger? Probably not. Especially in the arena. But, do I micromanage Farley too much in the beginning of our rides? Probably. Could I give her more responsibility to behave like a trusted mount at the beginning of our rides? Probably. Would this increase Farley's satisfaction (and how much she looks forward to a ride)? Maybe. Worth experimenting with for sure.