July 2017 IRL

I'm distracted and a little overwhelmed so by necessity this is going to be short and sweet . But, since this too is the drudgery of ultra running and endurance over time, it feels unfair to skip the post just because it's inconvenient.
Running
80.3 miles total
Tahoe 50 mile race
4 easy runs
4 – 4mph powerhike practice
Hiking with fig in pack – not counted in mileage, but mentioned because it was hard, I was sore for a couple of days, and it was worthwhile specific cross training.
Most of the runs were prior to Tahoe which is to be expected. It's been tough to get out for any sort of walk or run since Tahoe as my focus has shifted to trying to get prepared for my big vacation of the summer – a trip to Yellowstone. Which I'm not. I leave TODAY and I'm basically not packed. What do I mean by basically? Ummm…well, no actual packing has taken place. Oops.
And thus I am reminded of another lesson – *Not* making time for running and riding when I'm overwhelmed and busy actually backfire since without those centering self-care activities I don't actually get anything done.
I have the Massacre (which I think I'll start referring to as EBM for "Euchre Bar Massacre" so my posts don't keep getting audited) coming up in October that needs some serious trail research and I need to start thinking about what other bucket list runs to put on my calendar in the near future.
I'm going to get in some great runs and hikes in Yellowstone – and as my mother put it, not get eaten by a bear or get boiled alive in a geyser, and try to take lots of pictures.
Farley
Previous pictures of the healing injury can be seen here.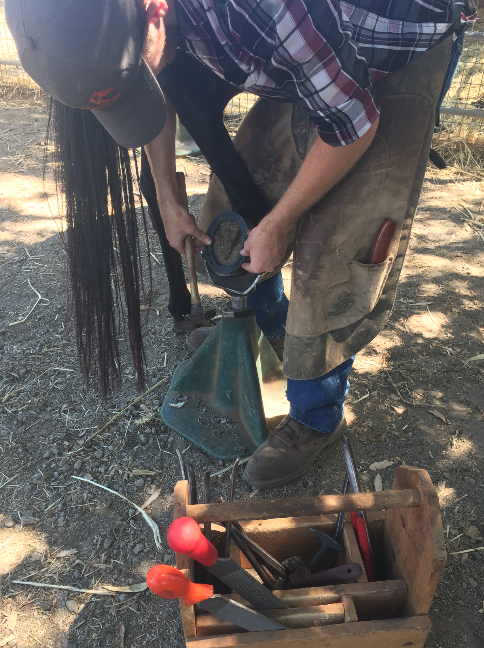 I haven't ridden her since the surgery, although I've been cleared to. I haven't even seen her for a week, maybe two? The shoe has stayed on so far being in the paddock and through turnout, but my gut says that the first time I take her some place fun with rocks, it's going to rip off. :(. She travels clean, but there's just too much shoe behind that foot. The point is the reduce movement to get the fragment to adhere to the rest of the hoof capsule as much as possible, but I am thinking that a regular shoe will reduce movement "enough". When I think about the physics and the way the hoof capsule functions, I'm just not convinced the bar shoe is absolutely necessary  – ie it's not going to make enough of a difference in the outcome to be worth the bother.
I really am #worseownerever. *forced grin*. I'm sure my vet loves me.
The velcro boot I bought for the last couple of bandage changes worked pretty well.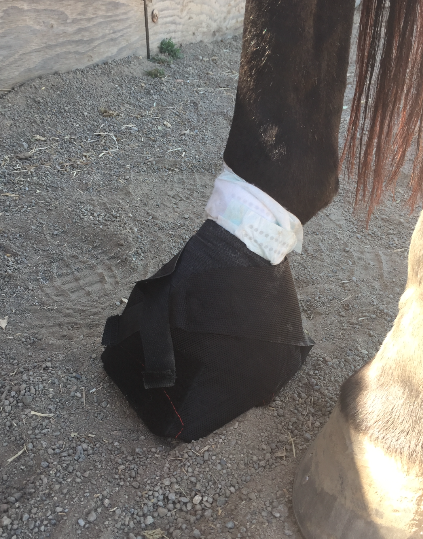 Definitely showing some wear, but if I get another 1-2 uses out of it in the future it will pay for itself in bandage materials I would have otherwise had to use. I would recommend it, especially for someone who isn't confident in their bandaging skills, which seems to not be a universal skill  and can have a steep learning curve. I used it twice, for 2-3 days at a time, once over a light wrap, and once over light wrap+shoe. I didn't use the foam insert that comes with it, which might have reduced wear? It's worn through one layer of the multi-layered bottom.
Merrylegs
…is doing awesome of course. Hopped on her bareback with a halter in the arena because I needed a fun ride and of course she obliged.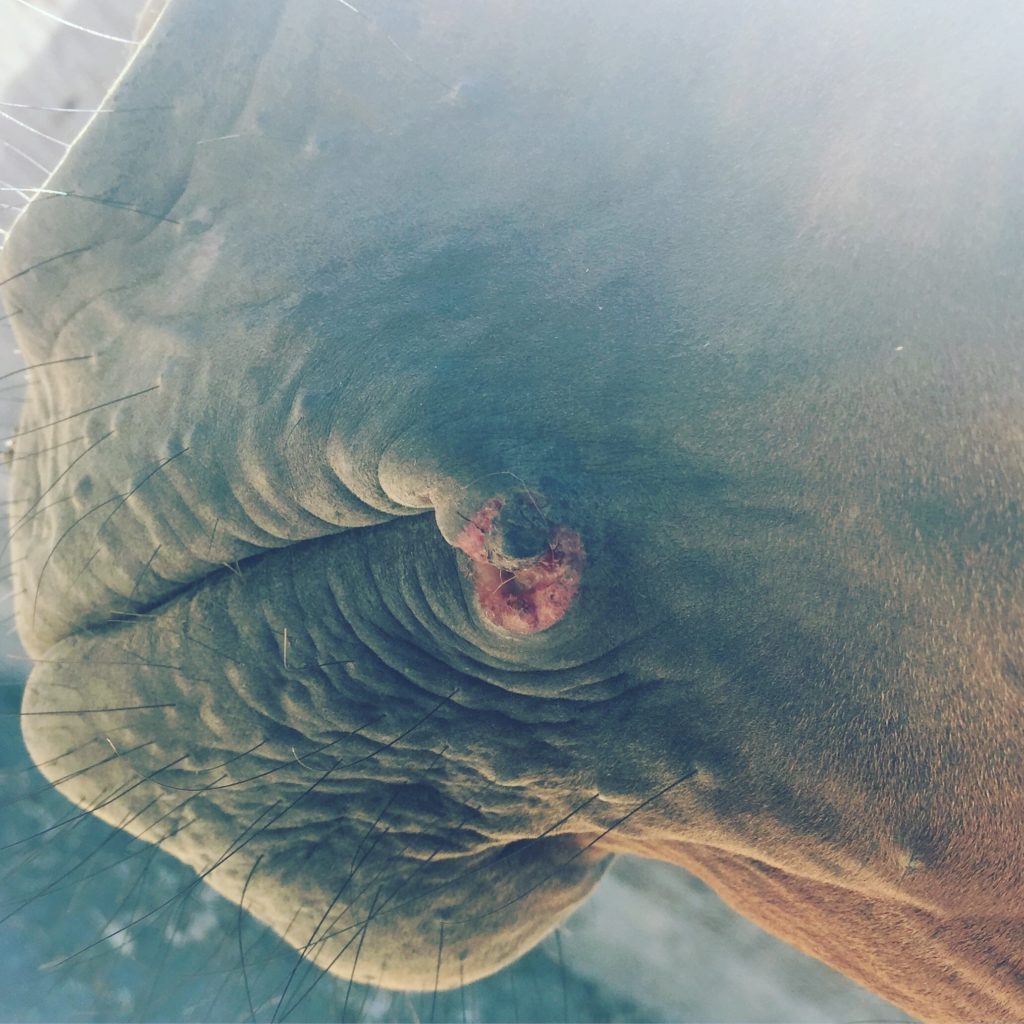 She has a little cut on her lip that looks like it was from a wire…oh young horses. She doesn't get as banged up as she used to, but she definitely is still more accident prone than Farley. Hope there was a valuable life lesson learned for whatever happened.
Horse goals
In keeping with my "keep it fun and back off the pressure" I have no goals. I'm going to ride the ponies…or not and see what happens. They are fine. Yes it sucks that it isn't glorious pasture, but if I sent them off to glorious pasture then I couldn't play with them on a whim. So there they sit being horses and waiting until I have enough mental space that they aren't just one more thing on my todo list that isn't getting done.
Other important stuff
Website bug is gone!!!!
I found it, addressed it…and then realized that it was also embedded in 1,050 of the 1,600+ published posts on this site. It was going to take me FOREVER to clean up the posts one by one. So, I paid cold hard cash for someone else to clean it up for me. $149 bucks to be exact. It was done in less than a day. I've never spent better money.
There was a study that I saw an article about (that's a roundabout way to tell you that I did not actually read the study myself, did not check references, and this could be a pile of shit, but hey, it sounds good) that using money to buy yourself time brings more happiness than using money to buy stuff. I've always tried to spend my money on experiences rather than toys, but the concept of buying myself time is something I'm trying to not feel guilty about. It's a war between being the most frugal I can possibly be, and also being happy in the present and not having any regrets about how I was able to live my life if there's no tomorrow. I don't have a housekeeper, mow my own lawn. Someone else does my taxes, my oil changes, and now apparently some of my website stuff.
I've tightened up security on the site which means some of the nifty things I've put in over the years have gone away because they posed a security risk. I'm also having trouble getting my images to show up in the side bars and footers after doing a bunch of updates, and I'm going to have to switch out the very old theme that I'm using with to something that's current and updated. The bottom line is that while the blog looks a little different right now (and not as pleasing to the eye IMO), the content is there and hopefully your reading experience is unchanged :).
Other happy stuff….just because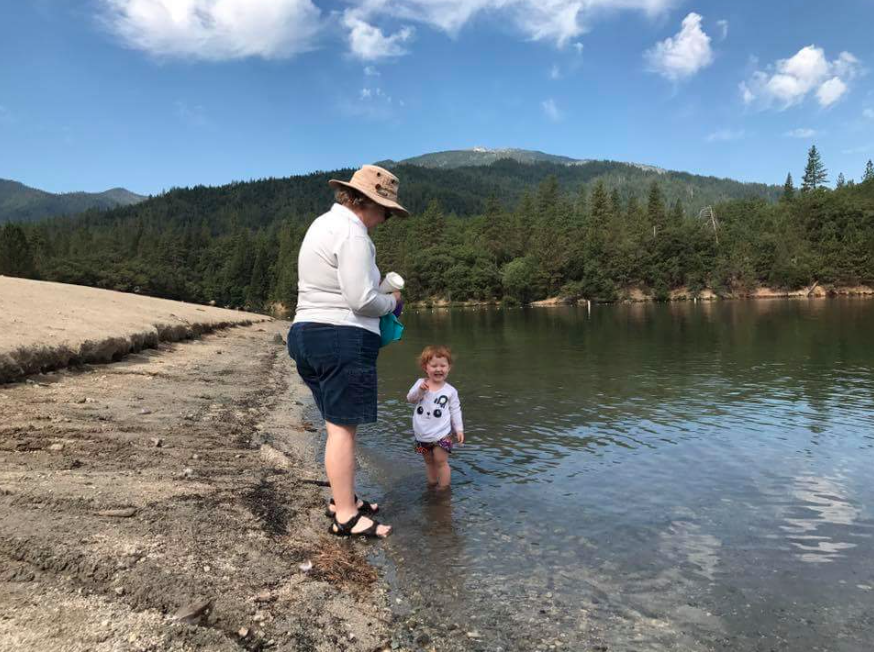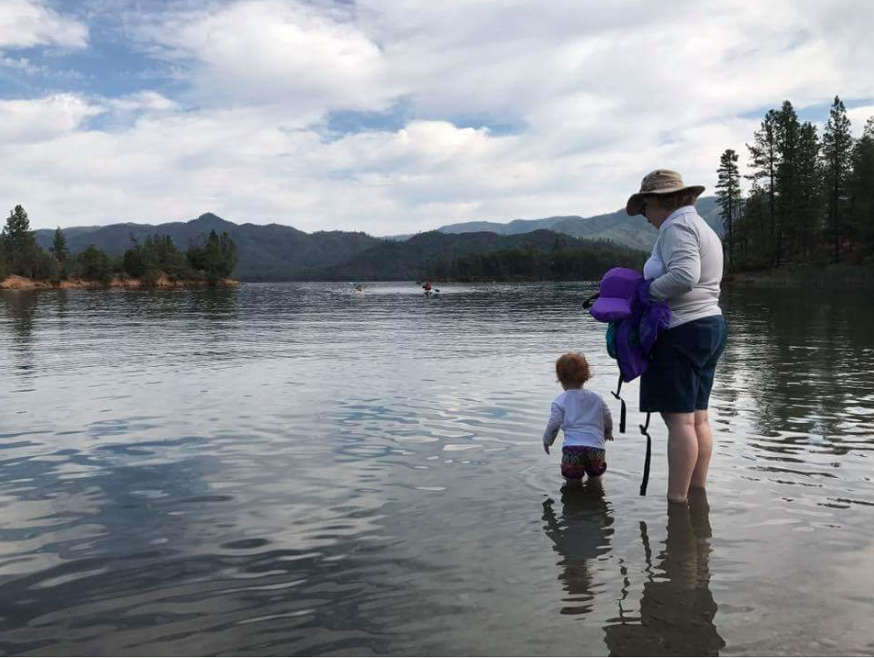 Fig and I went kayaking together – both our first time. It was a blast! Then I did some solo time while my mom kept fig entertained at the water line.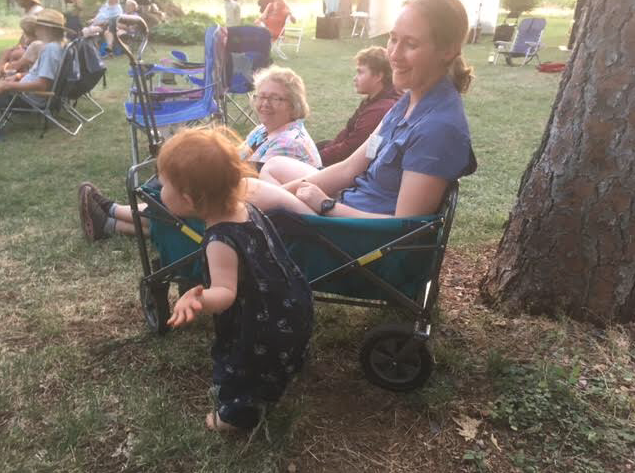 I volunteered for a day at a music festival put on by the California Oldtime Fiddler Association District 6.  I wrapped up my job just in time to enjoy the last set of the day and Fig "got down" with the music. I grew up at bluegrass festivals and it is such a happy part of my childhood. I don't listen to much music in my every day life – it's not relaxing for me, and I'm not a concert fan either. What I REALLY enjoy is the live music and atmosphere at festivals. They are usually in need of volunteers and it's a good feeling to be able to help a charity that I believe in, AND get to listen to some awesome live bands.
As usual, life is good. Believe it or not, I'm working on saying No to more things so that I can continue to do the things that are really important to me (and constantly re-defining what is "The most important thing"). I had a lot of fun this month and I'm looking forward to the next one.