Trail Guide part 1

Trails featured in this post:
Shanghai Bend, Yuba City
Feather Falls
South Yuba State Park, near Penn Valley
Do you live near me in Northern CA? Are you trying to figure out where the best trails are to get training miles in?
These posts are going to bore the hell out of anyone not in the area, sorry not-sorry.
This year I'm focusing on new trails!!! And I've found a bunch of trails I've somehow missed over the last decade. The best thing about trails is sharing them with friends, which prompted this (and any following) post(s).
For those of you in my area, I'd love recommendations of great trails I've missed. Everyone assumes that *everyone* knows about *that trail you always use* but the truth is, we probably don't. Maybe you don't want to share because you are afraid that your trail will suddenly see an uptick in use. Assuming we are talking about public use land (please don't share anything that is private property that requires permission), use = staying open. And wouldn't you rather the use be the community of trail runners and riders? I've lost trails in this area to vagrancy, crime, lack of maintenance (thistle is so thick I can no longer get through), and private land owners putting up fences where they aren't allowed – but officials aren't interested in following up because trail use is so low. Wouldn't it be better if lots of people use the trails so we get to keep them?
A couple of housekeeping notes before we get started.
I'm only including trails and trailheads that I've used recently.
All information I share here should be considered personal opinion and any maps I provide are used at your own risk
Yuba City River Bottom trails
Shanghai Bend river bottom trails, Yuba City
Easily get 10-12 miles with some loop options, but mainly out and back.
Running only. Trails are safe for horses, but finding parking is an issue.
Free parking
You used to be able to park trailers at the Sheriff's posse arena in Yuba City and get to the river bottom and use some really beautiful single track trails that exist between the river and the levee. The trails were continuous with the trails I use from my stable further south (which I access from private land). Unfortunately the homeless camps have completely over run the several mile section of trails from the arena parking area to South Yuba City making it an unpleasant and dangerous ride to ride the trails.
You can still get to the trails further south by parking at the end of Shanghai Bend. There's a small lot that is suitable for cars, but horse trailers not recommended. Hop over the levee and start exploring. This is a popular river access point.  Currently if you go North from this point there is a large homeless camp and I would recommend staying on the levee because of loose dogs (haven't had a problem as long as I'm on the levee). If you go South, you can drop down off the levee and follow various unmarked trails. Eventually as you travel south this is only one main trail at the base of the levee because the land between the river and the levee narrows. Mostly flat or slightly rolling, this route gets you off the asphalt for your run. Eventually as you run several miles past the boat ramp the river meanders away from the levee and there's other trail options besides the main base-of-levee trail. Most of the time the main trail at the base of the levee is runnable because it's mowed. However in some years the thistle gets really bad and overgrows the trail. When this happens, hop back on top of the levee until the trail clears again.
Park here on Shanghai Bend
Other parking at the boat ramp (this is south of Shanghai Bend, asphalt lot that is still not suitable for horses IMO).
Feather Falls
8.3 mile loop with a waterfall at the end.
Almost 2,000 feet of vert
Not suitable for horses
Free parking.
It's out of the way with no cell phone reception and you will never be "in the area" – but it's worth the drive. The trail gets a surprising amount foot traffic even during the week, and during the weekends the parking lot gets full (but I've always been able to park somewhere). Vault toilets, well marked trail, mostly non-technical single track . After a short section, the trail splits into 2 directions – a shorter but more technical (rocks, eroded trail, more water crossings, steeper) trail, and a longer more groomed trail. The trails meet up again when it's time to hike up to the falls viewing point.
Parking

Trail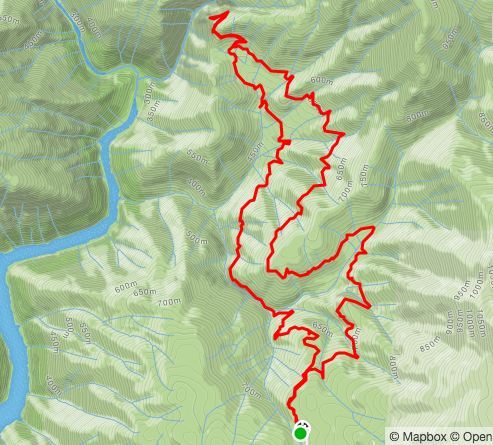 Elevation profile when traveling the trail counter clockwise – going to the falls on the longer section, coming back on the shorter section.

Yuba South State Park
No horses, running only
Parking fee or poppy pass
5.8 miles
Has a little bit of everything combined with spectacular views. Pretty technical single track to warm you up followed by a very well groomed runnable double track with a quick visit to the river before a turnaround. Well worth the detour from Penn Valley if you're in the area and a runner. Not a place for the ponies!
Park here
Or go less than a quarter mile up the road, over the bridge, and park in the lot on the right.
Point Defiance Loop starts on the covered bridge side of the road. It is pretty well marked. I like to go counterclock wise and start on the single track going up hill. This allows me to bomb down a wide jeep road with wild abandon, before finishing up on a flat-ish very technical boulder hopping section of trail. Then I head over to the parking lot across the street and follow the Buttermilk trail, which is flat and well groomed for a final out and back.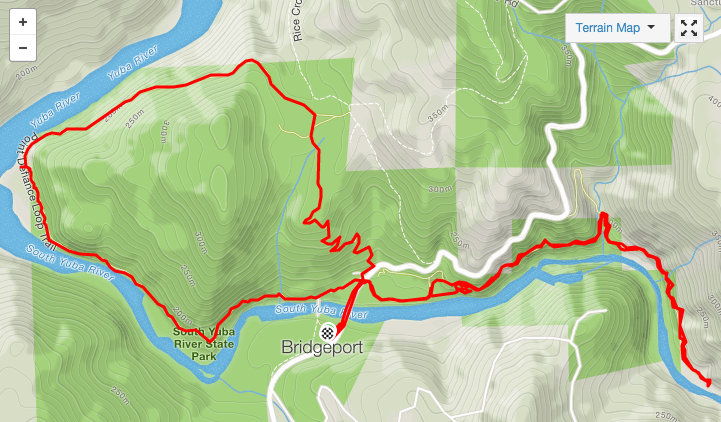 Elevation profile for the above map

More to come!