The running part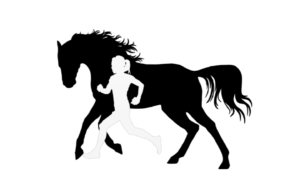 Some day I'll look back through these posts and pat Past-Mel on the back for these times. The times that my brain did it best to convince me that another afternoon of napping on the couch and reading ebooks really was in my best interest. While the "Reading, sleeping, eating veterinarian" has a certain ring to it and encompasses three things I might love even more than running, riding, and writing, those things will not actually make for good blog posts, or getting to my casket in a well-used state, squeezing every drop of what life had to offer me into my existence.
The Running Veterinarian
…is running again. Since Loco at the beginning of June I haven't done much running. I tore some sort of ligament on the side of my right foot in April on a trail run in Flagstaff while on vacation. The weird thing was that after the pain would pass (I love how dignified that makes it sound. We really are good at making all sorts of things pass in a word that take a lifetime in the moment. For your amusement you can picture me standing on the trail on one leg, whimpering, sort of hopping around and toe-touching and feeling sorry for myself), it would feel perfectly fine! But like the girl with the curl, right in the middle of her forehead – when it was bad, it was awful.
Anything that caused my foot to not land perfect square underneath me and roll laterally (usually happened when I was hauling heavy stuff, or near the end of runs when I was fatigued) would trigger pain so bad it made me yelp (that sounds better than "scream like a monkey") and then be unable to catch my breath for a few moments. It sucked. But since most of the time it felt okay, I kept thinking that maybe if this time I just didn't allow my foot to roll over a rock and collapse on a run, this time I would get away with it.
I basically re-injuried it at every run I did between April and July, including Loco. Because it turns out, when you are a trail runner, your foot placement won't be perfect every step whether it's a 30 minute run or a 3 hour run.  And then I gave myself ulcers, didn't run (mostly) for the six weeks from mid June to the end of July.
I feel great now! Foot healed, ulcers gone, what was probably mild influenza (oops…) during Loco a distant memory.
The problem with what looks like a perfectly reasonable plan– take six weeks off and emerge the first week of August a more well-Mel– is that it gives me 10 weeks (if I assume 2-3 weeks of tapering after that) to train for another 100 miler since I have yet to qualify for Western Sates this year.
This is the first year that while I'm hoping to qualify (please please please), I do NOT want my name drawn in December for the 2020 Western States. I don't think I would finish and I would really like another of year under my belt before going into Western States. But, that could also be my string of DNF's in the last year talking. Was last year typical, or the ones before? Time will tell.
Wanna hear my grand training plan to get from 0 to 100 miles? All those thoughtful plans and discussions here on the blog….and here's the crazy fly-by-the-seat-of-my-pants plan I've come up with (do as I say, not as I do apparently).
In the month of August get my long run up to at least 3 hours.
Then, from September to mid-October run for 4-5 hours at a stretch as often as I can.
Throw in as many interval runs as will fit between these long runs.
Don't skip more than one day of training. Work on speed-hiking on the days running ain't going to happen.
I've never not run in the summer and then tried to pick it up in August.
Whoa.
It's a bit brutal.
Especially when the only time I have to run falls between 2 and 4 pm.
Is this what you guys mean when you say running in the heat sucks?
The amount of sweat rolling off my body is absolutely obscene.
I struggled through a 100 degree 2-hour run last week and couldn't image running for 28 hours in 3 months. But then over the weekend I got a chance to do a 3-hour run in the morning and it was infinitely more doable with temps in the 70s so perhaps there's hope for me yet.
As far as the speed hiking goes, I might have found my secret weapon…the three-year old. She insisted on going with me last night to "do laps." I have a 1-mile route around the block of my neighborhood and I usually do 2-3, trying to beat my time each lap from the previous lap without breaking out of a walk. That child ran in front of me for two miles, careening down the sidewalk, wildly swinging some sort of colored laces from each hand, pausing occasionally to switch out colors.  She's a fast little buggar and I had to break into a little jog to keep her within reach. I think I may have found my next 100-mile pacer.
100 miler in 74 days. It won't be real until I scrape up the $375 for the entry fee. Should probably get on that. I'm once again doing Rio, the local 100-mile qualifier. Last night I got off the wait list and was offered a spot in a southern California 100k at the beginning of October that is also a qualifier. I was tempted, really tempted. But, the thought of spending the money and energy towards logistics of a new-to-me race (plane ticket, rental car, course planning) just sounded like more work than fun, so I declined it this morning. I'm also still feeling a little bit burned from Quicksilver earlier this year.
Maybe next year will be a little kinder in both scheduling and finances and I'll feel less like I'm continuously tossing myself from one "must-do" to the next and I'll have the resilience I need to try new things again.