Not a gift guide 2022

This is the latest I've ever done of these definitely-not-a-gift-guide. But that's okay, because since this is definitely not a gift guide, it doesn't matter that it comes before, during, after, or no where near the holidays.
For those of you that may be new to these posts, a few reminders.
As always, this isn't a sponsored post. In fact, this blog doesn't have sponsors. Except for an occasional PayPal donation from readers. I'm not compensated for clicks, buys, or views.
This post isn't a list of what you should stuff stockings with, or a wish list of things I wish I had, or the most current trendy gifts.
It's is merely the things that brought me the most joy in 2022, and might bring you joy too.
Fleece-lined Toms
I was persuaded to try Toms-style shoes when a friend was wearing them in Florida. After some searching, Toms were the most available in that style and amazon had some styles and colors for cheap so I bought two pairs – a regular canvas style, and a fleece-lined pair.
You need to understand something. I am a barefoot girl. I wear shoes out of absolute necessity and as little as possible. But, when I pulled these fleece-lined Toms on my feet for the first time, they instantly transformed me into someone who wears shoes in the house.
They are barefoot, slippers, magical socks, and I wore them to work for multiple days in a row, risking certain blood and body fluids because they were just that damn comfortable.
The regular Canvas Toms have taken longer to break them in than the fleece-lined ones, but now they too are some of the most comfortable shoes I own and deserve a mention on this list. They have little more structure than the fleece-lined ones but the more I wear them the better they feel.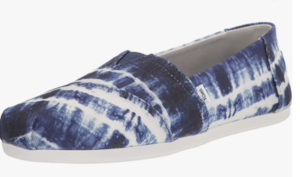 My buying advice? Be flexible on the color and patiently click through every color in your size to find something cheap enough for your pocket book. I remember wanting to buy a pair of toms before vet school and not being able to justify the price tag. But, these were under $30 a pair, something that is more doable for me.
My new camera
I bought a new camera this year, my first since 2009. Since cell phone cameras became so good, it just didn't seem necessary. But then, I borrowed a *friends camera on a trip and realized that while cell phone cameras and the automatic processing they do may be darn good, sometimes nothing replaces having a real camera. No link to a specific camera because it doesn't matter exactly what I bought – I did a ton of research, found something in my budget, and I'm learning to use it.
*At this point in the post I've realized that not having friends may be a cheaper option since they seem to be responsible for a lot of the items on this list this year. 
I'm figuring out what I like to photograph and how I like to do it. I like taking pictures of people I like, who are doing things they like to do. I especially like capturing the relationship between people that know each other as they interact. I hate posed pictures.
Processing (editing) photos feels a lot like editing writing and blog posts. I ask similar questions (what story am I trying to tell?) and I make similar decisions (keep this, cut this, tweak that).
I still use my cellphone to capture quick moments throughout life. Just like the notes that I jot to myself are not creative writing, some pictures are for the memories– not the story.  My bulky Canon with specialized lens is brought out when it's time to share a story and using words isn't the right approach.
Camera's all look the same, so here's a couple of my favorite pics from this year that I've taken, and if you want to see more, check out my Flikr account @gbminx.
Cotopaxi large backpack
I bought a carryon-sized Cotopaxi bag (Allpa 42L) last year and it was love at first use. I love having a single bag for trips. The organization is thoughtful, the colors are fun, and I don't feel like I'm herding cats trying to keep all my stuff together. I bought a smaller one that is a slightly different style for my daughter for overnight ER. It helps her not to forget stuff. It's compartmentalized so she knows there's a spot for electronics, a spot for homework, for clothes, for night stuff, for food etc and so instead of being faced with a big bag and a list, she opens each compartment and puts the necessary items. That smaller one is great for me for day trips, but my heart will always belong to my original 42L Allpa. It's done long trips, short trips, solo trips, family trips, hotel trips, plane ride trips, and staying-at-a-friends-house trips. Haven't used a suitcase since I bought this in February of last year.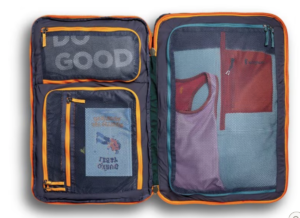 Athleta clothing brand
Finally. A clothing brand that fits my waist and my hips, and my butt. The price point is expensive. But since I've practically lived in every piece of clothing I've bought from them this year, and to date are the only brand that have made shorts that fit me that I didn't buy from a thrift store as a one off, they are worth every penny.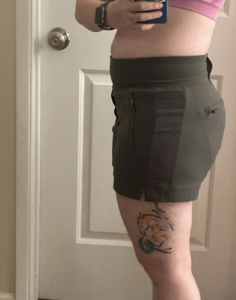 How did I find these? I saw a *friend wearing them and asked her about them because even running around the barn in the middle of a summer day they looked good, never looked out of place, and never shifted. It's hard to say exactly what drew my eye to them, but when you know you know.
*see what I mean? 
So I bought a pair and they were magic, so I waited until that short model went on sale and I bought a couple more pairs, plus a pair of joggers in the same line, and pair of pajama pants. The good news is that once I knew I loved the fit,  I've been stalking the site for sales and close outs and also watching thredup  I've scored most of my items for very reasonable prices!
This brand has pockets, they don't give me a wedgie, the hems stay down and the waist band stays up, they have replaced yoga pants for traveling, and did I mention the large and functional pockets?????
(The models I've tried and loved: North Trekkie Short, North Trekkie Crop Jogger, Wind Down Sleep Jogger, and an awesome pair of pants off thredup that are some retro plush fabric)
My fiddle "Quincy" and her bow
Last June I bought a new fiddle and bow that I fell in love with. I went in expecting to just buy a bow, but ended up with the fiddle because I played Quince Dillon's High D tune better than I have ever played it, and knew that I could die with this fiddle and be happy.
I've been playing fiddle since third grade. I've felt about fiddle the way I've felt about horses. The moment their existence became known, I was hooked down to my very soul.
I've owned and been lent various fiddles over the years, and have played a lot of fiddles off luthier tables and off the walls of music stores. When I played this one it was something totally different than I have played or owned. It wasn't just the new bow I had chosen in my hand either. I had brought my own "best" fiddle and bow to try different combinations. With that fiddle in my hand music and styles and techniques that have been impossible in the past were accessible.
Fiddles are like ponies – not every instrument is going to fit every musician. A good horseman can appreciate a good pony even if it's not a perfect fit, but out of a string of good ponies, there's a horse that will make you shine. Fiddles and musicians are the same way.
I named my new fiddle "Quincy" for the tune that sold her. I've been playing more fiddle this year than I have for a long time and have signed up for a music camp in July. I'm leaving my safe zone of intermediate old time and joining the Bluegrass/Western Swing Advanced class, and the terror of the challenge has been quite motivating…..but it's not something I could have done without this fiddle that makes anything seem possible.
That's a wrap
Not much running, riding, or writing related items here this year, but that's OK. Seasons of life and all that.