Not a gift guide 2021

Welcome to year 6 of the Not-a-gift-guide, 2021 edition.
I looked at last year's guide for 2020, and I feel like I wrote that post yesterday. I could just republish that post right now and be satisfied with everything on the list.
Like, did 2021 even exist after 2020?????? I don't believe you and your fancy calendars.
Have I finally reached the point where life stays the same year after year without momentous occasions to mark the passing of time?
Maybe.
Or maybe it just means that I need to spend some time reflecting about what actually mattered to me this year and what things brought me the most joy. After all, that is the power of writing blog posts….it forces me to slow down and acknowledge the good (and the difficult) before too much time sweeps it into forgetfulness.
For those of you that may be new to these posts, a few reminders.
As always, this isn't a sponsored post. In fact, this blog doesn't have sponsors. Except for an occasional PayPal donation from readers. I'm not compensated for clicks, buys, or views.
This post isn't a list of what you should stuff stockings with, or a wish list of things I wish I had, or the most current trendy gifts.
It's is merely the things that brought me the most joy this year, and might bring you joy too.
Merino Wool. But really, Woolx
I adore merino wool. The older I get, the more I want to snuggle and live in wool all.the.time.
Smartwool has been my go to brand in the past. Proper thermal under layers and then a splurge 5 (6?) years ago on a Smartwool running technical long sleeve collared zip that has never ever failed me. This year I bought a handful of wool tees to wear under my scrubs and it felt very r*ch b*tch and as if I should apologize for wearing the amount of money on my body that would have been my monthly grocery budget for the first ten years of my adult life.
But here's the thing. I've always had sensory issues with my clothes. How my clothes fit,  look, and feel is more important to my mental health than I should probably admit.
So I took a deep breath and decided to go the next step. Outerwear wool clothes. Smartwool didn't have what I wanted so I headed over to WoolX and voila – a sweatshirt hoodie and sweat pants that I practically live in 24/7 without apology.
It's an insane amount of money for a pair of sweat pants and a hoodie. I get that. But sometimes money CAN buy happiness. I'd rather skip running my next race and spend the entry fee on these because that's how happy they make me.
I think I like WoolX slightly better than Smartwool for it's feel. They are similarly priced and probably each have their drawbacks and advantages. I've heard good things about Icebreaker brand too and may check them out in the future.
PS. I splurged near the end of the year on Kerrits new merino wool riding tight since I am riding more (first new pair of riding tights in a decade!!!!) and yes, if you are a wool fan, they too are worth every penny.
My Our hot tub
We bought a hot tub.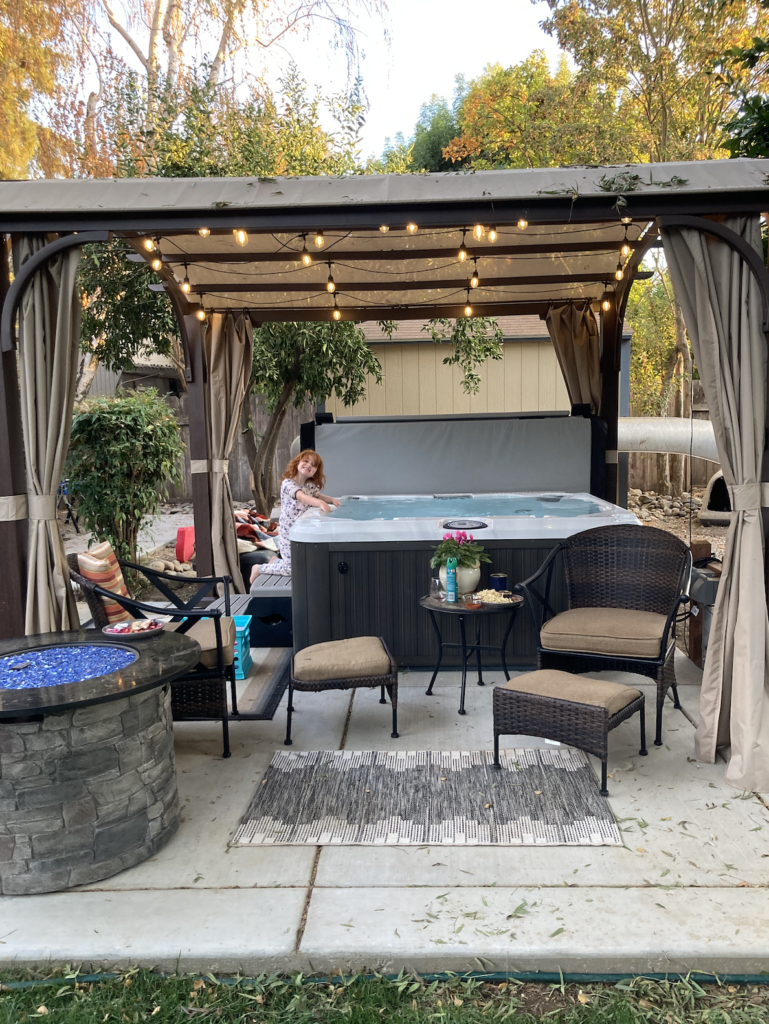 It was an insane amount of money.
I don't care.
Because I've been in it every single night since it was delivered in October.
Literally every night.
I've never slept so good.
I love really really really really hot baths. It's the only enjoyable "water touching my skin" experience my brain wants. There's no good bathtub in our house, and honestly, isn't a hot soak more enjoyable under the stars anyways?
It was so much work to get the hot tub set up in our back yard. We had to pour concrete. Dig a trench for electrical. Put in a new panel and switches and things (partner did that. No idea what the details were. He made it happen).
We poured a bunch of other concrete at the same time. Planted a lawn because the ground was all torn up anyways.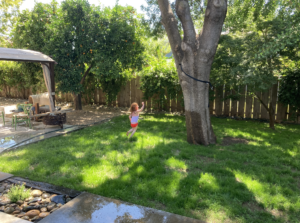 Put up another outdoor gazebo thing. Bought a fire pit. Started paying someone else to come in and mow and rake leaves in the *back yard.
*I feel like this should be a subsection to this post. Paying someone else to maintain my front and back yard once a week. $200 a month. Worth every penny. I have two massive thirty year old trees in a tiny back yard and four citrus trees. Shrubs and bushes every where. Grass. Flowers. It's really pretty. At one point this house was nicely landscaped. And then we hacked at it for 5 years ourselves and it didn't look that nice and we were both stressed the f*ck out because it's not like living in the country where we could just push stuff to the back and maybe burn it someday. Since we've decided $200 is the price of our sanity our home has never looked better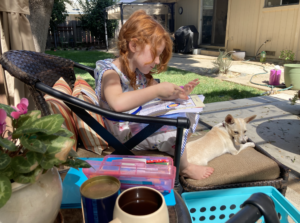 My backyard is a freaking oasis now and I love it. It has planted potted flowers courtesy of my daughter. The birds love the yard as much as I do and I spend every single moment I can outside. It's completely changed how I feel about my house and being home.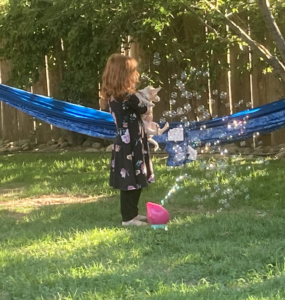 Revisiting favorite places
I've decided that my favorite way to travel is to go back to our favorite places.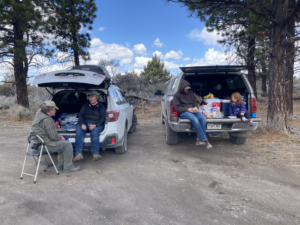 True, you have to eventually visit new places in order to find favorite places….but if I'm overwhelmed and tired it's really nice to know where to stay, where to eat, where to walk, what's worth it to spend the money on, and where to cut corners.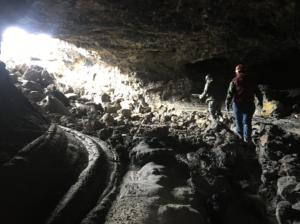 Now I understand why families have traditions of going to the same place "every year." I spend more time planning my book reading list then googling yelp reviews and making pro-con lists of potential accommodations.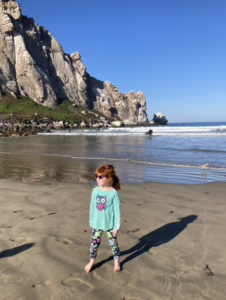 Every time I'm able to get in the car and drive a couple of hours and arrive some place completely new and wonderful, I am filled with an immense gratitude that I get to live in the place I do. Cheap enough cost of living for the day to day stuff, and just a couple of hours away from the coast, wine country, desert, alpine meadows, wilderness, San Fransico, volcanic wonders, and more.
I DON'T DESERVE THIS LIFE.
Finding ways and clubs to connect to the community I live in.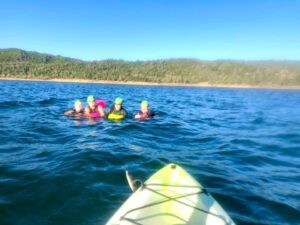 I know I just spent the last section proclaiming the benefits of where I live – low cost of living, drivable to so many world class experiences.
But.
BUT.
Day-to-day life in Yuba Sutter hasn't always been the best. It's small, rural, agriculture-based, and notably lacking in shared public outdoor space (fancy term for, there ain't no trails anywhere. Just ag lands with no trespassing orders and tightly controlled swatches of private space that is not available for public use). The areas that I used as a kid to train for marathons and ride horses (the levees and river bottoms) now have huge homeless encampments and are unaccessible (at least close to town).
I was not thrilled to be living back in this area after I managed to escape for college.
There's a reason that it's cheaper to live here than any direction in a 1 hour radius.
BUT.
Things are changing. This town is not exactly the place I grew up in.
Part of the change is because there are people and organizations in this community that are introducing opportunities  that previously you would have had to drive to a more affluent area to do.
The other change is me. Instead of just living here because it's cheap and spending every moment I can away from this area for all my recreation, I'm staying local.
We have a kick-ass triathlon club here in Yuba-Sutter. I initially joined in 2020 as a "hell ya! I'm so happy something like this is in Yuba Sutter!" gesture of support. But then I actually started to participating and discovered people and places that made me appreciate the area. Soon I found myself grateful for being able to live here. There is an absolutely incredible biking community and tons of open water swimming opportunities here. It's impossible to run errands in town without bumping into at least one other member of the club.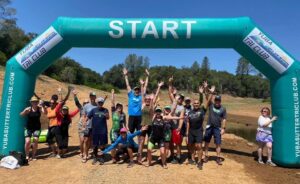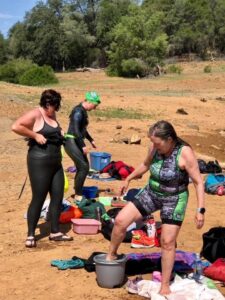 And then of course there is polo with both old friends and new friends. It was there all along, I just had to notice it.
How incredible is it that there's polo in a place like Yuba Sutter? How lucky am I to have strong connections to that club, and it kept it on my radar for long enough that I finally said "yes, I'll give it another try"?
If you live in Yuba Sutter you have polo in your back yard, and I still can't wrap my mind around that.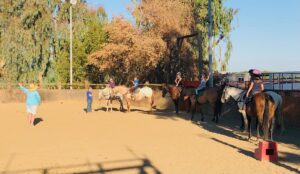 Instead of trying to coordinate trail runs with friends and trails 1+ hours away, I'm group texting meet ups at the barn that is 6 miles away from my house.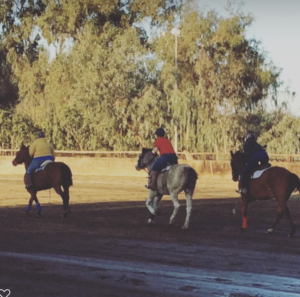 Yuba Sutter is no longer just the place I live because it's affordable and I can commute to work in surrounding area. It's a place that I'm grateful and happy that I get to live in for the near future. Turns out that being happy in the place you live probably is a result of feeling connected to the community through other people.
Tea time
I've taken to having an afternoon or evening tea. I subscribed to a Japanese tea time box and once a month it arrives bursting at the seams. Fig and I choose 2 or 3 snacks for afternoon/evening  tea time and it's absolutely delightful.
I'm appreciating the small daily rituals right now. They help me focus and relax. Having a box of fancy Japanese tea snacks feels like an ultimate luxury and it may be one I decide I can't afford in a few months, but for now the escape through new flavors and this ritual is worth it.
This meme. All the time.
I lived by this meme in 2021. If I wrote a book on "how to live your best life," it would consist of one page. This meme.