A wedding related post

The Dress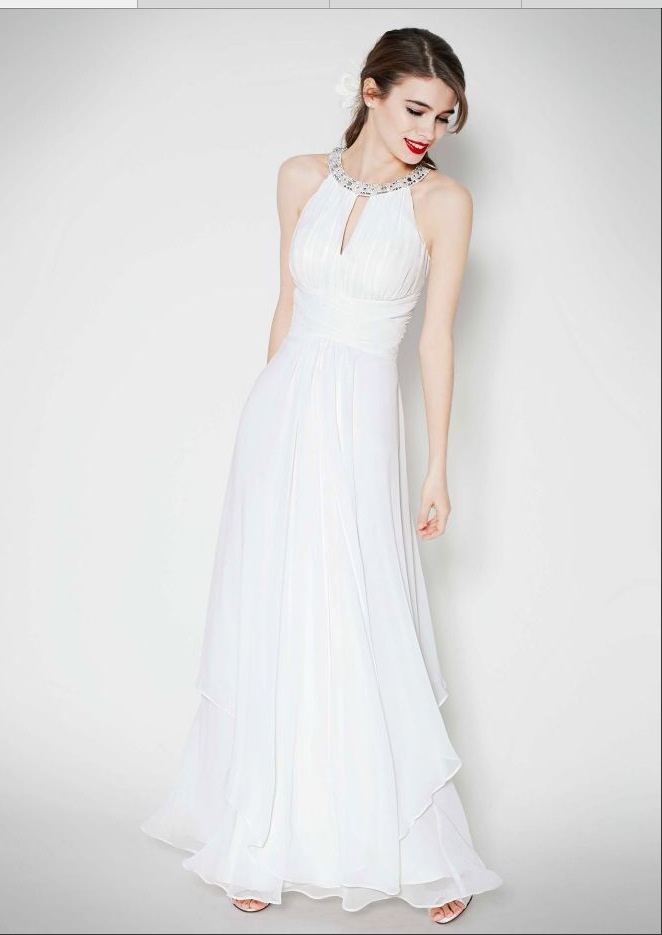 Here it is folks – the dress. Train-less (you have no idea how hard that was) in a light comfortable pattern that was extremely flattering. I didn't realize how much a high neck could elongate a short person (I'm 5'1″) but it was a pleasant surprise how elegant it looked compared to some of the other trends that make me look like a rather aged flower girl.
This was a dress I wasn't originally considering based on how I thought it would look on me from the online picture. I only tried it on because the sales person took off the rack "just because" since there are not that many dresses available without trains. But after trying on a couple of other options that I had picked out, it was obvious this was the one that fit my criteria. My decision was cemented by a bride that was fitting a bridesmaid for a dress next to me who couldn't help herself and commented how much she liked this one on me compared to the ones so far.
So, $200 poorer having found a size 4 (the store I was at only had a 6 and a 10) in Texas, my dress should be here the beginning of next week.
The how and the when is still uncertain and knowing my time will be very crunched once I get back into clinics on Monday, getting a dress this week is the one thing I knew I could control and it would make me feel happier about the event if I could mark off that check box.
Yes, I went dress shopping by myself. Matt and I did some dress looking on Saturday, discussed what was important to him (white, at least ankle length or longer) and what was important to me (doesn't drag the ground, has sleeves – but that's negotiable, comfortable) and then did some online looking at my options – which weren't many. Monday I went to the store determined to buy a dress off the rack that day if at all possible and voila! Dress obtained.
Have to admit I'm much more excited about the ceremony now that I know I'll be wearing a dress that is comfortable in and I feel pretty in!
Please don't share the contents (and most importantly the pictures!) in these wedding posts. I'm planning on keeping most details secret from the immediate family who will likely be invited to the actual ceremony and want this to be a surprise for them. These posts are for my dear friends and readers who want to share in the excitement of the preparation and who aren't immediate family :).