Before the blog…

…there was a scrapbook.
I keep referring to my first marathon and earlier this week I talked about Mary, my marathon angel.
I thought you might like to see a picture of that finish and tonight I dug around in the garage and found the scrapbook.
I fell in love with distance and endurance before I know you could do it on a horse. I started this scrapbook when I did my very first race (Auburn resolution trail 10K – I think 2003?) and recorded each race I did, up to the point I started doing endurance with horses. Then the scrap book came to a natural end and I started blogging shortly after.
My family still used print photos up until about the ending point of the scrap book and this format was a way of sharing my running stories with a family made up of non-runners.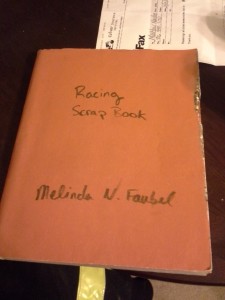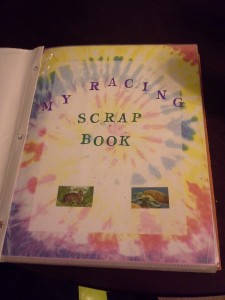 Here's so some shots from the first marathon pages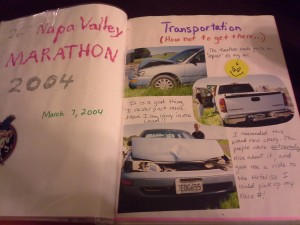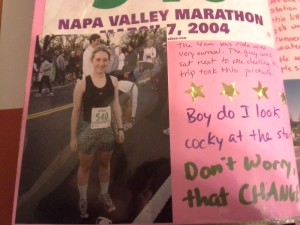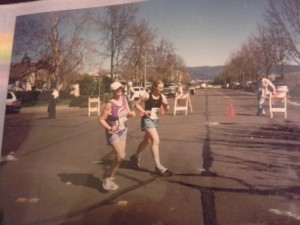 above: this was in the last mile or so. Resolutely moving forward trying to beat the 5:30 cutoff.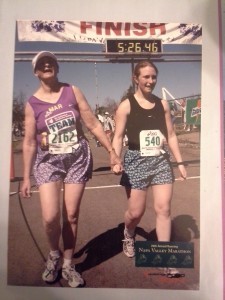 Me and Mary staggering across the finish.
Eventually I got better and started to look like a real runner.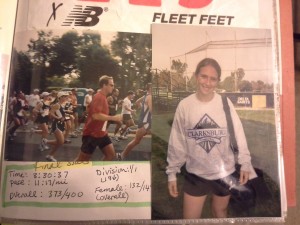 I even tried another marathon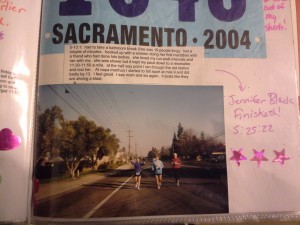 Red girl was at the finish cheering me on for my second.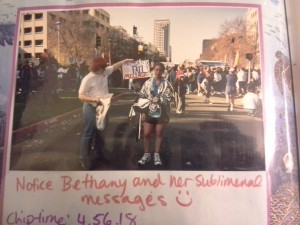 Here's a race that is near the back of the book, right around the time that I got Farley.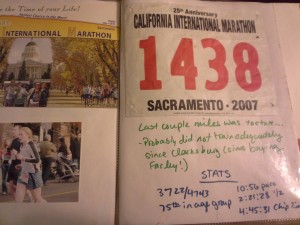 The picture on the left in the picture is the first digital picture in the scrap book and is from a set of pictures that I posted early on in the life of the blog.  This the the second to last entry in the scrapbook. 🙂