Evolutionary hoof care rasps

The first step to a successful trim is to wear the appropriate attire.
Unlike other pictures posted on this blog, for this hoof trim I made sure my little toesies were protected beyond my typical crocs.
The second step to a successful trim is to have the right tools.
I'm a huge fan of Save Edge rasps and have used them ever since I started trimming my own horses five years ago.  Add a welded hoof stand made from a length of pipe and disc blade, a couple of good knives (I favor Hall brand), and a hoof pick and you have my basic kit. Last year I got brave and started using my hoof nippers ON Farley's feet instead of just to cutback boots.  Less rasping = less sweat = less cursing = better trims.
The issue I have with my trims (beyond keeping my knives sharp since I find all sorts of useful things to do with them that are NOT their intended purpose) is creating a nice mustang roll. Finishing from the top and addressing flares is the fun part – trying to start the roll from the bottom is a nightmare.
Farley's feet are HARD in the summertime. Hard enough that I've resorted to dremmels and angle grinders to create the roll from the bottom. But they come with their own problems – heat, dust, dead batteries. It takes a minimum of 2 battery packs to do all 4 feet.
Beyond my own inadequacies, I also realize that it is difficult for everyone to wield a traditional rasp to refresh the mustang roll on hooves between farrier/trimmer visits.  For my boot clients, I'm always on the look out for something that will be intuitive and easy to help them maintain rolls on their horses hooves. I've not had good experiences with the other hand held rasp widely available (rider rasp).
At the AERC convention in March Evolutionary Hoof Care was there with these rasps.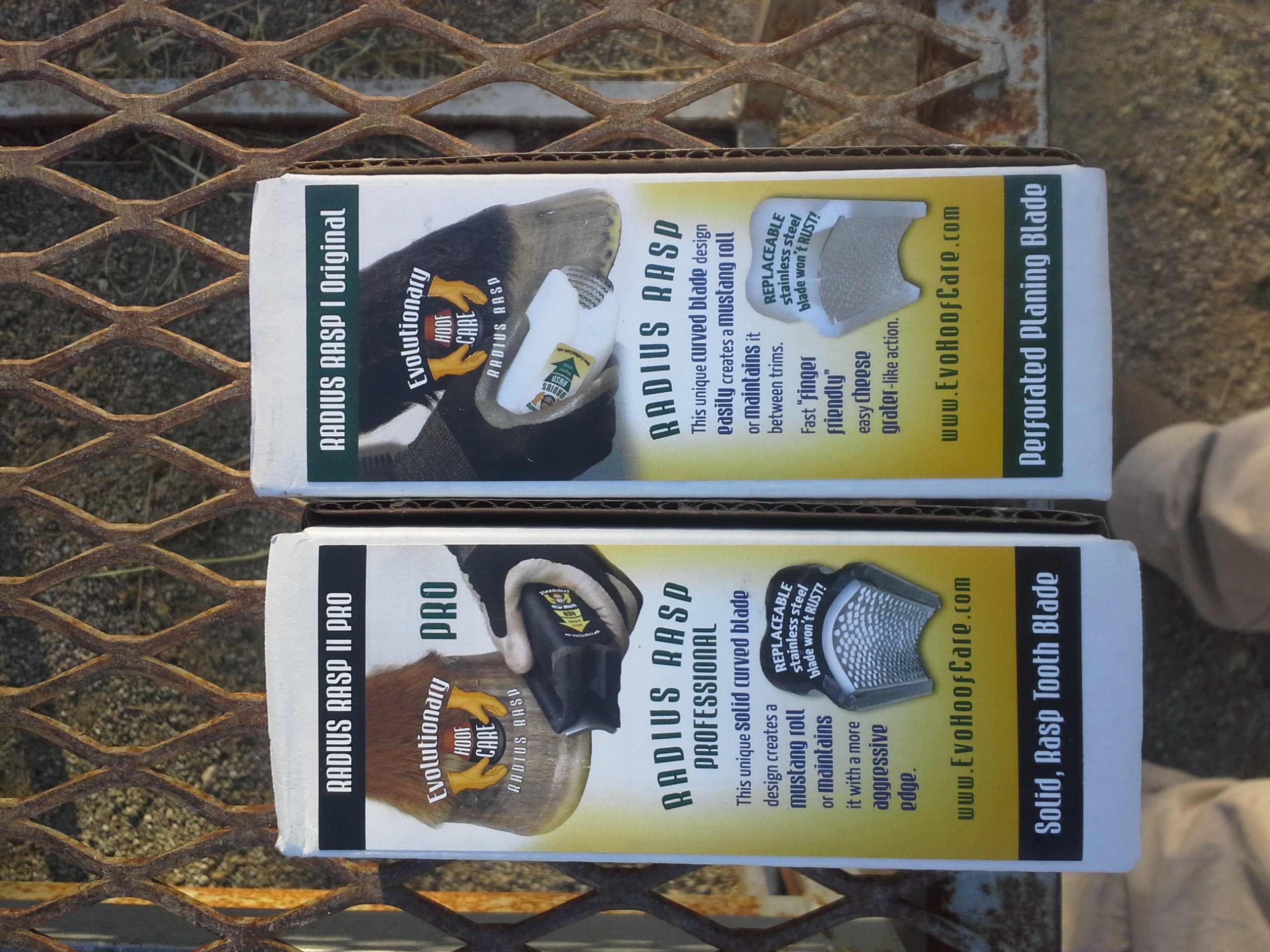 It's called a "radius rasp" and it comes in 2 textures.  The white handled one has a texture and feel sorta like a cheese grater. The black handle is heavier and the rasp is more reminiscent of a traditional rasp – somewhere between the coarse and fine sides on a straight rasp.
I was intrigued because these look and feel like "real" tools that actual farriers use.  But seemed easy enough for the average boot client to use. And perhaps, it was the answer to my mustang roll woes.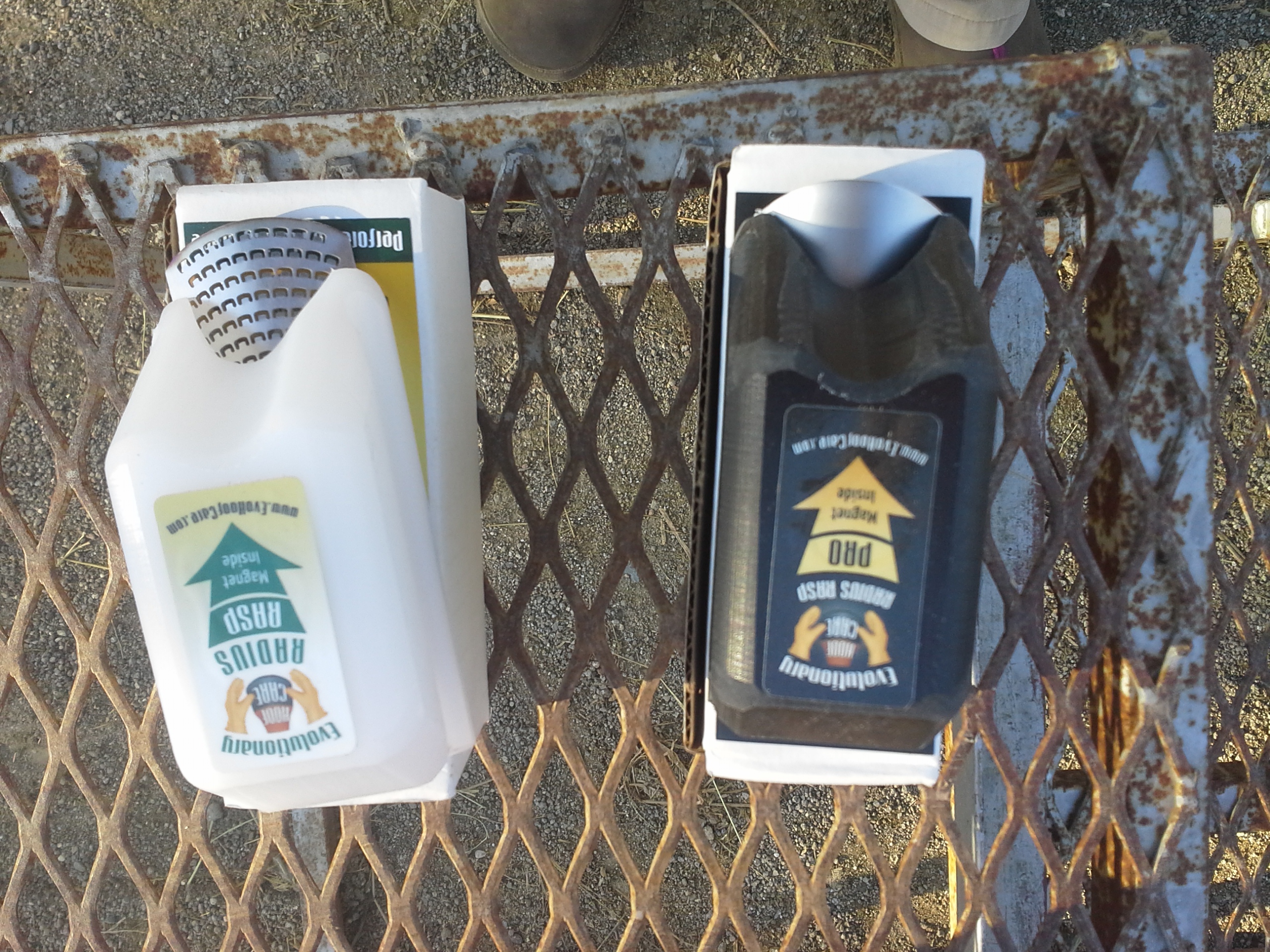 In the interest of full disclosure, Evolutionary Hoof Care gave me both rasps to try and I said I would share my experience with them here on the blog and with clients if I liked them.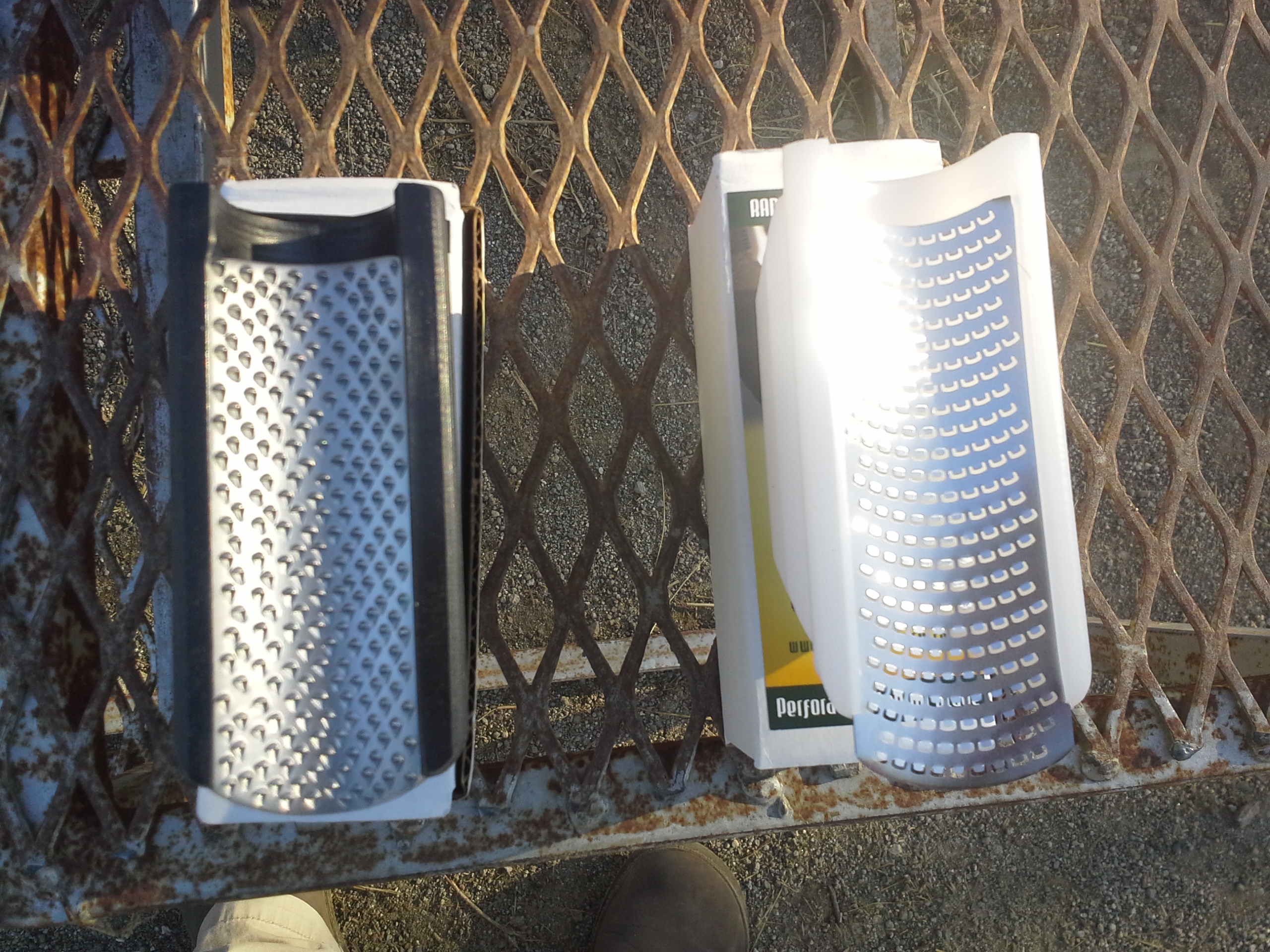 As I grow older I find myself with less and less patience for reading directions. So the first time I used them I yanked them out of the box and gave it a go.
The white one is obviously lighter and for lighter duty but the cheese grater action takes off a surprising amount of hoof.
The black one was hard to use at first – it had a lot of bite – but after a couple of hooves, it dulled down a bit and was a bit smoother.
I managed to put a good mustang roll on all 4 hooves and then went home to read the directions….and *yawn* decided I didn't really care.  I did make an effort to vary my strokes to use the entire surface of the rasp – not just the middle groove – after reading the manual. There's all sorts of details about starting the roll with your regular rasp, and then using these radial rasps to blend both from the bottom and the top yada yada yada. But I've been using them to create the roll from the bottom and then finishing from the top with my regular rasp and it's been working just fine for me.
A lot of people have asked me if they are only going to buy ONE, which one should they buy? Here's my 2 cents based on using them for 2 months.
Both models have replaceable blades – the white one looks like its easier to pull out the old blade and replace.  The black one is going to take some muscle. The white one takes off a surprisingly amount of hoof using short light strokes. It's the one I throw in my grooming bucket for rides where I'll be wearing boots and I might want to touch up a mustang roll (like Derby). It's designed for finishing and blending so if you use the white rasp for the heavy duty task of creating the roll in the first place, you will probably need to replace the blade more often (and may want to consider the heavier duty black handled rasp).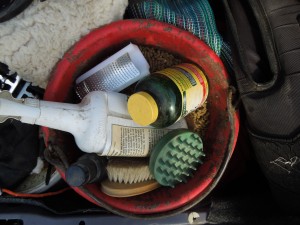 The white rasp was a little easier for me to use right out of the box. I think if I could only pick one of the 2, and I was half way decent at starting a roll with other tools and just needed something to maintain a mustang roll between trimmer visits….I would buy the white lighter duty rasp.
If I wanted something that would create a good roll for all my trims I think the black heavier duty radius rasp is a better choice. It's easy to take down high spots and get a good roll – but it takes more muscle….but it's also a more durable rasp if using as part of the regular trim.
The 2 rasps aren't really interchangeable and are meant for different "jobs", however for my boot clients that don't regularly trim I would probably recommend the white handled one. For my trimming friends, I would let them demo my two so they can feel the difference and decide for themselves. .
Here's some examples of the roll it put on some of Farley's feet.
Before roll….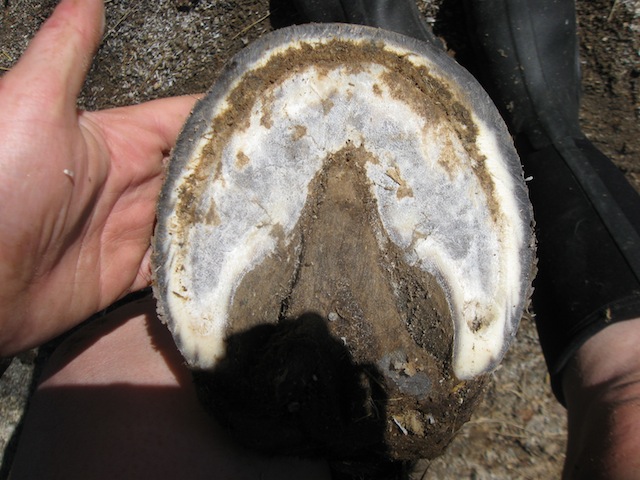 After roll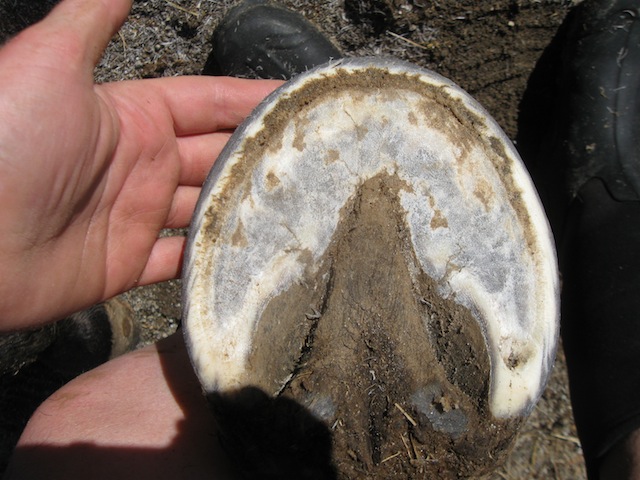 View of the roll from the side. This is BEFORE doing any work from the top.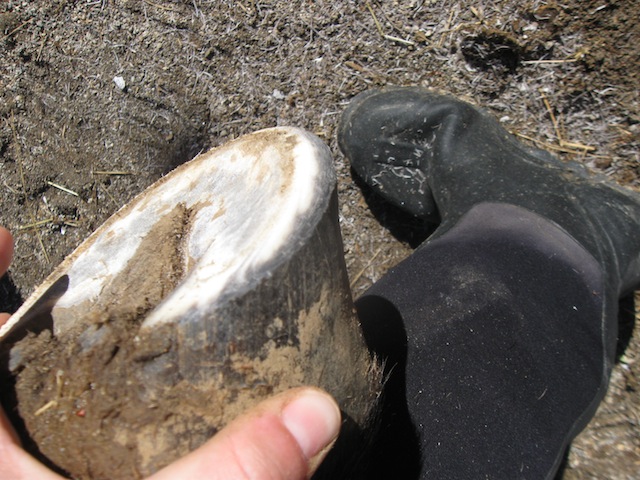 Another hoof – a hind. Before roll.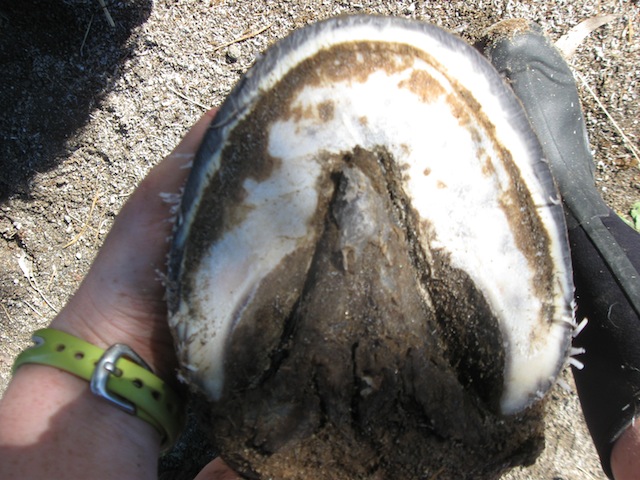 After roll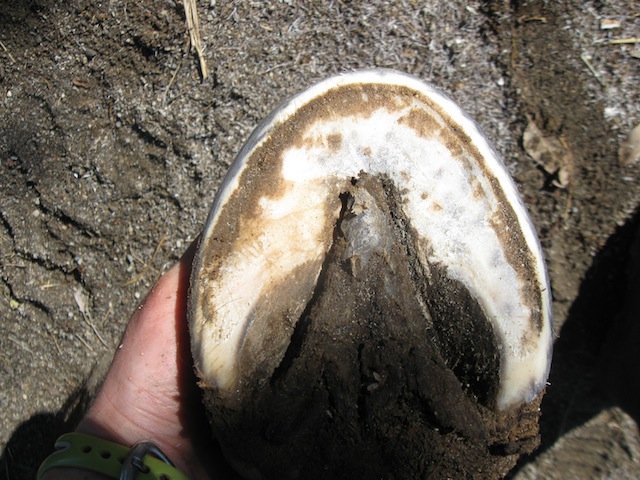 For the pictures above I used a combination of both rasps.
My favorite part of these rasps is that I can use them without gloves – I SHOULD wear gloves when trimming but inevitably….don't.  No bloody knuckles!