Pet vs. Partner

MerryLegs is very much a pet. This is the sort of picture that you will get from Merrylegs.
The only reason it's not just her nose in the picture is that there is a fence between you and her.
"In your pocket" has been her MO since day one.  Here's the pics and announcement from the breeder way back when she was a wee thing (with really really long legs).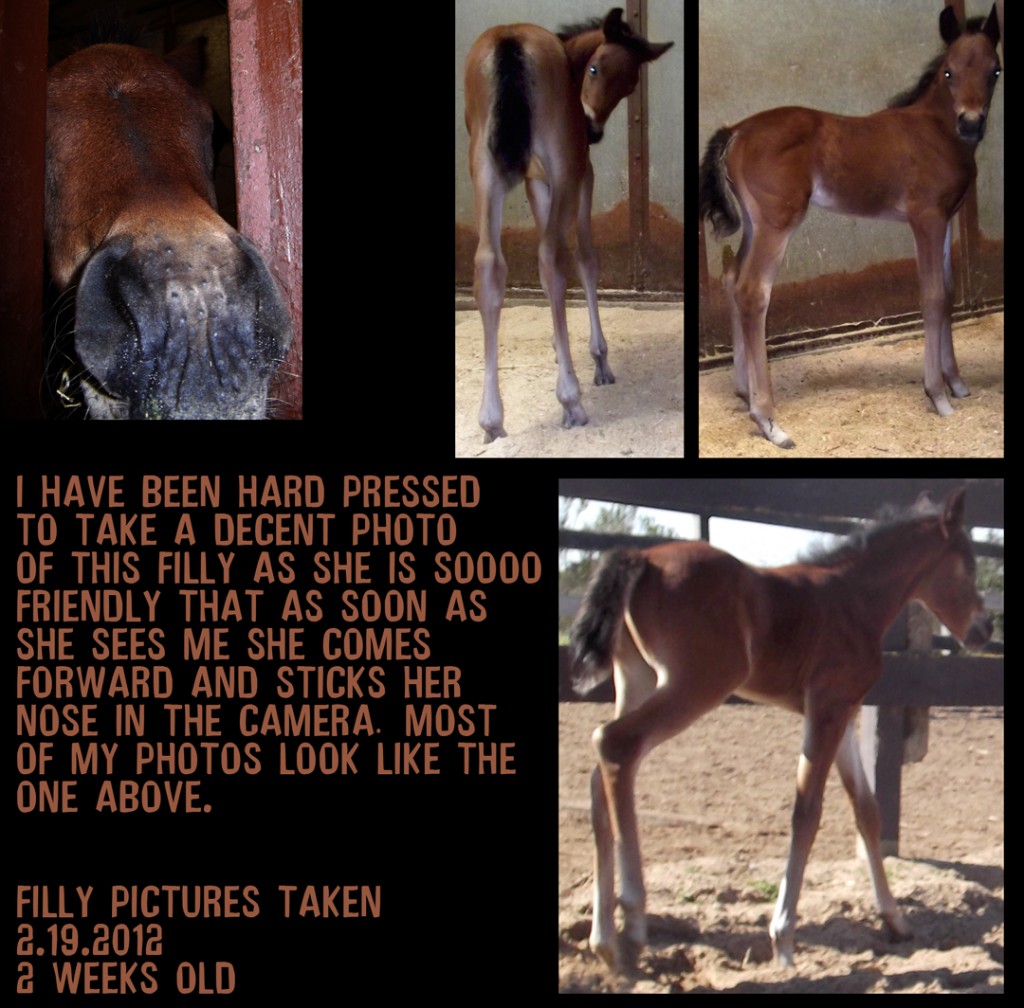 It's not that she is a bully and getting in your space (although sometimes she is in your space and has to be reminded there are BOUNDARIES), she truly just wants to hang out with you and maybe put her head in your arms and just hang out. She volunteers to be haltered and can't wait to go to work every day because it means that she gets to be with you.
Remember the first fence photo at the beginning of this post? You will only get this picture from Farley if you have an actual bucket of mash in your actual arms at the time of taking a picture. Farley is more likely to be seen doing this.
Farley loves her job. Farley also loves having her own life and likes to maintain her work-life boundaries. She enjoys doing stuff with me especially if it's a defined aspect of her job. She respects me and I respect her and we become friends as one does after a decade in a partnership. But she doesn't hang out with me and it's weird to hang out with her if there isn't anything on the itinerary. She isn't a pet and doesn't want to be one.
Farley is a partner, MerryLegs is a pet.
Farley is your best friend who you couldn't live without and is always there for you. Merrylegs is the person you marry. (Fortunately I found a person who is actually both to me and married him, but I digress. You get what I'm saying about the HEART horse and the really really really good partner horse right?)
When I turn Farley out she takes the gift of turn-out and trots away happily. When I turn ML out she turns around as if to say are you sure? If I run off will you still be here when I come back?
When I go to catch Farley and her paddock she looks at me coming, goes off into the corner, pees and then walks half way over and waits for me to meet her half way. When MerryLegs sees me coming her ears perk forward and she gallops from whatever corner she's at and grabs the halter to put it on herself as fast as possible before I change my mind.
MerryLegs reminds me of Minx, who was also a pet. Minx was the reason I got into endurance. I loved her, I loved spending time with her and she wanted to be with me.  Why wouldn't I do a sport where I got to spend as much time as possible with her? Endurance was about doing the miles, but it was also about hanging out with her.
After Minx died I wasn't ready for another pet, a talented partner is what I needed. Farley was perfect.
Farley is incredibly fun to do endurance on, she's talented and suited for the sport. There's a definite bond between us, but at the end of 100 miles we kind of hate each other a little bit and after a weekend together we need our space. Riding 100 miles on Farley is about riding THE HUNDRED. It's not about spending 20 hours on her back or the weekend camping together. It works because I love hundreds a lot. But I'm sort of excited to do this sport on a horse that's my pet again.
I'm not saying that a pet or a partner is better. I wouldn't trade Farley for the world. She's given me some of the greatest gifts I've ever received (and in return more than earned a permanent retirement home). Watching that horse do endurance from a front row seat on her back for almost a decade has been one of the most exhilarating things I've ever done. I trust Farley far more than is probably wise and she returns that trust. But….. you know that feeling that you get when you walk through the door and your dog is always happy to see you? That's what MerryLegs is like and I'm ready for that again.