Race report: "If you don't like the weather, just wait"

I guess I could have called this "Little Loco Solo Relay 2021."
But that title is so boring. Unlike the weather on Saturday.
First, a reminder of how we got here.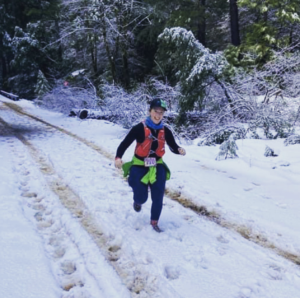 To this very moment I don't know why I started the race optimistic that it was going to go well.
My longest recent long run was a 20 mile run about a month ago. The one where I forgot my electrolytes, decided that 1 liter was water was plenty, and didn't pack enough calories.
I also started my taper a week early, which basically means that the sheer number of work hours and commitments that I had was crushing my soul and I couldn't get myself off the couch for the last two weeks after getting home. (I still have one more week of work shenanigans so that is why you will ignore the typos in this post -please – and we will all focus on the miracle that I managed to write and post this )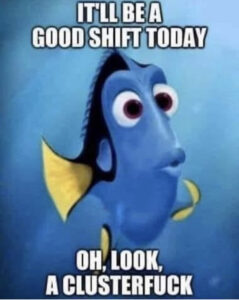 I attempted to salvage my race prep by pretending that I was focusing on getting enough sleep (hahahahahaha….not) and eating enough calories.
So, I made a decision.
If I couldn't be well-rested or well-trained, at least I could be well-fed while I ran my legs off into the dark.
Cue massive amounts of food prep in the week before the race.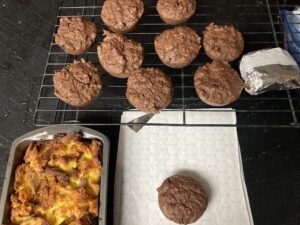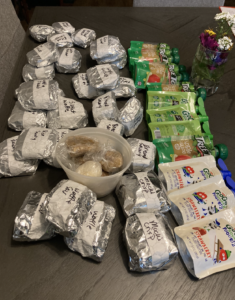 In the end I had 14 different types and flavors of food to fuel me through what I suspected would be a 16+ hour race day.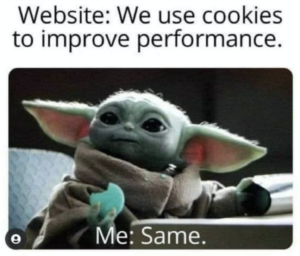 I decided that "well-organized" was also something within my control. This race was set up as multiple small loops/out and backs to a single aid station. Please meet the the Chuck Wagon.
The Chuck Wagon is a highly organized wagon full of food goodies, multiple changes of closes, and an "oh sh*t" bag whose sole purpose was to fix my race when things went wrong.
Bonks, blisters, sour stomach….I had it covered.
What I didn't expect was multiple inches of powder to drop on the trail course the night before.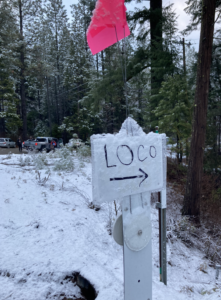 Have you every run in several inches of fresh powder? Me neither.
Fresh, glorious, soft powder snow that makes me feel like the best kind of bunny rabbit (ie one not being hunted by an snowy owl) as I hop and fly down the hills with the perfect amount of cushioning under every step….. it was just as glorious as my childhood soul thought it would be, unlike that nasty end of the season frozen, crusted snow field type stuff aka Loco 2019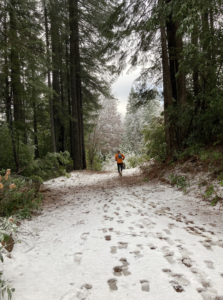 And now we come to the title of this post. You like this weather? Just wait. You don't like this weather? Just wait.
Wanna know what happened after the snow?
Hail.
I know it was hail because I have a fancy algorithm that helps this valley-born Californian tell the difference between rain, hail, and snow (please don't bring up sleet. I don't know about sleet. My impression is that it involves wind).
Step one. Determine whether the stuff falling from the sky makes noise. It made noise. A lot of noise. This means it was not snow despite being frozen.
It also bounced when it hit the ground, which means it was not rain. Thus…hail!  It hailed a lot. It hailed multiple times.
I don't have pictures of the hail. Lots of other people took videos of hail. I was too busy watching it bounce off my mittens as I ran, and thanking the Good Lord that I was wearing a hat with a brim and a long sleeve Smartwool shift.
And then it all melted.
And then it hailed again.
And then that melted. And turned into mud (again). Because the weather turned the thermostat up to 50 degrees.
And then it all froze again into nasty crusty snow and nasty slushy mud Mr. Weather just saw his electrical bill and turned that thermostat off while yelling at his kids that it should be no warmer than 30 degrees (and it got even colder).
It was about 40 miles into the race, somewhere between hundred and fifth hail storm  and it all melting into a poo stew, right before freezing into something even worse… that I almost quit.
It wouldn't really have been quitting because this race was actually a relay.
If you had friends that were naive enough to trust your idea of adventure, you simply split the 12 legs of the race up between teammates, completed all 12 legs and had yourself a race finish.
But, if you were a team of one and were doing all the loops by yourself….you had the option to choose your own distance. The only caveat was that you could only quit on even numbered loops. Quitting after an odd numbered loop was a DNF.
This made for some unique panic math.
I was on loop 7 when my hamstrings and groin made it loud and clear that skiing through the slick poop stew mud was something I had done quite enough of. I felt a tightness in the medial distal head of my left hamstring. It didn't go away and if felt like the bad kind of pain. It could be mitigated by slowing down and changing my run strategy but it definitely was there.
Loop 8 was one of the easiest loops with good footing and moderate climbing so I grabbed my poles to consider my options.
Let's be real. If it's mile 40ish and I'm "considering options," self-sabotage is on the menu.
Each major bonk during an ultra event has its own flavor.  Go through them enough times and there's likely a pattern for each runner. Here's how my major bonks go.
Mile 18-19: "The Hissy Fit Bonk." OMG everything hurts far more than is should for only being 19 miles through the race. How is this race even possible. I'm going to keep going on, but everything is stupid. I resent everything. Everything is hard. I'm obviously the worst ultra runner ever. The solution: I've worked through this one so many times I have a mantra that I tell myself when my brain starts whining. "Nothing hurts more than mile 19." A nice ironic validation of my feelings and also….let's go ahead and keep running…. The hurt definitely evolves and changes but that particular sharp generalized fear that is part physical and part mental of "oh my God I can't do this" is never quite as bad as it is at mile 19.
Mile 40-42: "The Complete Melt-Down Bonk." Here are the valid reasons to quit in order to preserve life and limb. Bonus points if a tear is shed because I want to go on, but just simply can't because of xyz. Isn't that a shame? The solution? Eat something, slow down, and hope I'm between aid stations and have worked through it before I get to the next one (so far I've been 100% victorious about finding my why and continuing on).
Mile 75ish: "The Pit of Despair." Everything does truly hurt. There truly are valid reasons to quit. But fortunately since my brain is operating on 10% capacity I'm barely self aware, much less self sabotage-y. The biggest danger is that I make some stupid mistake like get too cold, or don't eat which will grind my pace to a halt. The trick is to keep moving fast enough through the lot and not wander off the trail to converse with the fairies and the purple elephants.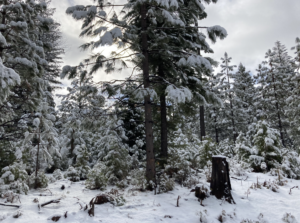 At Loco the self-sabatoge had begun during the Hissy fit.
"Hey. So it's 12 laps, but if you run TEN laps you don't have to run this incredibly cold and snowy loop that will definitely be mud by this afternoon again. Finish before midnight AND still get 50+ miles."
Thus I was primed for the 40 mile melt down bonk and the full on assault of of my brain to convince loco-mel that an even better plan was to complete eight loops and then go home.
"Hey. Didn't you say just this week that you would be happy with anything over 50 miles? 43 is practically the same thing."
"What is your longest long run this year? Oh yeah that's right, twenty miles. You've just doubled it! Congratulations! You can quit now."
Loco-Mel: 43 isn't the same as 50.
"Your hamstring is pretty darn tight and your groin muscles aren't going to survive another lap through a mudfest loop."
Loco-Mel: Oh look! Using poles is remarkably helpful!
"Haven't you gotten injured by pushing through mucky conditions in races before?"
Loco-Mel: Ummm…I don't remember……(while thinking back to a strained achilles at the end of Black Canyon 100k
"Don't you want to be safe driving home?"
Loco-Mel: I do need to get gas in the car on the drive home….
(my brain, sensing a weakness and deciding to double-down): "This isn't really a race right? It's a training run!"
Loco-Mel: F*ck, that actually makes sense.
"Your 100 miler is in 4 months. You've gotten as much useful training as you can at this point out of this event, so isn't in time to call it quits? Rest and recover and start that whole stress-recover-get stronger blah blah blah thing? You wanted to know where you were in your training and now you know!"
Loco-Mel: *sob*
Self-awareness combined the self-sabotage of a bonk. It's a dangerous combination.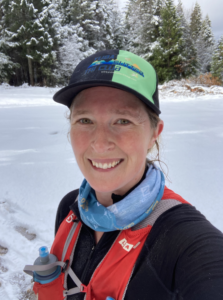 Decision made. I felt the rush of emotion – a combination of relief and regret – from having made the hard but smart decision to sacrifice my race for the good of my body, and then I ate something.
A cream-cheese with jelly and bacon waffle sandwich.
And then I picked up my poles and started trotting down the hill, leaving the uphill behind me that I had been climbing for the last 2 miles.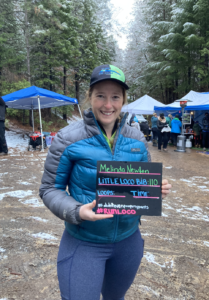 Here's the thing about (my) bonks. They are insidious when the start, but when they are done, they are done. Boom. One minute I'm teetering on the edge of self-pity and despair, and the next I'm bouncing down the trail, waffle sandwich in hand, screaming "I'M THE LUCKIEST PERSON IN THE WORLD."
At least I don't hold myself responsible for decisions made when I'm out of my mind.
Never listen to the Mel who is bonking – she only sounds logical. She's really bat-shit crazy.
Which is why I immediately reversed my decision to quit after lap 8 and was definitely running another 2 laps for at least 50 miles.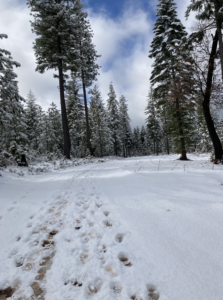 So that's what I did.
Am I disappointed I didn't go full Loco and do 12 laps?
A little. But 10 laps doesn't feel like a DNF, and I think 8 laps would have.
Self-awareness is a double-edged sword. It's responsible for my biggest successes but it's also my biggest struggle during ultra events. I unnervingly and consistently hit planned paces and distances on the head even when doing so makes zero sense. It's either a self-awareness of what is possible after so many years of running distances, or it's a mental game that consistently limits my performance. The mental aspect of running endurance is probably more important than any other single element. I don't know how else to explain how I was able to run 50 miles last weekend on the amount of training I've done recently. But, it's also probably responsible for me not doing all 12 loops.
That might have been a good thing last Saturday. I probably was risking a strained hamstring if I had done the other 2 (very muddy and slippery) loops. I'm one week post race and my left hamstring is still stiff and not thrilled with being asked to participate in life unless it involves longing on the couch and eating cinnamon toast. Fifty miles in those conditions, on that course, was probably my "smart" physical limit last weekend.  It might have been my metabolic one too. Despite eating really well during the event and hitting all my targets, I had to eat every 2 hours for a couple of days, even overnight.  This usually happens after 100's….not 50 milers.
I may not have been Fully Loco on Saturday, but I think I was Loco enough to prove to myself that a 100 miler in July is definitely within reach.