Gear Review: Orangemud Single Barrel Pack

This pack was provided to me free of charge by UltraRunner podcast, but with no expectation of a positive review.
Orangemud claims their packs work as well for women as they does for men.
Color me skeptical.
I'm short, but I'm not petite and I definitely have curves. Built like a high school cross country runner I am not. Most of the time when it's a "unisex" pack, I find that means that it works for women that are taller and slender.
I was also skeptical of the design. A water bottle strapped to my back? It looked a little dumb….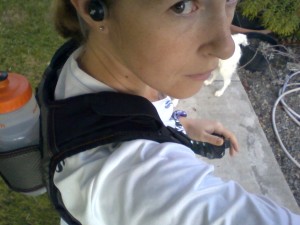 Everything changed the first time I put it on.  First thought?  I really really REALLY hope they let me keep this pack, because it feels WONDERFUL.
Adjustment
It wasn't difficult to adjust because the number of "adjustment options" is limited – the 2 straps that go around the arms near the armpit. During that first run I tweaked the straps a bit to figure out where it should sit. It didn't bounce regardless of how loose I had the straps, so the required tightness was based on bottle positioning on my back. Too loose and I couldn't reach behind my head to grab the bottle, too tight and it would put pressure on my armpits.
I really appreciated that I didn't have to constantly tweak the straps during the marathon.  With most packs I find I have to constantly adjust them a little tighter or a little looser or shift the strap location as the hours go by. This pack stayed exactly where it was suppose to and didn't bug me throughout the 7 hours.
Comfort and Pressure
I did a second run about 12 hours after the first and noticed my arms were a little pressure sore near my armpits. I was disappointed since I thought it was going to be an ongoing issue. On the website they sell little arm strap "sleeves" that cushion them a little – they come standard with the 2 bottle version of this pack – but they were pricey and I had some ideas to create my own little sleeves but then….
….I didn't end up needing them. The soreness went away after that run and never came back. I didn't use the pack for about week and then did a trail marathon in it, and there wasn't even a hint of soreness post-marathon.
So, apparently not an ongoing issue, at least for me.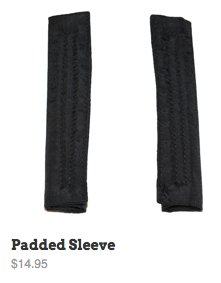 What's different about this pack?
The difference in how this pack feels compared to a pack such as my nathan is that the nathan puts pressure down, while the orangemud pulls the shoulders back. Like a figure 8 brace for those of you who have broken your collar bone (which I have not….).
When running downhill or climbing during my marathon last weekend I felt the difference in my posture. My chest stayed open and my shoulders back. I didn't brace against the pack. Most of the time, whether the bottle was full or empty I couldn't even feel the pack!
The other difference is that I don't feel the straps during my running arm swing. Because the straps are high there's nothing for my arm to brush up against. It's the closest I've felt to running "naked" (ie without hydration) while wearing or carrying hydration gear.
Accessibility
For useability I would echo everything that this male reviewer said on his review at ultrarunnerpodcast.com.
Easy to grab the bottle with my right or left hand.
Even easier to replace the bottle one handed. I never missed the holster.
Didn't drop a water bottle once
Bottles stay in the pack even when you lean over.
Riding? Endurance?
I did a couple of rides in this pack and it works equally as well in the saddle. It didn't mess with my posture (even improved it a bit by reminding me to keep my shoulders back), didn't bounce at a trot, and the water bottle stayed put.  I'm not sure that it's a good option for endurance rides, since the distance between "aid stations" (vet checks) is often several hours, sometimes up to 5 or 6 hours, and 24-32 ounces of water is definitely not enough, especially if it's warm. However, one of the larger packs that Orangemud offers might be. Right now for short training rides, this pack works better than anything I currently own.
What I love
We've established that the pack does what a hydration pack *should* do – not bounce, be comfortable, fit well. So what else do I love about this pack?
1. The gear storage on the shoulders.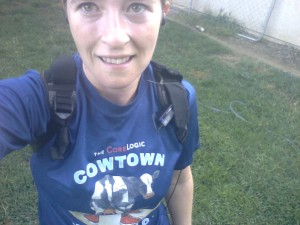 Brilliant. Having the gear on top of my shoulders instead of further down near the chest keeps it out of the way of my arm swing, and means there is no bouncing. Easily accessible using one hand to open the downward facing velcro tops, but stay closed and secure otherwise. The pouches are very stretchy and accommodating.
2. There's a place to put little bungee cords.  I'm wondering if I could rig up a little zippered pouch to put there too like they do on the double barrel pack, if I wasn't using the bungee's to hold a jacket or similar.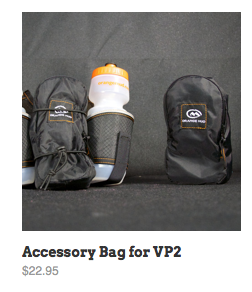 3. The zippered flat pouch on the back isn't accessible while running, but was a good place to stash just in case items. At home I use it for a dog leash (Tess is off leash during runs). During a race I stash extra nutrition bars.
4. Water bottle refilling. I've never used a water bottle at a race – only hydration packs – and I found I LOVE the flexibility and efficiency of the water bottle. I switched between electrolyte drinks and water all day as I wanted, and refilling didn't involve taking the pack on and off.
5. It doesn't rub. With the caveat about the bra straps in the below section, the pack doesn't rub. I was sorta in a hurry to start my marathon and didn't put on ANY anti-chafe cream ANYWHERE and didn't get ANY rubs. I'm not a tank top wearing person when I run, so not sure how it would preform against bare skin, but sports bra + tech t-shirt was fine.
What I don't love
1. The cost.

The one barrel pack isn't as expensive as the other options, but it's only one bottle. Other reviewers have mentioned that the price is in line with other top end packs, such as the ultimate direction packs etc.  I looked at these more pricey packs before I got my Nathan, electing to go with the sub-$100 pack first and only then going for the more expensive packs if it didn't work. Which doesn't fit into my philosophy of "buy once" but I guess I'm willing to spend $25 on a hand held water bottle to get what I think will work the first time but just not there for a hydration pack.
Now that I've used it would I spend $90+ on this pack? Maybe.  Would I spend $100+ to get the bigger version?  I'm not sure.
Do I love the pack? YES. But I'm really really really glad I didn't have to plunk down a Benjamin in order to get it.
2. The bungee's don't come with it. Especially for the cost, I would have preferred to see the bungee's come standard on the pack. Even if it added another $5 to the cost. The pack is already a premium price IMO and to nickle and dime me for the bungee's makes me wrinkle my nose. I understand not providing the arm strap cushioned sleeves standard (my understanding is they are standard on the bigger packs) but I think the pack definitely needs the additional storage that the bungee's provide and providing them would have been a nice touch. I have a pair of stretchy shoe laces that are coming to the end of their life span and I'm going to see if I can rig them up to work on the pack.

3. Not quite enough water for a hot hilly (ie slow) long race. The bottle holds 24 ounces which is slightly more than my hand hold. The holster on the pack expands to hold a slightly bigger bottle so theoretically I could probably hold ~32 ounces. I completely finished the bottle between each aid station at Mount Diablo (approximately 1-1.25 hours apart) but never felt like I didn't have enough water, except once. During a hot afternoon section, climbing a hill in the exposed sun, I finished the bottle of water with several miles still to go (uphill and in the sun). I knew the aid station was coming up, and I knew that if it wasn't there it was located at a campground where I could find some water, but there was definitely a warning bell going off in my brain that I needed to not get lost, and not dawdle and get to the aid station sooner rather than later and while it was going to be just fine – it wouldn't have been fine if I had been doing the run unsupported.
4. Women caveat – bra straps. You really need to make sure that your bra straps don't have a plastic adjustment piece that is on the top or front of your shoulders. I was desperate to go running so ran in a bra that was sorta a sports bra but not really and hand one of those plastic adjusters and it was annoying. If it had been a super long run, I think it would have created a pressure point or a rub. Regular sport bra flat straps were fine.
5. Water bottle sloshing. Ugh. Slosh slosh slosh. but there's no pack sounds. Unlike my Nathan. So pick your poison? Didn't even notice it after a couple miles but something to consider. Much less annoying than the sound my nathan pack makes.
Anticipated use
Long self supported runs that I know I'll have refuel opportunities. Such as a gas station, water fountains, residential etc. Only carries slightly more water than my handheld, but carries more gear, which makes this pack a better choice for runs where Tess is coming along.
Moderate temperature races that have aid stations ~1 hour.
Bottom line?
I really really really like this pack. Enough that I *might* end up with one of the bigger models. I'm going to add bungee cords use it on my 50 miler. The weather should be cooler than Diablo and the aid stations are relatively close together.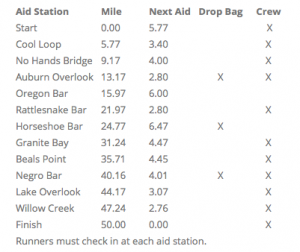 I'll put another hydration pack option (probably my Nathan) in a drop bag in case it doesn't work, but so far it's the best pack I've tried.  I love my hand held too….but not for fifty miles and want to be able to carry gear.
Questions?