Problem Solving: Girth Issues

This is a horse.
Specifically, this is Farley.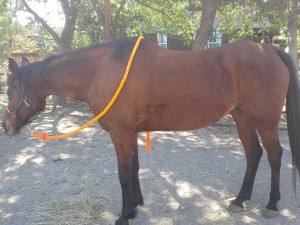 Today we are going to have the conversation that I intended to have when I got distracted on the whole 2 horse thing.
Where were we? Ah yes. A Horse Of Course.
My biggest issue with Farley on long rides is girth rubbing.
If she was wearing a saddle, this is where my girth would lie: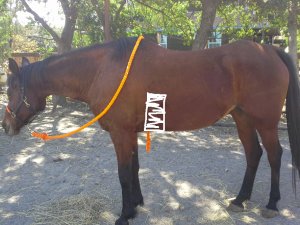 If you look at the picture at the top of this post, the girth lies well behind the shoulder in that ruffled hair portion.
Let's take a closer look.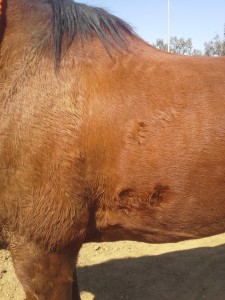 In the past on a really hilly ride with lots of downhill trotting (think Tevis), her girth area outlined in red below would be sensitive – lots of skin twitching when I would pass my hand over, and later on increased skin dandruff.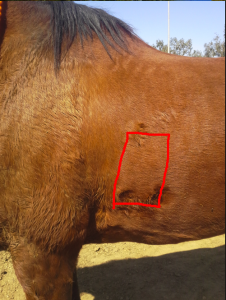 Putting a crupper on her completely solved this issue, which was probably caused by the saddle moving forward on the down hill and then back again on the up hills.
Historically, when she has her winter coat I can get away with any of my girths – wool, cord, nylon, PVC or otherwise – with no issues.
On her summer coat I can ONLY use mohair.
The issue comes in that tricky transition time when she is dumping hair faster than my german shepherd.
Every single spring, she gets girth sores.
Every single spring I completely beat myself up on not switching to my wool cord girths fast enough and giving her a girth sore.
Now I'm not sure that my girth is the issue…
Imagine my dismay when I saw this a couple days after derby: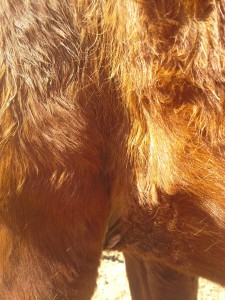 See that little sore?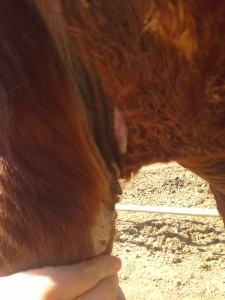 When I pull the skin from the inside of her elbow towards the outside you can see another huge bare patch of skin that was previously hidden. These pics were taken several days post ride.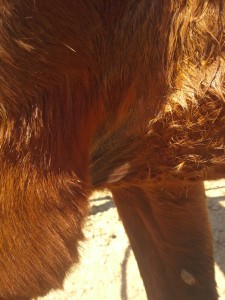 In the picture above I asked her to hold her left foreleg as far forward as possible. The bare patch is hidden inside the elbow but you can see the bare patch on the underside of her chest.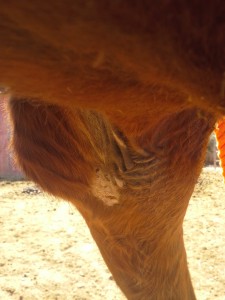 This is the inside of the LEFT foreleg, with the foreleg stretched out, taken from the RIGHT side. See the bigger bare spot as well as the smaller patches missing skin on the "wrinkles"?
Here's what I think.
I think that these sores and rubs are way too far forward to be a girth issue.
I think that sweat+shedding hair+friction of the skin against skin is causing these rubs.
I made sure that this area was meticulously clean (I'm lazy about grooming but not stupid) and that all of the hair that I could get to shed out did prior to the ride. I used a wool cover my girth during the ride and made sure it stayed out of her arm pit.
So…..while the attention I've paid to the girth and to her armpit area was certainly not a waste of time….I'm not sure it's doing anything to fix THIS problem.
It's not an issue in the Summer when she's totally shed out.  She will get a bit of dandruff there after a ride, a quick spray of show sheen in her pit is totally preventative.
It's not an issue in the Winter time when she has lots of hair and isn't shedding.
It's an issue every single spring  if we go on a ride lasting more than one hour.  Showsheen seems to prevent it on shorter rides (no issues on our 18 mile conditioning ride) during the spring time….but not at a 50 (used show sheen in her pits at Derby).
Normally the answer is NOT to clip hair off of a thin skinned, rub prone arab – but I'm wondering whether in this case, where it appears that shedding hair is causing the rubs in this wrinkly pectoral area whether preemptively shaving this area in front of the girth when she start shedding would actually help prevent this?  Along with show sheen?
Any other thoughts?
I saddled her up a day or so after taking these pics because I needed to pony Tig out and double checked and these rubs are no where near the girth, even accounting for the girth shifting up and down hills.